Over the long Thanksgiving weekend, the BF and I traveled to Pittsburgh to celebrate the nuptials of two of our friends. In the past, my go-to wedding dress color is black so I pair it with fun nail color choices but since I joined Weight Watchers and shed 55 pounds, I've become a bit bolder in my clothing choices.
I am slowly incorporating more color into my wardrobe so, lately, I find myself opting for metallic nail colors for events. Since my dress was red with a black leopard print, I found myself going down the silver/pewter road for the special occasion.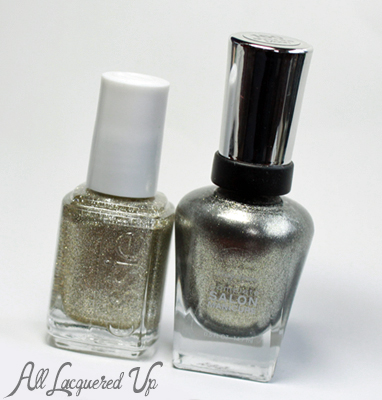 At the time, I was in the middle of reorganizing my hot mess of an office so I was fortunate to have recently received Essie Beyond Cozy from the Winter 2012 collection and Sally Hansen Shoot The Moon which will become part of the permanent line in March but is out in promo displays now. Together, they take glitz and glam to the next level. Check it out!

Formula & Application:  Sally Hansen Complete Salon Manicure nail polishes are 5-Free (including formaldehyde resin and camphor, which can be an irritant). The hefty glass bottles are topped with a smooth chrome cap that has a rubberized grip around the base. The grip makes opening the bottle easier and keeps the brush from slipping while polishing. The brush is the same flat, paddle style as the Insta-Dri line with curved bristles. The bristles are firm so use a light touch to avoid streaking or dragging the polish.
Essie is a 3-Free brand. The square bottles are embossed with the essie logo and the smooth plastic caps include an embossed e on top. The brushes are thin, round and shorter than most. The bristles are very flexible, allowing you to easily fan out the brush to cover your nail width.
Both polishes offer excellent coverage and application. Shoot The Moon is a very pigmented (two coats) foil metallic so it can show some brush marks but nothing significant. Beyond Cozy is a clear-based glitter that is so packed with glitter, it provides full coverage in two coats, three if you are using very thin layers.

Sally Hansen Shoot the Moon is a pewter colored foil metallic. It has that graphite look to it thanks to the smooth metallic particles in pewter and gold. Speaking of Graphite….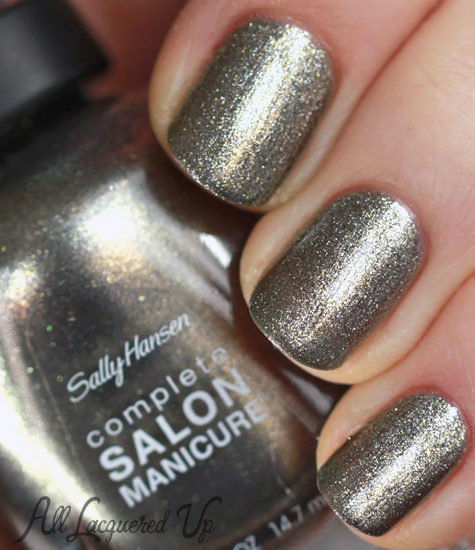 Shoot the Moon is the closest dupe I have found for the popular, yet pricey, Chanel Graphite. It applies with the same opacity and the level of sparkle and shine is almost dead-on. The only difference, to my eye, is that Shoot the Moon doesn't have as many foil flakes packed in its base. But at a third of the price, can you really complain about that?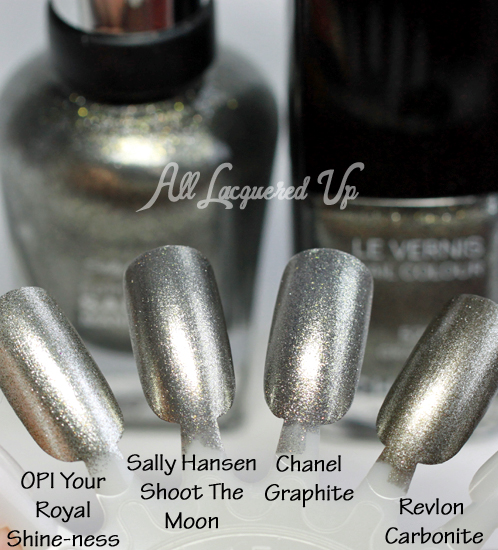 Now I would have been perfectly content wearing Shoot the Moon on its own but I couldn't help myself. Why not amp it up, right? Adding a layer of Essie Beyond Cozy was like brushing crushed diamonds on my nails. The mix of silver and pale gold fine glitter blend to become a faint champagne color. Over Shoot The Moon, the gold was lost but it certainly brightened up the end result. ps this is one of those top-coat-eating glitters so be prepared to use a thick top coat or deal with the texture.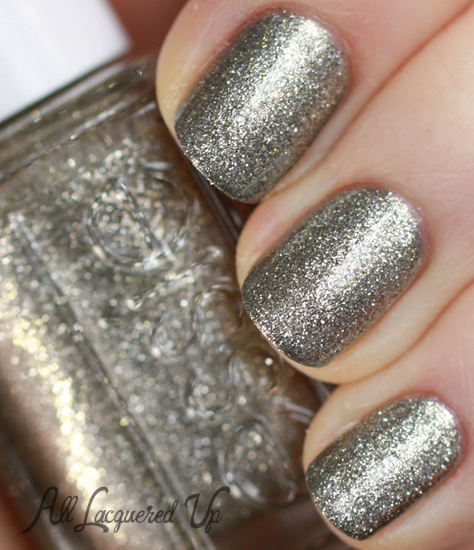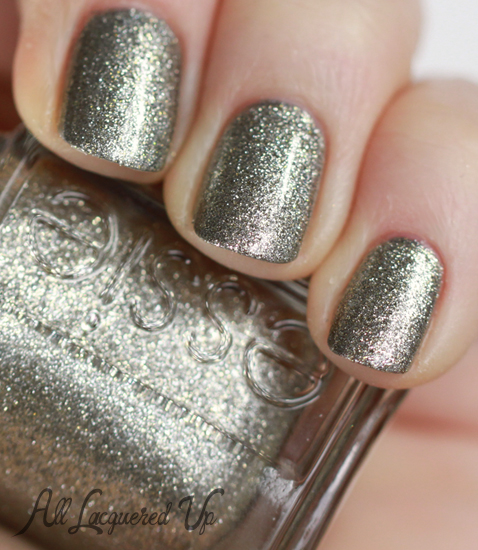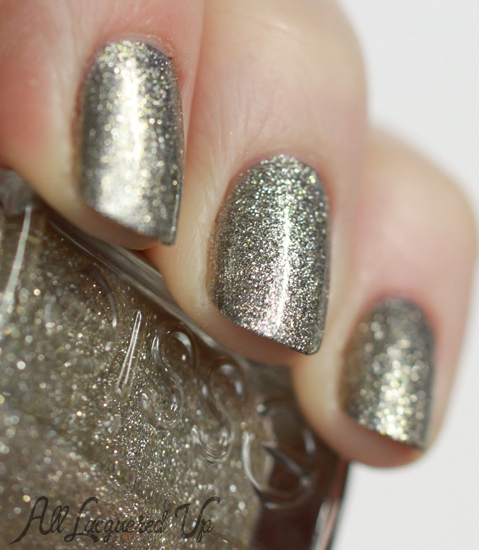 The wedding was just beautiful. Heather and Joel were married in this gorgeous church on Pitt's campus with one of my good friends standing up as Best Man. The bride was stunning and the groom, very dapper  The reception was a super fun affair that ended up being a mini Cedar Point Alumni reunion.
You see, I met Heather when I worked at the Roller Coaster Capital, Cedar Point, during college. Joel worked there as well but we never met. Years later I organized a group trip to an island in Lake Erie, Put-In-Bay, with some of my fave CP people and through mutual friends Heather and Joel were part of that first, crazy weekend.
The trip became an annual event and seven years later, after knowing each other for 13 years, Heather and Joel started dating. Fast forward to 2012 and here they are, getting married. I couldn't be happier for them. They truly were meant to be.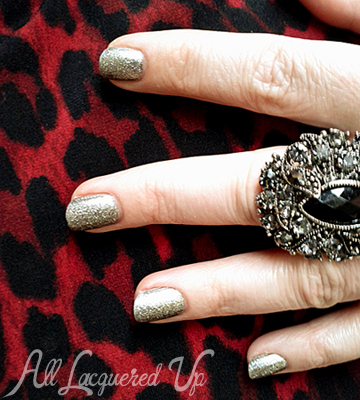 I loved the look so much, I wore it for an entire week. Despite the small chip I took out of my middle finger nail, it wore like iron, which I guess explains why glitter is so hard to remove. It must be a distant cousin or cement or something.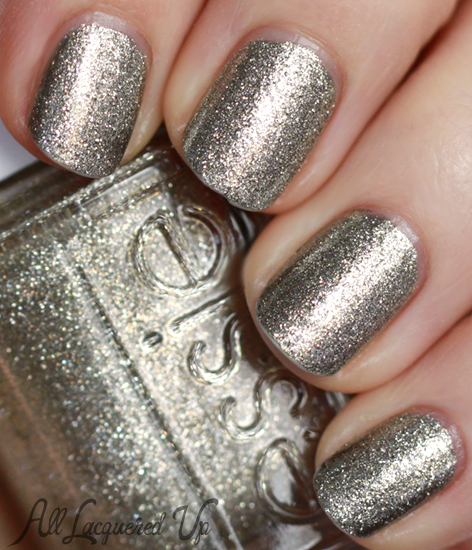 Bottom Line: If you don't own Chanel Graphite and want to save a few (okay many) dollars, get  your hands on Shoot The Moon ASAP!! Beyond Cozy's mix of gold and silver glitter makes it a wonderfully neutral glitter and since it doesn't have a match in my glitter stash, it's a must in my book.
Essie Beyond Cozy and Sally Hansen Shoot the Moon are both available now. Essie nail polish retails for $8/ea for a .46oz bottle and can be found at salons, including ULTA, and mass retailers nationwide. Sally Hansen Complete Salon Manicure nail polish retails for $7.99 for a .5oz bottle and can be found at mass retailers nationwide.
Do you like my layering combo? Thoughts on Beyond Cozy and Shoot the Moon? Have you spotted Shoot the Moon locally? Chanel fans, do you think StM is a good Graphite substitute? 
Disclosure: Product samples were provided by reps for Essie and CVS. For more info view my Disclosure Policy.