I don't know what it's like in your neck of the woods but in my part of the CLE, shopping for nail polish in drugstores can be pretty time consuming. On average I'll hit up to 3-4 stores looking for specific seasonal displays or brands. Well, thanks to the new CVS Nail HQ, those days are over, people!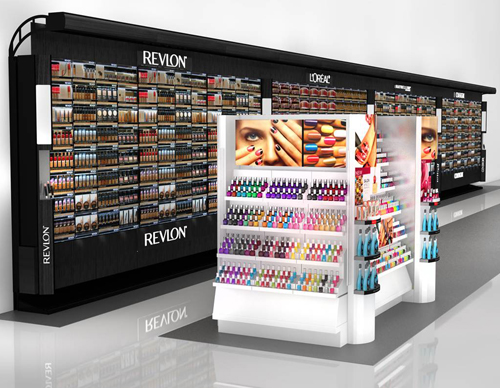 Rolling out to CVS/pharmacy stores across the country, the Nail HQ is a nail-focused kiosk that showcases the latest trends in color and nail products. You'll find the newest releases from brands like Essie, Revlon, Sally Hansen and more including the CVS exclusive Nuance Salma Hayek line, not to mention a wide range of core colors.
To celebrate the launch of Nail HQ, CVS asked me to create a nail art tutorial for their Beauty Club Facebook page and they want you to get involved with a fun giveaway. Keep reading for the deets.

When it comes to creating nail art, I'm the hand equivalent of a dancer with two left feet. A steady hand and artistic talent are not part of my genetic gifts so I'm all about goof-proof DIYs. Bonus points for techniques that don't require special tools. Enter the Saran Wrap Manicure. I call this look the Midnight Marble Manicure and you can find out how I created it, today, on the CVS Beauty Club Facebook page so head on over to check it out.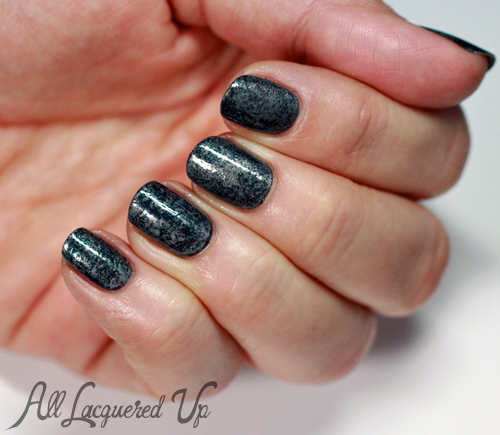 Giveaway Alert! (Giveaway is now over) Now comes the real fun, peeps. CVS wants to see the nail art talents of all my ALU Fanatics. Show off your best DIY nail art, created with your fave CVS/pharmacy products, on Instagram and Twitter using the dedicated hashtag #CVSNails for a chance to win a CVS Gift Bundle, including a $100 CVS Gift Card and new exclusive nail products. Make sure you follow CVS Beauty Club on Twitter to keep up with what's new in beauty @CVSBeautyClub. You have from now through December 4th to enter.
Fellow Cleveland Fanatics, the CVS/pharmacy at Cedar & Green has a Nail HQ kiosk which is where I spotted the new Revlon Brilliant Strength nail polishes used to create this look.
While you're shopping don't forget  to sign up for the CVS Beauty Club. You'll receive $5 ExtraBucks Rewards for every $50 spent on beauty (including nail!), so sign up now and stock up!
Have you spotted a CVS Nail HQ near you? What's your favorite DIY nail art technique? Have you tried the Saran Wrap Manicure before? What are your favorite colors to use for the look?
Disclosure: Reps for CVS/pharmacy contracted me to create a tutorial for their Facebook page and provided the products used. As a frequent CVS shopper I was happy to participate. The nail color/brand selection and opinions herein are entirely my own. For more info view my Disclosure Policy.