It would be very glamorous to be reincarnated as a great big ring on Liz Taylor's finger – Andy Warhol
An artist is somebody who produces things that people don't need to have – Andy Warhol
The NARS for Andy Warhol Color Collection for Holiday 2012 is most definitely glamorous and, let's face it, makeup is certainly something we don't NEED yet Francois Nars is such an artist that his creations continue to sell-out worldwide.
Part of this huge collection of products and gift sets is a set of five new NARS nail polish shades. If, like me, you haven't had the best history with NARS polishes I URGE you to keep reading. Trust me, you'll be pleasantly surprised. Would I steer you wrong?

Formula & Application: NARS nail polishes are 4-Free (including formaldehyde resin). The squat square bottles are topped with a somewhat rubberized cap that houses a short, round brush. Unlike a lot of prestige brands that have a removable outer cap, the NARS cap is one solid piece. The bristles are pretty flexible though they are kind of sparse and don't really fan out easily.
I have no confirmation on this but I believe the NARS formula has been tweaked. As I mentioned, I haven't had the best luck with NARS polishes in the past. I think of them as being streaky and needing three coats. HOWEVER, ever since the Thakoon polishes I've been uber impressed. It's so smooth, creamy and pigmented it literally made my jaw drop. In fact, I was just discussing this theory with a fellow beauty gal who concurs that NARS polishes have been AMAZE since Thakoon. With the exception of 15 Minutes all the polishes applied flawlessly in two coats. Though don't blame 15 Minutes for the streaking and need for three coats. It's just the nature of yellow polish.

NARS 15 Minutes is a bright lemon yellow creme that references Andy Warhol's famous quote, "In the future, everyone will be world-famous for 15 minutes."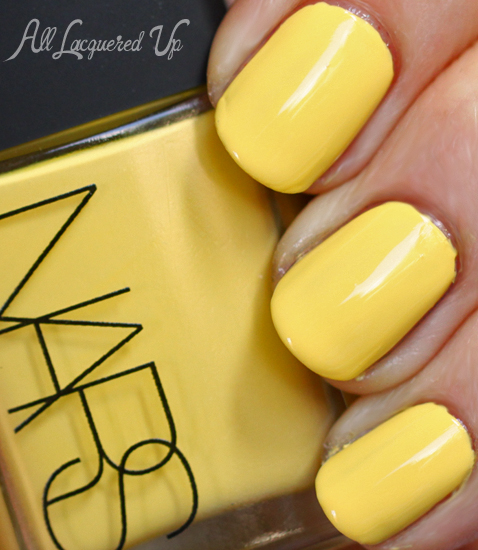 NARS Back Room is a jet black creme. Straight up and simple. I find it odd that a polish named after the back room at Max's Kansas City, nicknamed "Bucket of Blood" because of a sculpture that bathed the room in red light, would be black.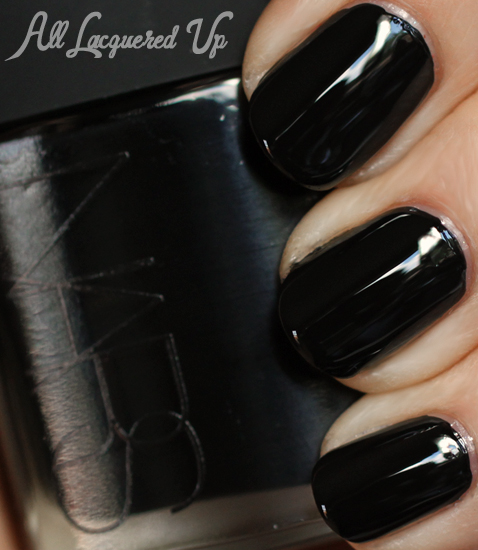 NARS New York Dolls is a dusty purple creme. It has a greyed undertone that keeps it from being a rich, true purple. Of course what drew me in was its resemblance to Mismas but, alas, they are not dupes. Mismas looks more red-based than it actually is when swatched next to New York Dolls. I'm so obsessed with this color that I had it put on my toes for NYFW. Though because I can't leave well enough alone, I added a coat of a fun blue glitter I got from ULTA to my big toes and it's pretty magical.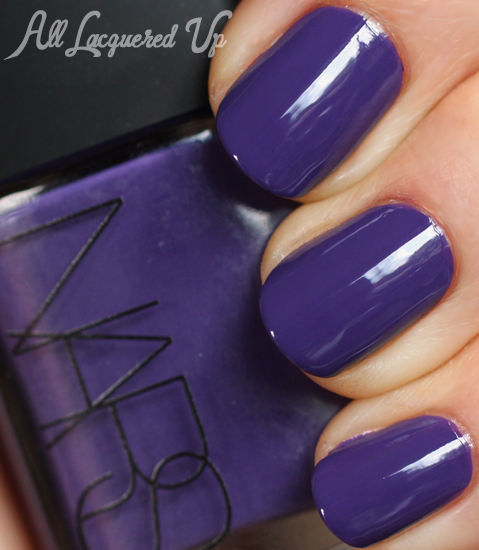 NARS Superstar is a teal creme. It's got a murky sea water feel to it. It's definitely more blue than green but not so much as say American Apparel Peacock or Illamasqua Muse. I looked at it next to RBL Teal and MAC Deep Sea which both lean further towards green than Superstar. Considering that I have a whole Helmer storage drawer dedicated to blue-green polishes and I don't have a match, I'd say it's pretty unique.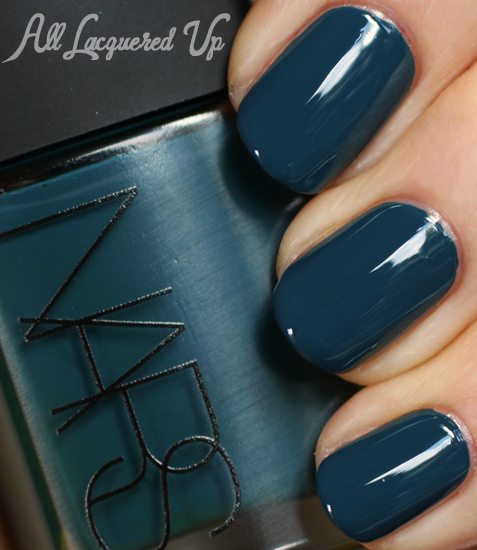 NARS TV Party is a kickin' orange creme. It's an interesting color choice for a holiday collection in that I normally think of this type of bright tangerine hue with summer. I appreciate a punch of color (I'm so over the term "pop") at unexpected times so orange for holiday, why not? In person this color is even brighter than it appears here so definitely check it out on counter, if you can.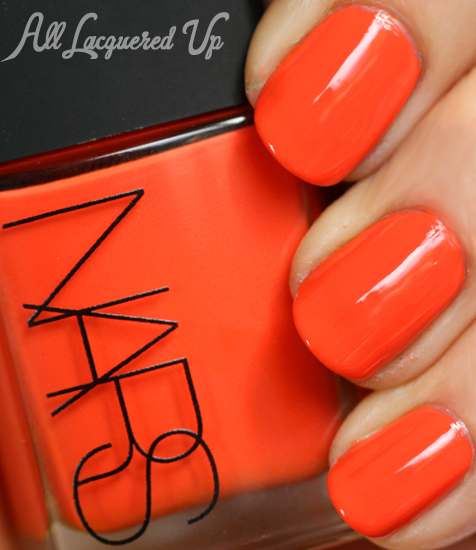 Bottom Line: If you're a NARS fan that has been let down by the nail lacquers in the past, it's time you give them a second look. This collection is fun and the quality is superb. New York Dolls is ALL ME, ALL DAY, so if we share nail polish taste, don't miss out on it. Superstar and TV Party are worth looking into and if you have a penchant for yellow, 15 Minutes won't let you down. Back Room gets a pass from me, unless you're a collector, as pigmented black cremes are a dime a dozen.
The NARS Andy Warhol Color Collection will be available October 1st, 2012 at Sephora and Sephora.com. The nail polishes retail for $18/ea for a .5oz bottle. There are other nail colors being released as part of gift sets including a black violet in the Walk On The Wild Side gift set also releasing on Oct 1st. I totally plan to buy it.
Are you excited about the Andy Warhol collection? Which nail colors are your faves? Do you plan to pick up any of them? Have you noticed a difference in the NARS formula since the Thakoon collection launch? If you were let down by the formula in the past, will you consider giving it a second shot?
Disclosure: Product samples were provided by NARS. For more info view my Disclosure Policy.