I've never done a meme before but, if I did the "Things you don't know about me" one, I would share that I never went to my prom. I know, it's not earth shattering but considering that prom was such a big deal at my school, I did feel like quite the oddball for skipping out.
Truth be told, I was just too focused on school and activities to care about having a boyfriend. And going with a guy friend seemed pointless. Instead I road-tripped with a friend whose boyfriend was in college, to visit a mutual friend at my future college, University of Cincinnati. Hitting up campus parties and making out with random, hot college men was definitely more fun.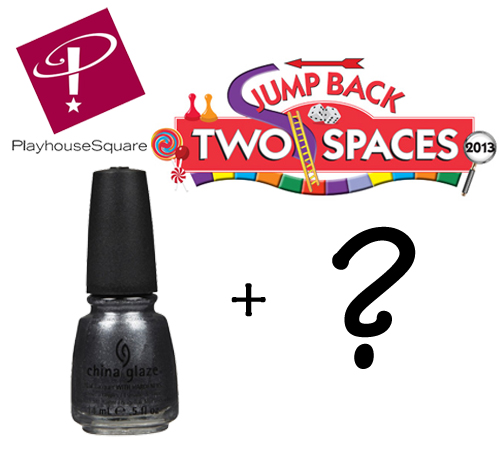 Anyway, since I never went to a high school prom, I like to think of Playhouse Square's annual Jump Back Ball as adult prom. You may remember that I attended for the first time last year and it was an absolute blast. JBB is one of the biggest and best benefits in Cleveland and it's this Saturday.
That's where you come in. I'm having the worst time trying to decide on a manicure concept and I'm desperate for your help.

At this point, I have nearly everything figured out. The dress, shoes, jewelry, hair and even pedicure but my manicure has me completely stumped.
I was very lucky to find this Adrianna Papell foil dress on my first outing with Shibani and Jen (and it was on sale!). Shibani (aka Cleveland's own Tim Gunn) told me I should make emerald my accent color. It is the Pantone Color of the Year after all. Considering my love of all things green, that wasn't a hard sell. Though finding emerald shoes right now is near impossible so emerald and sapphire are my accent colors.
I found a gorgeous vintage brooch at Sweet Lorain that I've attached to a comb to hold one side of my hair back. Adding in some random costume jewelry and sparkly blue shoes from 6pm.com, my look is almost complete. A pedicure with China Glaze Jitterbug rounds it all out. Now what do I do with my hands??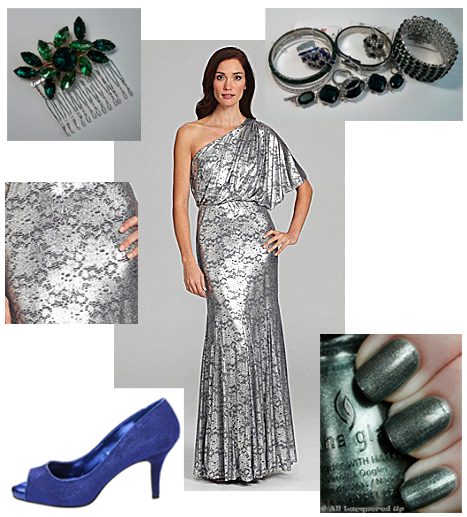 Side swept hair inspiration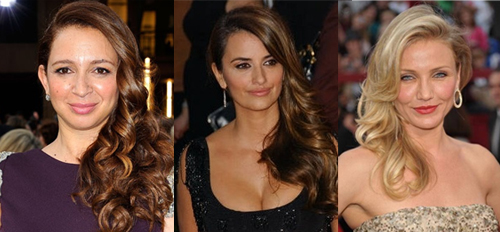 So with my ensemble "almost" finished, I'd love to hear your ideas for my manicure. I don't want to do anything too complicated. An accent nail or two, sure. But nothing uber time consuming or requiring steady hands. Obviously I need to stick to my established color palette and the bottles below are just examples, not the actual colors I want to use.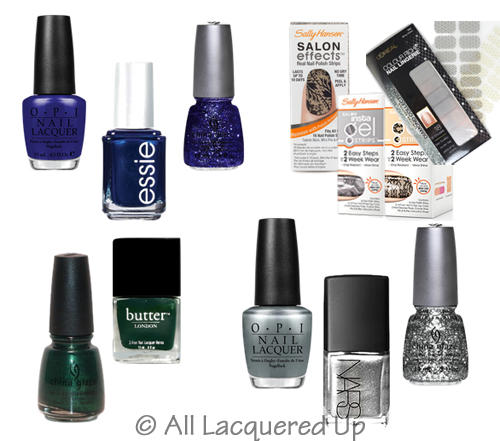 So should I do a straight up, one color manicure? An accent nail? A funky French tip? Moon manicure? Incorporate nail stickers to accentuate the lace pattern in my dress? Use the L'Oreal Nail Lingerie as an overlay on one/multiple nails? As you can see, I'm confuzzled. HALP!!!
ps. If you leave your email in the comment and I select your idea, I'll send you a gift as a thank you.