One of the biggest events of the year in the CLE is, without a doubt, Jump Back Ball. It's an annual charity event held at Playhouse Square to benefit the not-for-profit performing arts center and all their community education programs. Comprised of six theaters, Playhouse Square is one of the largest performing arts centers outside of NYC. Just one of the reasons I feel very lucky to live in this city.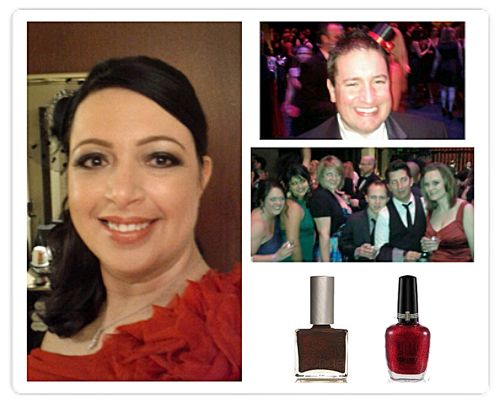 Each year Jump Back Ball has a different theme and for its 21st birthday it was, "Through The Looking Glass." Can you think of anything more fun than an Alice In Wonderland themed ball? Being that this was my first time attending, I was ecstatic. Of course that means finding the right dress/shoes/accessories and coming up with a hair, makeup and nail concept. Oh what fun!

In the past dress shopping has been a horrifying thought. No one loves dressing room lighting but being a plus size woman has its own set of challenges.  Though thanks to my continued journey with Weight Watchers, it was a lot more fun this time around. As of this past weekend I have officially said goodbye (for good) to 50 pounds and while out shopping for JBB I bought my first dress without a "W" attached to the size in over a decade.
I stumbled across this Tadashi Shoji creation at Nordstrom Rack and I can't believe I almost didn't try it on. Thanks to my virtual shopping buddy Shibani, aka CLE's Tim Gunn, she gave me the confidence to bring it home and I'm so glad she did.
The BF and I. Yes, he is wearing a mini hat. All his idea. Found on Etsy.

Shibani, me and Christina at the VIP pre-party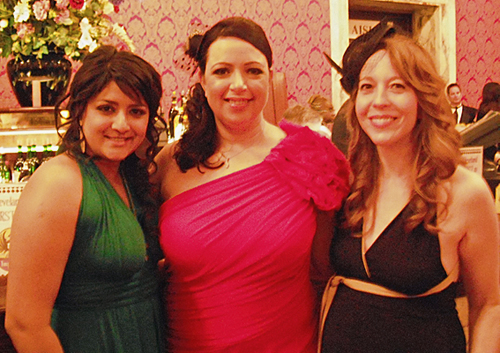 One of the coolest things about JBB is that some people come in black-tie and others take the theme to heart and go all out in costume. There was a woman wearing a full suit of armor, men decked out in Mad Hatter garb, and even a dude dressed in Ralphie's pink bunny outfit from Aunt Clara (below). What's crazy is you can't tell who is a guest and who is a paid performer, with the exception of the stilt walker.
I was very honored when my pal Shibani named me one of her "best dressed" of the night. That's never been me before. Personally I think her and her hubs were the best dressed couple of the night. He went all out on his Gangs of New York look; monocle, top hat and all. Plus, Shibani was rocking a gorg frock in my fave color which happened to be an infinity dress. Love the versatility.
1. Shibani and "N" 2. me and the pink bunny 3. Christina, Allison and Danielle 4. Lzone robot-ing with Seanski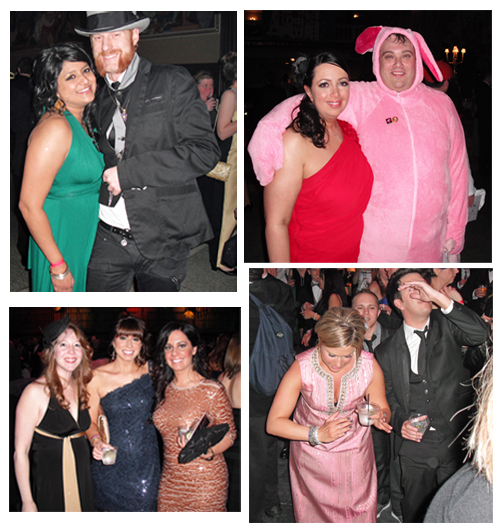 It was an amazing night filled with too many cocktails, delicious food, dancing and friends. I'm already looking forward to next year.

Of course, all this leads back to nail polish. After I found the dress and black patent peep-toe heels that were actually comfortable, I created a little Man Repeller style "arm party" with graphite colored bangles and bracelets including this gem from Alexis Bittar. And I'm an idiot with dramatic makeup and hair styling so I went to the MAC counter at Nordies and had my hair guru Shannon at John Roberts create my side swept 'do. I even got a spray tan. But what to do with my nails?
My first thought was the OPI Alice In Wonderland collection but I really wanted something vampy.  I didn't want a creme but I also didn't want a ton of sparkle, just something subtle that complimented the color of my dress.
That led me to Rescue Beauty Lounge Black Russian.  This mixture of plummy, almost-black creme and red micro-glitter was the perfect choice. The glitter does leave the polish with some texture but a spackle coat of Gelous before my beloved Prolana Quick & Slick was all it took.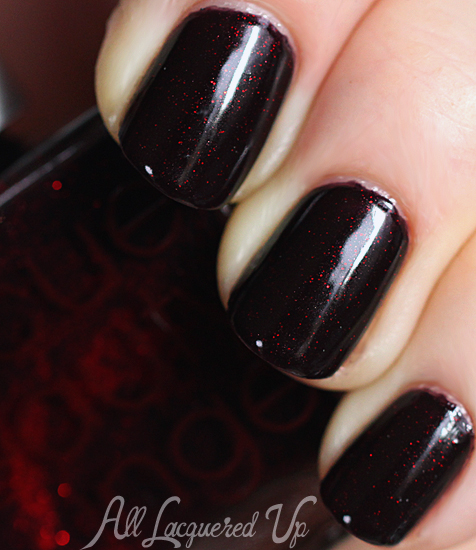 Though after seeing this tutorial from The Beauty Department, I thought adding a heart, for The Queen of Hearts, might be fun. Then Anna from Glitter She Wrote linked me to her scotch tape version. Gah, brilliant! I don't use scotch tape much so it didn't even occur to me.
The only bummer is I practiced this a few days before the event and it turned out perfect. This is my trial below using Milani One Coat Glitter in Red Sparkle. On the actual day, of course, I messed up the heart and didn't have time to fix it so I ended up with a glitter accent nail on my ring finger. I even tried it again on my thumb only to end up with glitter thumbs as well. Ah, best laid plans.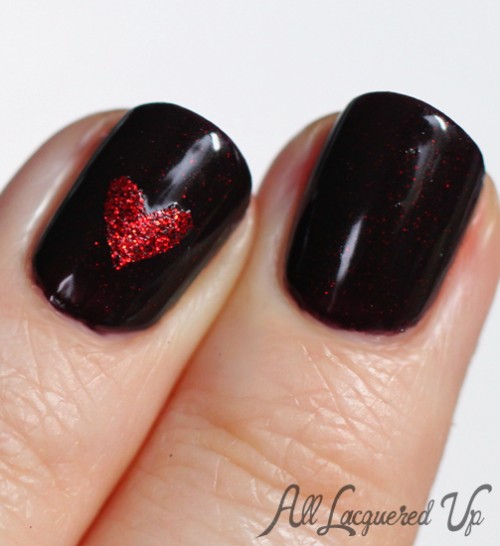 Despite my lack of heart, I loved how my overall look came together and the event was a blast. I equate it to adult prom and since I was very anti-prom and serious relationships and anything that deterred me from my collegiate dreams, when I was a teen, I guess this fulfilled that silly notion that everyone should experience a prom.
Rescue Beauty Lounge Black Russian retails for $18/ea and can be purchased at RescueBeauty.com. Milani One Coat Glitters are available at drugstores and mass retailers nationwide and online at MilaniCosmetics.com and CherryCulture.com. Milani nail polishes retail for$4.99/ea.
What nail color would you have selected for my Jump Back Ball look? Do you have RBL Black Russian? If not, do you plan to pick up a bottle? Outside of scotch tape and using a toothpick do you have a fool-proof way of creating nail art hearts?
Disclosure: I purchased all the items and services featured in this post. For more info view my Disclosure Policy.