One of the first things I told the boyfriend about being with me is to keep the flower buying to a minimum (seems like a waste) and to NEVER EVER get me a Valentine's Day gift. Not to be all Debbie Downer about VDay but it's just not my thing. People put so much pressure on one day and I'd much rather get a surprise from my man because he wants to, not because Hallmark told him to.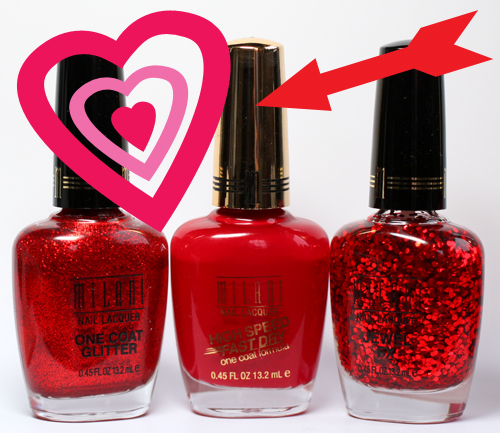 Even though we don't celebrate the holiday, like most men, the BF really loves the color red, especially on nails. As you know, the official colors for today, red and pink, aren't exactly faves of mine but I may as well indulge him, right? And Milani just happens to have perfect budget-friendly reds to get the job done.
New shades from the Milani High Speed Fast Dry and Jewel FX lines paired with a One Coat Glitter will send Cupid's arrow straight to your lover's heart. Or make you the envy of your BFFs when you go out to celebrate the joy of being single.
Side note: There is one thing I look forward to every VDay. My friend HisA sends out an annual email to her girlfriends on this day to share what the past year has taught her about life and love and loving herself as a woman, relationship or not. It's an amazing gift and something I encourage all of you to do.

Formula & Application: Milani nail polishes are 4-Free (including formaldehyde resin). The bottles have a tapered, shiny plastic cap with a long, thick, round brush. The round brushes on Milani polishes are bigger than most and combined with the flexible bristles they allow for optimal coverage of the nail plate. The High Speed Fast Dry line sports a wide flat brush that is pretty dense and thick. It really holds the polish and covers the nail plate though people with narrow nail beds might find it a bit too big.
The only downside of the One Coat Glitter it that it's kind of thick so it just of plops on the nail which doesn't really allow for phenomenal control but glitters are pretty forgiving so any uneven brush strokes around the cuticle aren't noticeable. Regarding the "one coat" coverage promise, Milani comes close but doesn't quite hit the mark. The first coat definitely covers better than most glitter polishes but it's not completely opaque. Applying two thin-medium coats will give the best results.
The High Speed Fast Dry formula really impressed me. It's so packed with pigment that I thought the bottle was a solid color, not glass. That does make the polish a bit thicker in feel but it's not gloppy so you can easily control it. The bottle claims a one coat application, 60 second dry time and high gloss finish. It lived up to the one coat claim and while it was mostly dry after a minute, I wouldn't go reaching in my purse. The finish was a bit more dull than I expected but it's nothing a top coat can't remedy.

Milani High Speed Fast Dry Rapid Cherry is a super pigmented, blue-based red creme. As the name implies it has a maraschino cherry hue that is very true to the bottle color. Even though I don't wear this type of shade very often, a one-coat red nail polish is pretty impressive.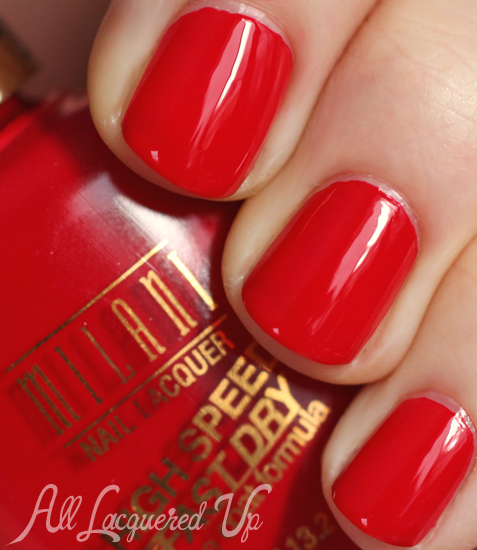 Now I couldn't let this manicure fly without a touch of glam and I'm a fan of the accent nail so I debated between Milani One Coat Glitter Red Sparkle and Jewel FX Red. Ultimately I liked the evenness of the one coat glitter. It feels a bit more chic and subtle even though it's full coverage. Application tip: This polish eats top coat so I used a spackle coat of Gelous underneath since I don't use thick, quick dry top coats.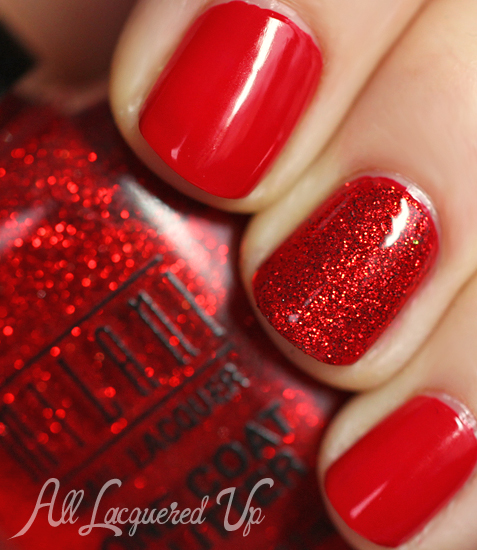 Though because I just had to know what Milani Jewel FX Red would look like on my nail, I added a coat to my thumb. It's a clear-based red glitter with big hexagonal sequins that look pretty identical to Deborah Lippmann Do Ya Think I'm Sexy. They just aren't as dense. It's hard to evenly place this type of glitter and that's why Little Miss Meticulous over here prefers something more uniform like the One Coat Glitter formula.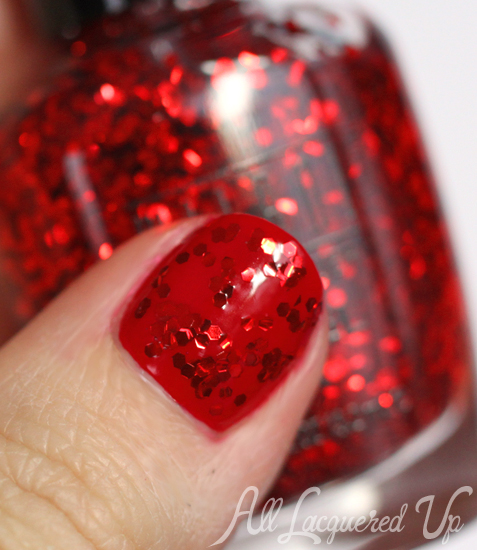 Bottom Line: If you're looking for a fab one coat red, jump on Rapid Cherry even if red isn't your thing. You should also check out the rest of the High Speed Fast Dry line while you're at it. The One Coat Glitters are totally my jam, I love them ALL, but if you prefer something more fun and carefree, the Jewel FX will do you right. They're not ideal for full coverage as you need a lot of coats but for layering, totally party worthy.
Milani High Speed Fast Dry, Jewel FX and One Coat Glitter nail polishes are available at drugstores nationwide and online at MilaniCosmetics.com and CherryCulture.com. Milani nail polishes retail for$4.99/ea for a .5oz bottle.
Do you celebrate Valentine's Day with your sweetie or are you anti-VDay? What colors make up your ultimate sexy red manicure? Do you plan to pick up any of these Milani shades? Who else is loving the High Speed Fast Dry line?
Disclosure: I purchased the Milani One Coat Glitter. The rest are product samples provided by Milani. For more info view my Disclosure Policy.