*tap tap tap* Is this thing on??
Hey kids! I'm back from my way-too-long hiatus. Did you miss me? Because I really missed you. Like really really missed you! I know my absence has upset some of you and, believe me, that wasn't my intent. Just know that it was necessary. To those of you who have sent emails, tweets and comments sharing your love and support, I can't thank you enough. You are THE BEST!
As this post goes live I'm actually en route to NYC for New York Fashion Week. I'll be reporting from backstage on all the fun nail happenings at the Spring 2013 shows. But don't worry my pets, I have posts lined up so you'll get your dose of new nail polish reviews in addition to NYFW updates.
While I was on break, L'Oréal Paris asked me to be a part of an ambassador program for their Colour Riche Nail line and guest blog for La Sélection, a digital magazine. One of the posts is a tutorial for a sponged ombré manicure. Ombré hair is so big right now, why not take the look to your nails? It's so easy and fun.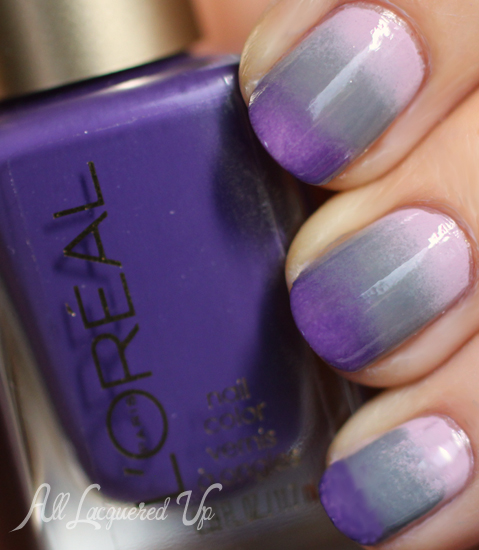 I chose a summery, sunset inspired color palette for my tutorial but with Fall quickly approaching gray and purple felt more appropriate for NYFW. Starting with a base of Essie Pilates Hottie from the Yogaga collection, I sponged L'Oréal Paris Colour Riche Nail in Greycian Goddess and Paprazzi Pleaser on top to create this look. For the full tutorial visit La Sélection.
L'Oreal Paris Colour Riche Nail is available at mass retailers nationwide and retails for $5.99/ea for a .39oz bottle.
So are you into this ombre look? Have you tried this technique before? What colors, nail styles, trends are you loving right now? What is the one shade for fall you are obsessed with?
Disclosure: As part of the L'Oreal Paris ambassador program I received samples of Colour Riche Nail products. All opinions and statements are my own.