If you follow me on Twitter or Instagram you know that in June I had the opportunity to visit the Sally Beauty HQ, home of the Finger Paints brand.
I got to tour the HQ, seeing their museum of vintage beauty appliances, and meet Lindsey and Mindy, who you know if you read the "Eye for Beauty" Blog. Bonus points to them for knowing of my fondness for craft beer and taking me to a kick ass bar in the land of Denton, TX. If you're ever in the area, head to the Oak Street Drafthouse. You'll thank me.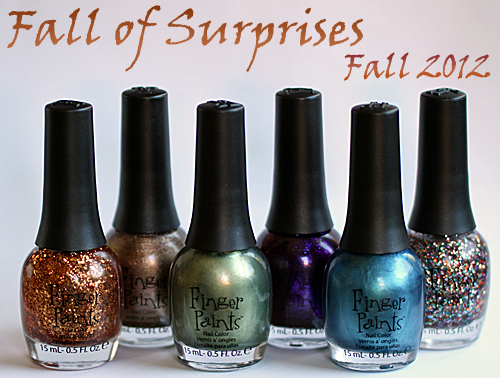 Oh and I got to check out the Finger Paints "Fall of Surprises" Fall 2012 collection. I know, I know, way to bury the lead. Needless to say, I kind of flipped when I eyed a copper glitter bomb parked next to my holy nail color trinity of blue, green and purple.

Formula & Application: Finger Paints is produced exclusively for Sally Beauty and it is 4-Free (including formaldehyde resin) and does not include camphor. The Fingerpaints bottle is unique in that it's kind of an oblong shape (remember The Oblongs) with a long, slender, slightly taped cap. The brush is long, thin and flexible. It reminds me of the old OPI brush which is probably why so many of us speculated that OPI made Fingerpaints back in the day.
The formula in this collection varied due to the range of finishes so I will comment on them individually in each color review. There are three frosts, one foil metallic, two clear-based glitters and one glass-fleck glitter.

Finger Paints Be-leaf It Or Not is the first of three frost/metallic finish colors. Its silvery sage hue is great for those who fear overly yellow/warm greens that don't want to venture into blue-green territory. Because it has a frosty finish, brush strokes are a concern. Though not like a traditional chrome metallic. Application tip: Apply in three thin strokes; one on each side, ending with a stroke down the middle to minimize brush lines.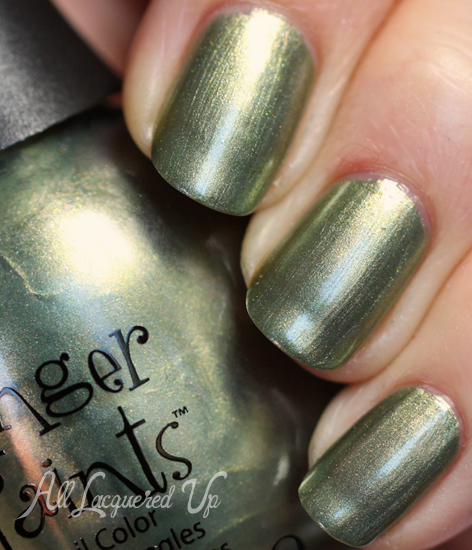 Finger Paints Fall-ing For You is a teal frost that favors the blue side of teal. It is well pigmented so watch out for staining.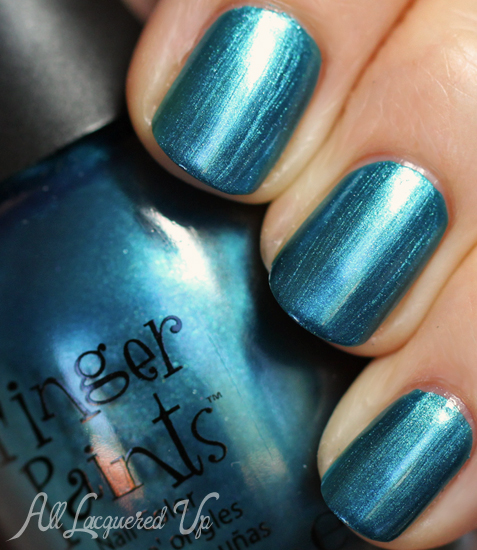 Finger Paints Plum Startled had me at hello. I saw the glass flecks and micro-glitter staring at me from inside the bottle of this grape confection and I KNEW it was going to be a winner. Similar to a China Glaze glass fleck, the base is semi-sheer and jelly-ish so you need three coats to achieve full coverage but WOW is it worth it.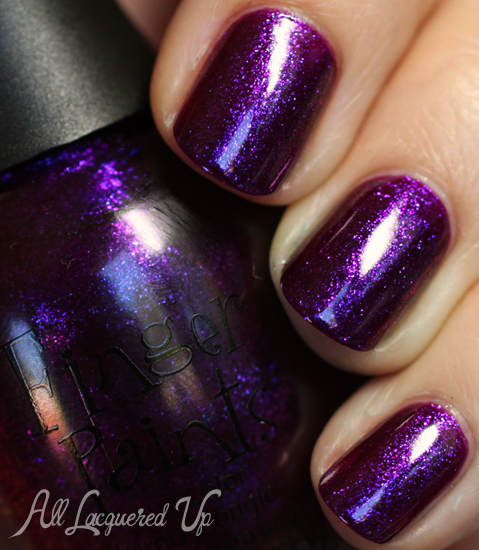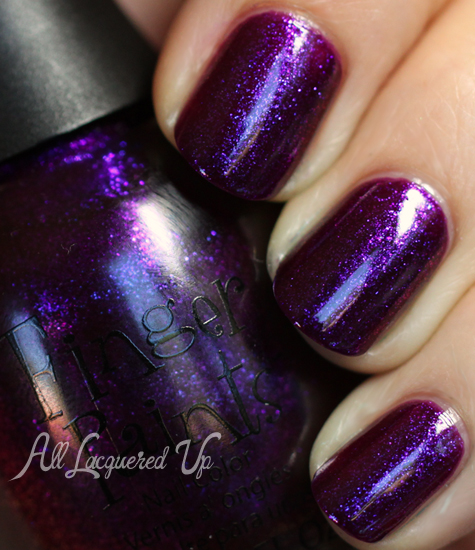 Finger Paints Take It Or Leaf It is a taupe-y, bordering on bronze, foil-esque metallic. The color is fantastic in the way it borders warm and cool making it a pretty universal fall metallic. Unfortunately, the formula is not the best. I found it to be goopy, thick and hard to spread leaving me with some dragging and bald spots. I could make it work but it was an effort. It's like it was aged or exposed to air. It may have just been my bottle but I want to give you fair warning.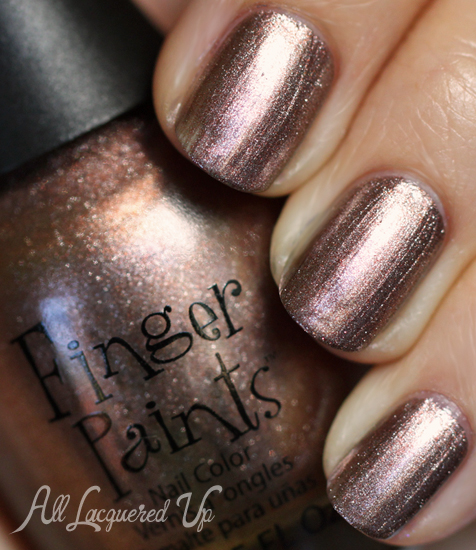 Finger Paints Fall of Surprises is shaping up to be my go-to layering glitter for Fall. It's the perfect mix of copper glitter and sequins in a crystal clear base. And at almost half the price of its Sephora by OPI doppleganger, you can't beat it. Even though the formula of  Take It or Leaf It annoyed me, it looks so damn good under Fall of Surprises and I'm willing to call a truce with it. I'm also showing it over Be-leaf It Or Not, another worthy partner.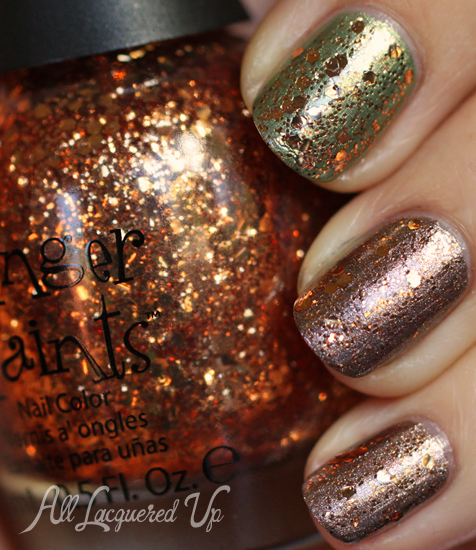 Finger Paints Gourd Or Bad? is a confetti-colored bar glitter top coat. I found it hard to apply evenly, unlike Fall of Surprises. My best tip… try dabbing the polish at the base of the nail first and then spreading it to help disperse the glitter better. Also, have a good thick top coat at the ready. The particles leave quite the odd texture as they don't exactly lay flat on the nail.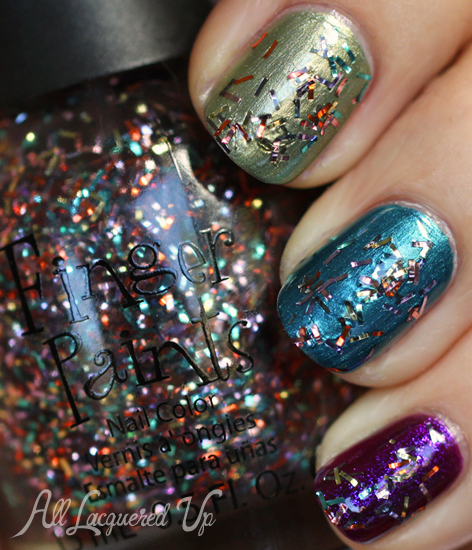 Bottom Line: Fall of Surprises is my number one must-have of the collection, unless you gave into the $OPI version prior. I love these types of layering glitters (remember my fascination with Lippmann Today Was A Fairytale?) so for me it's a no-brainer. Plum Startled is definitely my runner-up as my love of glass fleck knows no bounds. Gourd or Bad? gets a pass from me personally as I'm not a bar glitter kind of gal. Take It or Leaf It is worth investigating based on the color. The rest are all solid but not necessities to my nail wardrobe.
Finger Paints Fall of Surprises collection is available now at Sally Beauty stores nationwide and online at SallyBeauty.com. Finger Paints nail polish retails for $5.29 ($4.49 with club card) for a .5oz bottle.
Which color is your favorite in this collection? Do you plan to pick up any of these? If you purchased Take It or Leaf It, how was the consistency? What type of glitter person are you? Bar, Sequin, Traditional? Do you perfer layering or full coverage?
Bonus: A shot of what I called the "hair instrument of torture" in the Sally Beauty "beauty shop" museum. Can you imagine being attached to that, trying to curl your hair?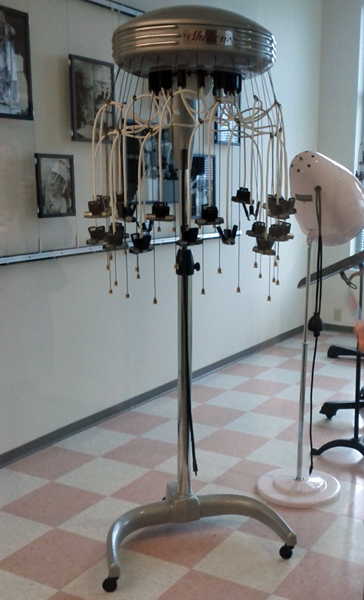 Disclosure: Product samples were provided by reps for Finger Paints. For more info view my Disclosure Policy.