In recent history, no manicure I've worn has garnered more compliments or sparked more nail conversations than the Very Colourfoil Manicure from Ciaté. Over the course of a week I had no less than five strangers inquire about my look in addition to friends who asked about it.
With the 80s resurgence we're seeing, like the fact that perms are coming back (say it isn't so!), it's no wonder foils are having a moment. They started making their comeback at NYFW Spring/Summer 2011 when Celebrity Manicurist Pattie Yankee used them at Cushnie et Ochs and now, thanks to Ciaté, they are finding their way into the mainstream.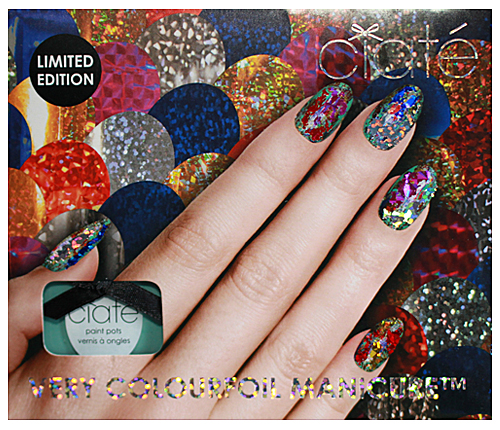 It's funny, when I first heard of the foil nail art kit, I thought it sounded like a waste. I mean, why wouldn't you just go out and buy nail foils on your own, right? Well, what I found out through my convos is, the majority of people either aren't hip to the availability of nail foil or don't want to hunt down the components individually. For the same reason that I love an eye shadow palette over putting together individual shades, lots of people prefer a kit that contains everything you need to create a look.

Kit Contents: There are three Very Colourfoil Manicure kits, each one featuring a different Ciaté Paint Pot color. Included are 30 foil sheets in 6 coordinating colors, a bottle of Foil Fix Glue, a nail art wheel to practice on and instructions. This is the Kaleidoscope Klash kit.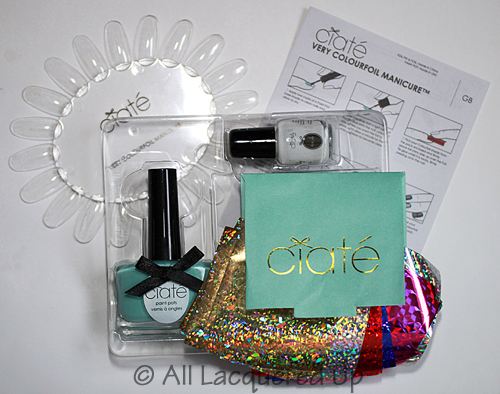 Application: To create the Very Colourfoil Manicure you start with 2 coats of nail polish. Wait for it to completely dry. Then apply the Foil Fix Glue in places you want the foil to adhere to the nail. Use the brush to create patterns, a French tip, a moon manicure, or cover the entire nail. The possibilities are endless. Wait for the glue to dry completely. Press the foil firmly onto the nail and rip off quickly, like removing a wax strip from skin. Apply top coat.
Application Tips:
1. The foil glue applies cloudy/milky. It isn't dry until it turns clear. It can take a few minutes. Be patient.
2. Apply the foil glue as thin as possible. Thick application will delay the process and it may not adhere to the foil.
3. Press the foil to the center of the nail and use a cotton swab to rub it on the nail. This will ensure a smooth application. Using your finger could wrinkle it (see below).
4. Use a light touch when applying top coat. I pressed too hard and caused the blue foil to smear some (again see below).
5. This YouTube video suggested using non-quick dry top coat on foils to prevent wrinkling.

Ciaté Pepperminty is a pale turquoise creme. It is definitely too blue to be a true mint but not quite Tiffany blue. I found the formula to be pretty thick and the brush is thick and dense so it isn't the easiest polish to control but it gives great coverage. I only needed two coats and other than a slightly wonky curve along the cuticle, it looks pretty good.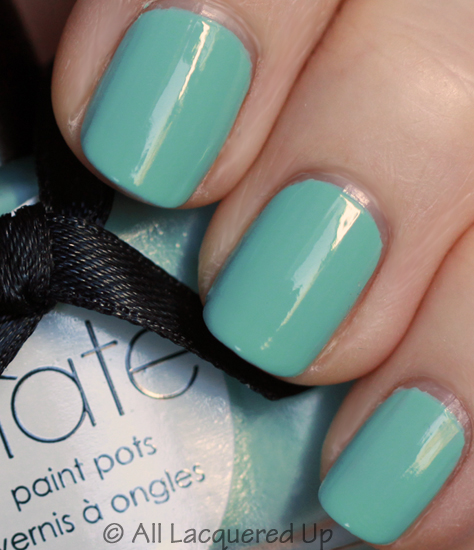 Of the six foil colors in the kit, I liked Bloom (silver holo), Beaut (blue) and Bounce (gold holo) the best when paired with Pepperminty. I applied each one to a different nail. As you can see, the nail with Beaut is where I learned my lessons with the foil glue and top coat. I didn't wait long enough for the glue to dry so I have some irregularities  And using Out The Door top coat caused the blue color to bleed a bit on my nail.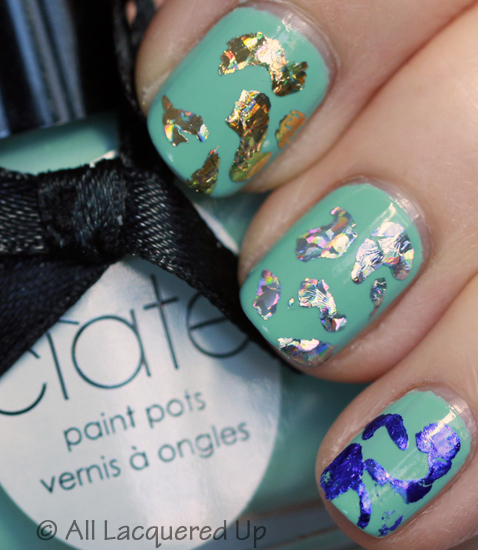 I played with layering on my thumb and other than the way I applied the glue for the blue foil, I'm happy with how it turned out. It's a LOT of look but definitely fun and eye catching. Talk about "Blackberry Bling".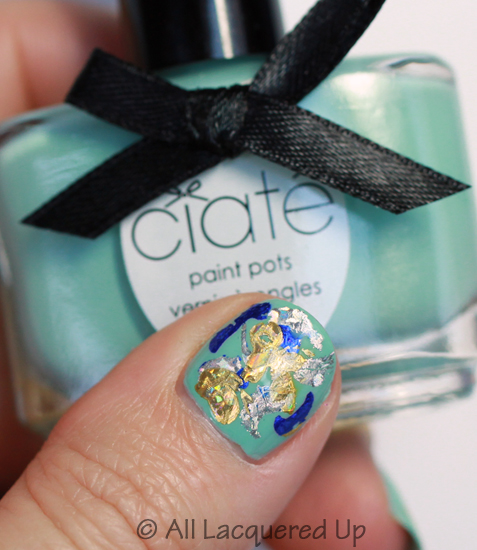 Bottom Line: Foils are a fun and easy nail art technique. It's near impossible to ruin the look given that they're meant to look randomly placed. It's an extension of the gold leaf top coats that were so popular last fall. This Ciaté kit is great for people who want to take the guesswork out of foil nails and get everything they need in an easy to access package. Though if you're the type who regularly shops for nail art supplies online, you can certainly replicate this look for less.
The Ciaté Very Colourfoil Manicure kit is a limited edition item currently available at Sephora.com. The kit retails for $19/ea and comes in three color options; Carnival Couture, Kaleidoscope Klash and Wonderland.
Are you a fan of the foil nail look? Will you try the Ciaté kit? Have you worked with foils before? What's your favorite way to use them? Should I use the blue or silver foil in my Jump Back Ball manicure?
Disclosure: A sample kit was provided by reps for Ciaté. For more info view my Disclosure Policy.