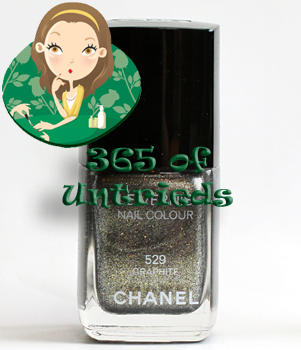 365 of Untrieds is my personal challenge to weed through the polishes in the ALU stash that I've been wanting to try but just haven't gotten around to.
My friend Nancy from Beauty 411 is what you might call a Chanel connoisseur. She knows the makeup line inside and out and every season she is first in line to take home her favorite pieces from the collection, especially the nail colors.
When pictures first surfaced of a silver metallic Chanel nail polish from backstage at Paris Fashion Week, Nance was the first person to ask me about it on Twitter. At the time, the images I saw didn't wow me. Another foil metallic, how original.
I told her I didn't expect Chanel Graphite to be anything special and even after I could see it in person I was feeling kind of "meh" about it. Well, now you get to watch me eat my words.

Formula & Application: Chanel nail polish is 4-Free (includes formaldehyde resin) plus there's no camphor, which can be an irritant. The signature square glass bottles are topped with a black square outer cap that is removed to reveal a stubby, round, ribbed inner cap. The brush is round, medium in length and width and reminds me of the old OPI/new SOPI brushes. It easily fans out and covers the nail without much resistance.
Like most foil metallics this polish flows easily on the nail. It levels itself well and even though the first coat goes on somewhat sheer, it builds up fast. I ended up using three coats because I thought my I could still see my nail through the polish but a third coat ended up being more than enough. I could have gotten away with only two.

Chanel Graphite is a light charcoal foil glitter that has been warmed up with small gold flakes. The gold makes this color somewhat chameleon-esque in that it looks quite warm from one angle and a cool silver from another. Something about it is vaguely reminiscent of NYC Molten Metal, a limited edition foil glitter that I just loved. I snapped a ton of shots of this one trying to give you an accurate look at the color. At the end of the day I couldn't decide which picture I liked better so I posted both.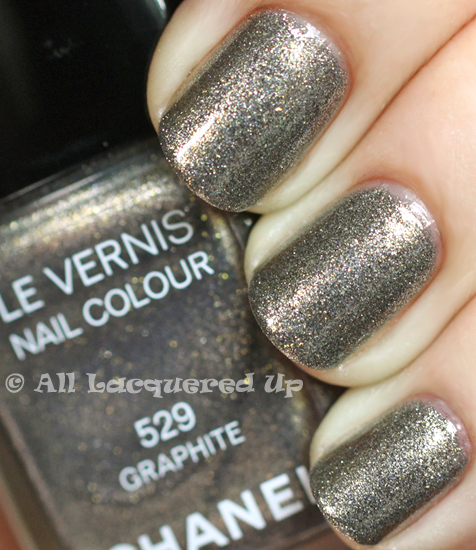 When I previewed this collection I mentioned that Graphite looked like a mix of OPI Your Royal Shine-ness and Brand New Skates. Turns out BNS doesn't even live in the same neighborhood as Graphite so I decided to replace it with Chanel Kaleidoscope for this comparison. As you can see, Graphite is much darker than both colors and warmer than YRS-ness. Kaleidoscope looks practically champagne in comparison.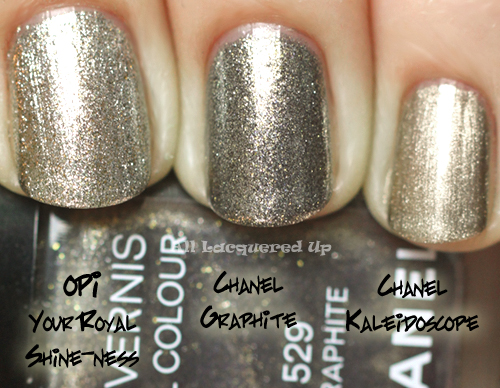 A reader asked how Graphite compares to Color Club Snakeskin and while they have similar base colors, the finishes are very different. Snakeskin is a pewter shimmer with a small amount of gold micro-glitter thrown into the mix and compared to Graphite, it looks very flat. The other request I saw was for OPI Lucerne-tainly Look Marvelous. I wasn't able to swatch them side-by-side but take my word for it, they are not dupes. Lucerne's graphite base has a blue cast to it and it's not as blingtastic. Plus it's missing the gold foil glitter of Graphite.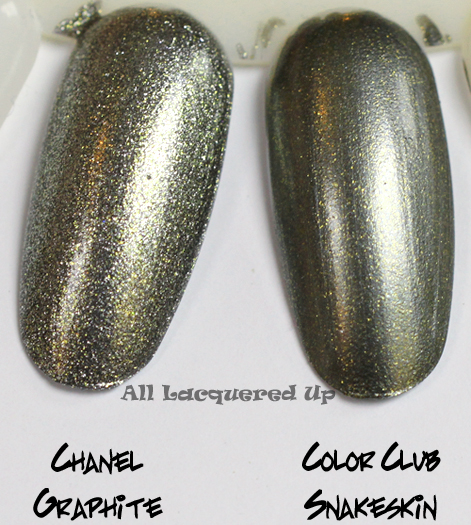 Bottom Line: I was having this anti-foil moment for a while and clearly that is gone because I'm loving Graphite. The gold particles give it a tarnished look and I love the smoky, urban base color. It feels very industrial yet the glitz of the finish makes it chic. Is it a must-have? Not necessarily, but if your budget allows you to pick this one up I say go for it.
365 of Untrieds Stash/Share Verdict: Any guesses? Yep, I'm STASHing it.
Chanel Graphite and the rest of the Illusions d'Ombre de Chanel nail polishes are available now at Chanel counters nationwide and online a Chanel.com. Chanel nail polishes retail for $25/ea for a .5oz bottle.
Are you feeling Graphite? Do you plan to pick up a bottle? Do you find it to be unique enough to own?
Disclosure: A product sample was provided by Chanel. For more info view my Disclosure Policy.