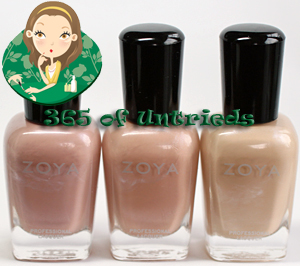 365 of Untrieds is my personal challenge to weed through the polishes in the ALU stash that I've been wanting to try but just haven't gotten around to.
I've been on this odd beige neutrals kick lately. It all started with CND Perfectly Bare and Deborah Lippmann's Naked and now Zoya comes out with the Touch collection, a specialty set of three undertone-matching beige polishes with a subtle shimmer.
Zoya Nail Polish presents 3 new, full coverage nude creams – softly kissed with a bit of metallic to make them ultra wearable.
It's so not my color personality but there's just something about wearing a full coverage neutral that feels so fresh and clean in this sticky summer heat. I honestly don't know what's become of me but I don't see this trend of mine dying off anytime soon.

Formula & Application: Zoya is a 4-Free brand (including formaldehyde resin) plus they leave out camphor, which can be an irritant.  Their signature Italian glass bottles have a tapered, shiny black plastic cap that rests comfortably between the thumb and index finger while polishing.  The brush is short, round and medium in girth with flexible bristles that allow for ease of control.
While the Zoya formula can be somewhat watery, the Touch collection polishes are all very creamy and thick with pigment. They are still spreadable and self leveling so the thickness isn't an issue. I was able to get all three colors opaque in two coats which is impressive for such light colors.

Zoya Minka is a yellow based beige with silvery micro-shimmer. Think of it as a light sand. The same shimmer appears in all three polishes and it isn't overly visible. It gives the polish a sheen and adds depth to the color. Minka is intended for warmer complexions and olive skin tones.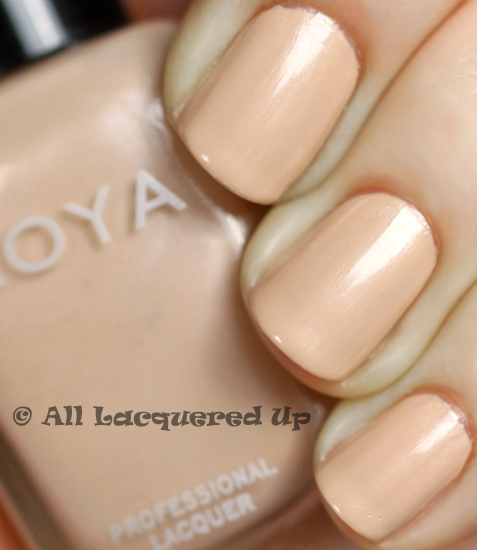 Zoya Pandora is a blush toned beige with silver micro-shimmer. This color reads more pink than beige and will work well with cool skin tones.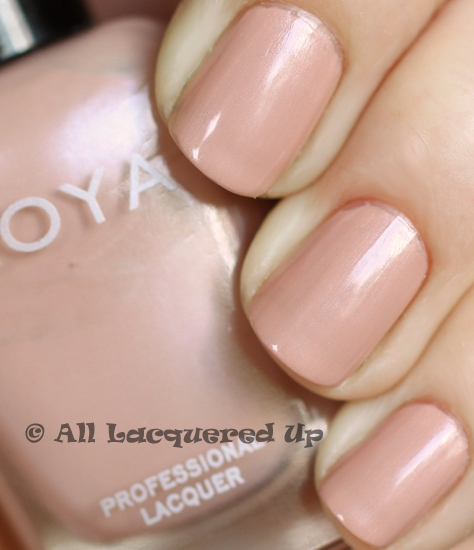 Zoya Shay is a peachy beige with silver micro-shimmer. I consider peach a neutral in that it blends both cool pink and warm orange. Yes, some peach colors can lean too far either way to make them unwearable for certain skin tones but Shay fall nicely in the middle. It's a color that will flatter a majority of people.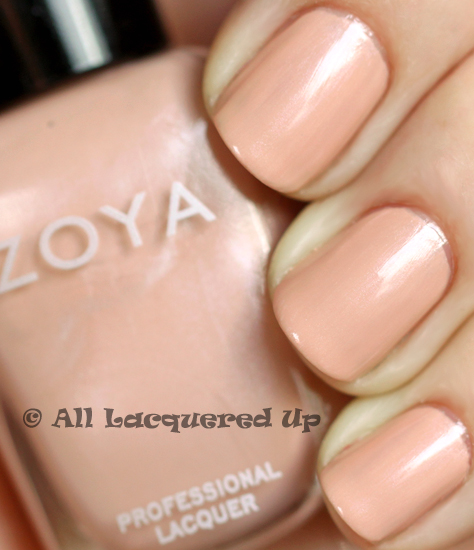 Bottom Line: Zoya Minka did absolutely nothing for my coloring but the other two are quite lovely. I appreciate that Zoya took undertones into consideration and created polishes that coordinate with our coloring rather than trying to match every conceivable skin tone. Also, I love the great coverage these polishes give and the way the micro-shimmer adds a sheen but doesn't cross over into frosty/pearly territory. If you're looking for the perfect beige neutral, you should definitely check these out.
365 of Untrieds Stash/Share Verdict: Minka made me look too sallow so SHARE. And while Pandora is pretty, I know my beige phase will pass so I'm only STASHing one of the three and that's Shay.
The Zoya Touch collection is available now on Zoya.com. Zoya nail polish is carried at salons and spas nationwide and at chains like ULTA. Seasonal collection availability will vary by location. Nail polishes retail for $8/ea for a .5oz bottle. Don't forget, you can try before you buy with the Zoya Color Spoon program.
Am I the only one that has recently fallen victim of the neutrals trend? Thoughts on the Touch collection colors? Which one do you think would work best with your skin tone? Do you prefer to compliment your skin tone or match it perfectly (ie Mannequin Hands)?
Disclosure: Product samples were provided by Zoya. For more info view my Disclosure Policy.