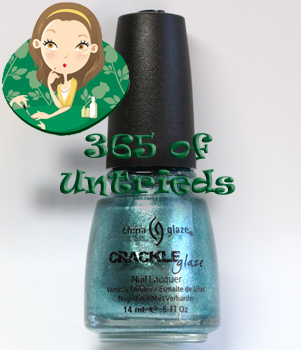 365 of Untrieds is my personal challenge to weed through the polishes in the ALU stash that I've been wanting to try but just haven't gotten around to.
By now you probably are aware that I'm not the biggest fan of the crackle nail polish trend. I'm not hating on it per se, I'm just not fully on board. Something about the first sets of crackles didn't thrill me. They were chunky looking and felt dated. However, I find myself crying "UNCLE!" ever since the metallic crackles started to pop up. They are definitely a fun twist on an old look and, well, I usually give in to anything sparkly.
Case in point, the China Glaze Crackle Glaze Metals. Foil metallic crackle polish that comes in six colors? Okay, okay I give. It does look pretty cool. See for yourself.

Formula & Application: China Glaze Crackle Glaze nail polish is 4-Free (including Formaldehyde Resin) and free of camphor, which can be an irritant. The Crackle Glaze polishes come in the same bottles with the regular thin, round brush.
Unlike the first set of Crackle Glaze polishes, the Metals have a thinner formula which makes it easier to apply but still not perfect. The only downside is the brush doesn't want to fan out in this formula so you need multiple strokes. Since crackle polish needs to be applied thin to get more cracks, it's not as easy to get a really broken up pattern. I found myself trying to cover bald spots and I end up with too much polish in one spot and no cracks appeared. I know crackle polish is all about the randomness but that's so against my nature. I want each nail to look uniform.

China Glaze Crackle Glaze Oxidized Aqua is a seafoam style blue that looks slightly greyed due to the silver metallic pieces intermixed with the blue. I layered it over a jet black matte, SpaRitual Mind, since mattes dry so fast and you have to apply crackle polishes over completely dry nails.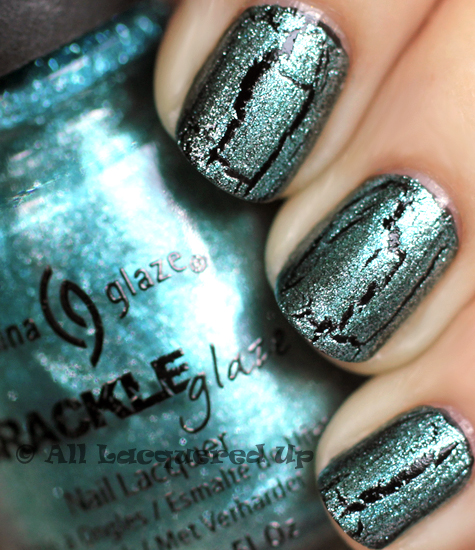 Bottom Line: Even though I wish it had cracked more, I love the metallic finish and the contrast with the black. If I played with it more or added just a drop or two of thinner I could probably achieve the look I desire. And yes, you can add a bit of thinner to crackle polishes to get rid of the goopy texture. Just add it very slowly and roll the polish a LOT before adding more.
365 of Untrieds Stash/Share Verdict: I dig the color and the finish so I'll STASH this one.
China Glaze Crackle Glaze Metals should be launching in July 2011 though I don't have a definite date. You can find China Glaze polishes at Sally Beauty and ULTA stores and online at SallyBeauty.com, TransDesign.com and Head2ToeBeauty.com. Nail polishes retail for $3.50-7/ea, depending on the retailer, for a .5oz bottle.
Thoughts on the metallic crackle polishes? Do you prefer the metallic, shimmer or creme crackles? If you are still anti-crackle, what's keeping you from trying them?
Disclosure: A product sample was provided by China Glaze. For more info view my Disclosure Policy.