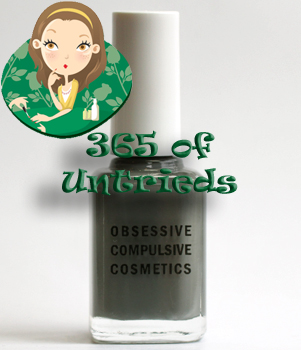 365 of Untrieds is my personal challenge to weed through the polishes in the ALU stash that I've been wanting to try but just haven't gotten around to.
A few days ago a reader asked me on Twitter if I had tried the nail polish from Obsessive Compulsive Cosmetics. While I'm fan of, and have previously raved over, the OCC Lip Tars, I have yet to try any of the OCC nail polishes I have in my stash.
The color range from OCC is filled with a lot of staples, as any line should, but then there are these bright pops of funky colors like a swampy green, brushed silver metallic and school bus yellow. I was drawn to OCC Dangerous, a rich creamy grey.

Formula & Application: OCC nail polish is 4-Free (including Formaldehyde Resin) and free of camphor, which can be an irritant. The tall square bottles are topped with a smooth plastic cap that houses a round, bushy brush.
The brush turned me off at first look as it reminds me of a horse tail. It's kind of splayed and dense and doesn't spread out on the nail without causing major streakage. I would prefer the brush to be better but you can definitely work around it. What I found is that the polish actually flows on really well if you hold it perpendicular to the nail plate and lightly drag the polish across. You don't get a ton of control this way but thankfully the formula does all the work.
The formula is a bit squishy but pretty creamy. It's really well pigmented and you barely need two coats. As I mentioned, the brush doesn't offer much control but the polish levels itself out really well so as long as you get near the edge of the nail, it should spread out on its own.

Obsessive Compulsive Cosmetics Dangerous is a wet cement grey creme. It makes me think of dolphin skin. OCC describes the finish as "satin" but it dries with a nice gloss. What struck me as interesting is that even after sitting in storage for over year, the polish didn't separate out to show a blue or green base as a lot of my other greys have done. I think of RBL Stormy which shows a green base and RBL Concrete Jungle which shows a blue base. Dangerous definitely needed mixed but appears to be a pretty true grey.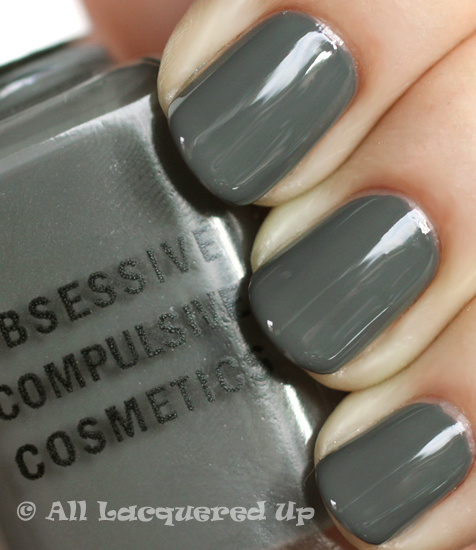 While I couldn't find an exact match for Dangerous in my collection, the depth of its color puts it in the same company as Rescue Beauty Lounge Stormy and China Glaze Recycle.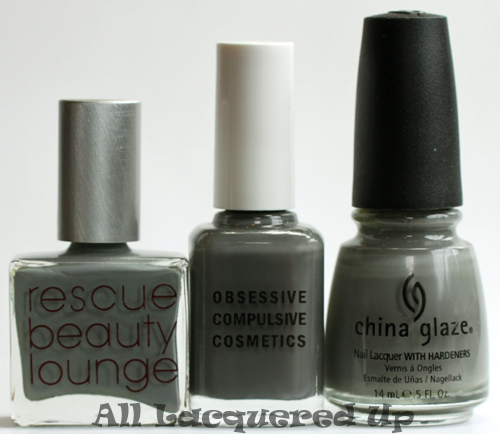 Bottom Line: I like that the formula is well pigmented and the texture is smooth and easy to work with. I can't say I'm a fan of the brush. It can get the job done but there's room for improvement. While Dangerous is a nice grey creme, since I have so many, I can't say it is a must-have. It's a great basic and if you want to give OCC a try, this one won't let you down.
365 of Untrieds Stash/Share Verdict: While I dig the color, it's not overly unique and considering that I have greys in this range with better brushes, this one goes in the SHARE bin.
Obsessive Compulsive Cosmetics Dangerous is available on OCCMakeup.com. OCC nail polishes retail for $8/ea for a .5oz bottle.
Have you tried OCC nail polish before? What are your favorite colors from the line? Thoughts on the brush? Does Dangerous draw your interest?
Disclosure: A product sample was provided by OCC. For more info view my Disclosure Policy.