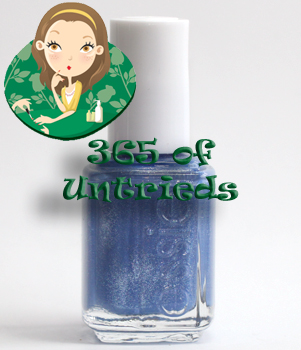 365 of Untrieds is my personal challenge to weed through the polishes in the ALU stash that I've been wanting to try but just haven't gotten around to.
This past weekend I have been at my favorite Ohio destination, Put-In-Bay on South Bass Island in Lake Erie. Every year my friends from my Cedar Point days rent a house for a long weekend to reminisce about the good old days (wow do I sound old) and create new memories. This is our tenth year taking this trip and it just keeps getting better.
Choosing a nail polish to wear for a whole weekend is a challenge as I'm not used to committing to a color for an extended period of time. However, I've been tempted by Essie Smooth Sailing from the summer Braziliant collection ever since it arrived. After fawning over Coat Azure, I was curious to see if this new blue hue could live up to the same standard.

Formula & Application: Essie is a 3-Free brand. The square bottles are embossed with the essie logo and the smooth plastic caps include an embossed e on top. The brushes are thin, round and shorter than most. The bristles are very flexible, allowing you to easily fan out the brush to cover your nail width.
After being so impressed with Coat Azure's texture I was hoping to find the same formula in Smooth Sailing. While the polish is definitely more creamy than squishy, I would say it's a blend of the two. It ended but being the perfect combo as the lacquer was easy to control and gave great coverage. It was fully opaque after two coats.

Essie Smooth Sailing is what I would call a cornflower blue. It's not quite purple enough to be deemed periwinkle and definitely darker and not as blue as Coat Azure. The tiny pink and light blue flecks really elevate it to stand-out status. I have never seen or owned a color quite like this and considering the size of my collection, that's saying something.
The only bummer is I'm testing a new UV top coat and I either did something wrong in applying it or it doesn't play well with others because I ended up with a giant chip the very next day. What a joy having a chipped nail all weekend. Though considering that I've never experienced chipping issues with Essie in the past, I'm not placing blame on the polish.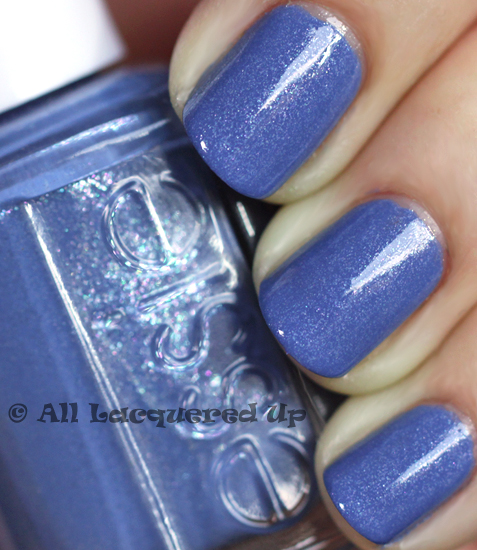 Bottom Line: While I have admittedly not been the biggest fan of Essie's color palette in the past, everything I've tried from her 2011 collections have impressed me. In the past her collections have just, in whole, not been my style but she is killing it this year. Color me won over. Smooth Sailing is unique, well pigmented and in an excellent formulation. How could you go wrong with that?
365 of Untrieds Stash/Share Verdict: Oh it's definitely staying in my STASH.
Essie Smooth Sailing is available now as part of the Essie Braziliant collection for Summer 2011. Essie nail polish is available at professional salons and spas and also in the retail version at drugstores and grocers nationwide. Online shoppers can head to Essie.com, Head2ToeBeauty.com, and TransDesign.com. Essie nail polishes retail for $8/ea for a .5oz bottle.
Thoughts on Smooth Sailing? What is your favorite color from Essie this year? If you had to choose between Coat Azure and Smooth Sailing, which one would you pick?
Disclosure: A product sample was provided by reps for Essie. For more info view my Disclosure Policy.