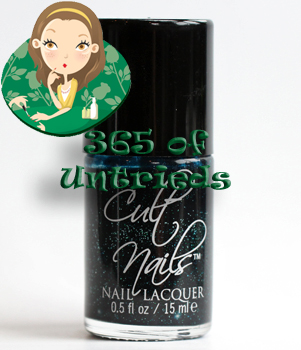 365 of Untrieds is my personal challenge to weed through the polishes in the ALU stash that I've been wanting to try but just haven't gotten around to.
I first learned of Cult Nails from my friend and fellow Ohioan, Styrch from Pretty In Dayton. The brand intrigued me but being that I didn't know the founder, Maria from R3Daily, I was a bit skeptical. As we've learned, some brands rely on private label companies to throw together a nail polish line using stock colors that can be easily found at a much lower cost.
What convinced me to give Cult Nails a try is Maria herself. Learning about her passion for nails and desire to cultivate the brand by building slowly with custom colors is truly inspiring. I was thrilled to put her formula and colors to the test and I'm starting with Cult Nails Living Water.

Formula & Application: Cult Nails nail polish is 4-Free (including formaldehyde resin) and free of camphor, which can be an irritant. The bottle is pretty plain in that it looks like the empty bottles I buy for frankening from beauty supply stores. I'm sure creating a custom bottle is pricey but I hope that the success of the brand will bring a more unique bottle shape.
The big round plastic cap houses a brush that is clearly of Maria's choosing. It is a round brush of average length and noticeable girth. The bristles are nice and flexible so they fan out easily across the nail plate without causing any dragging. In short, I love the brush. It is definitely in contention for my favorite nail polish brush.
The consistency of Living Water is that of a watery, squishy, jelly. The first coat applies a bit patchy, and I found that if you don't wait a minute between coats, you end up with dragging near the cuticle and pooling near the tip. With two medium coats or three thin coats you get full coverage. My only real disappointment is in how it dries. The glitter gives it quite a bit of texture and even though the base is jelly it dries a bit flat. I found that using a coat of Gelous between the polish and the top coat resolves that as Gelous acts like spackle to fill in the bumpy spots.

Cult Nails Living Water is a blackened teal jelly with blue and green micro-glitter. It was created by a nail blogger, as part of a contest run by Cult Nails, who hoped to find a color that mimics phosphorescence in the water. Being a boater, I knew this had to be the first color I tried from the line and it lived up to all my expectations. The base color reminds me a LOT of one of my all time favorite polishes, CND NFS, though it's not quite as blackened.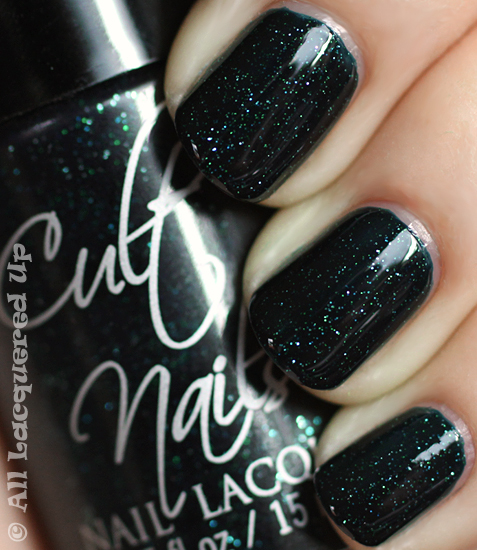 Since Styrch has mentioned that Cult Nails polishes "wear like iron" I wanted to see for myself. I put Living Water to the test, keeping it on my nails for seven days with Gelous base coat and Out The Door top coat. With the exception of a minute chip on my index finger and some slight tip wear, it looked flawless. Note: I did this wear test without the Gelous buffer between the polish and top coat and as you can see, the surface has texture and isn't as glossy as the swatch above.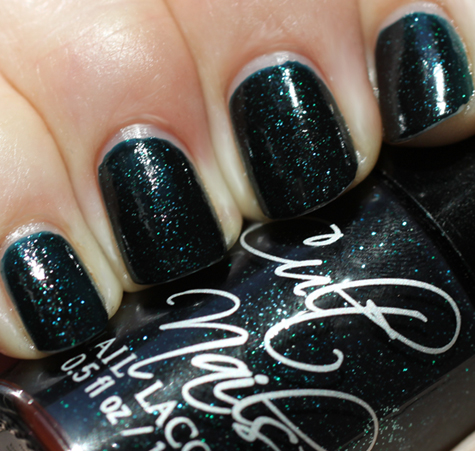 Bottom Line: Cult Nails puts out a quality product and Living Water is an interesting and gorgeous color so I suggest you get involved. Outside of the texture issue, my only real gripe is the bottle design as that cap and generic bottle shape do a serious disservice to what is clearly a unique brand.
365 of Untrieds Stash/Share Verdict: STASH, duh!
Cult Nails Living Water is available online at CultNails.com. Cult Nails polishes retail for $10/ea for a .5oz bottle though you can buy it as part of the Inaugural Collection ($35) or Cult Convert Pack ($70) at a discount. Also, I suggest you follow @CultNails on Twitter as Maria has offered discount codes to followers in the past.
Have you heard of Cult Nails before? What do you think of Living Water? Are you planning to make a purchase from the brand in the future? If you've tried Cult Nails, what is your favorite shade from the line?
Disclosure: A product sample was provided by Cult Nails. For more info view my Disclosure Policy.