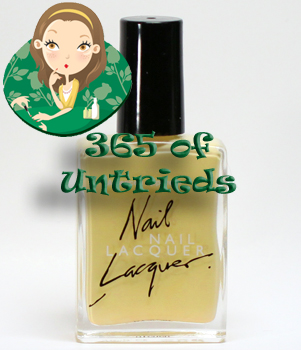 365 of Untrieds is my personal challenge to weed through the polishes in the ALU stash that I've been wanting to try but just haven't gotten around to.
"They call me Mellow Yellow, quite rightly.
They call me Mellow Yellow, quite rightly.
They call me Mellow Yellow."
-lyrics from Mellow Yellow by Donovan
The day after our annual trip to Put-In-Bay I'm usually in recovery mode. Staying up til 4am every night, consuming a wee too much alcohol and indulging in all the delicious treats that accompany backyard barbecues take a lot out of a girl. So the last thing I wanted was a bright or vampy nail polish.
I looked to my untrieds stash for something soothing and calming and came up with American Apparel Butter. I know it's been said that yellow is actually a hostile color. That more fights will occur in kitchens painted yellow than blue or green but I can't imagine anyone getting stabby over a color that looks like it was made from the fuzz of baby chicks.

Formula & Application: American Apparel nail polishes are 4-Free (including formaldehyde resin). The tall rectangular bottles come topped with a short, round cap an average length round brush at the base of a very long stem. The stem collects a lot of polish so make sure you wipe it well to avoid drips. The brush is nice and flexible so it fans out easily to cover the nail however, the consistency of this particular polish doesn't quite work with a fanned out brush.
The lacquer itself is a bit thick and goopy but well pigmented and it does level itself out. Of course, like most yellows streaking can be an issue. That's why I suggest not pressing too hard to fan out the brush. Doing so will increase streaking. So while I am normally an advocate of really thin coats, to make Butter look better, two medium coats of polish works best. Though how impressive is it that after two coats it's opaque? For a pale yellow, that's damn near magical. With the exception of a slight bit of dragging near the cuticle, barely perceptible to the eye, it looks flawless.

American Apparel Butter is a pale yellow creme. What sets it apart from the majority of the light yellows is the somewhat beige undertone that makes it more creamy, like frozen custard. When I was little we kept our boat in Marblehead, OH and there was this little frozen custard stand called Colonel Mustards Custard and I remember being freaked out by the odd yellow tint that looked exactly like this nail polish. Of course, one bite of that fantastic frozen treat and I no longer cared what color it was. It was DEEE-licious.
I looked for dupes to this color and came up short. All the pale yellows I own, China Glaze Lemon Fizz, Orly Lemonade, OPI Banana Bandanna, Hello Kitty Banana Cream, are too yellow/golden to be any sort of match.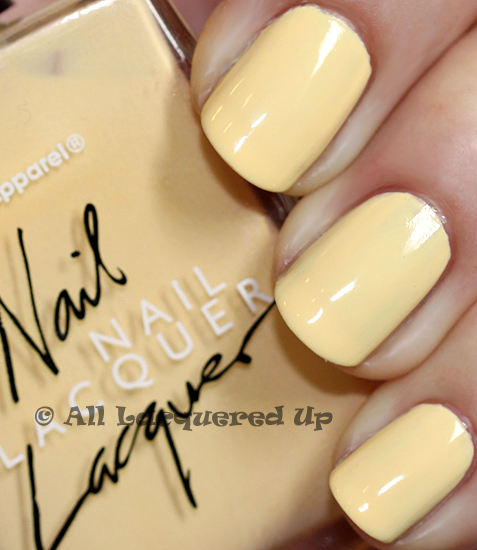 Bottom Line: If lemon yellows aren't your thing and you want something a bit more creamy, take a closer look at Butter. It's a pretty unique color and the pigmentation is almost spot on. I've been wowed by American Apparel nail polishes in general (see my previous review) and this is just another in a long line of winning colors from the brand.
365 of Untrieds Stash/Share Verdict: Why wouldn't I STASH it?
American Apparel Butter is available at AA stores nationwide and online at AmericanApparel.com. Nail polishes retail for $6/ea for a .5oz bottle. Buy them in a set of 3 for $15 or 7 for $32 and save.
Have you tried American Apparel nail polish before? What are you favorite colors from the line? Thoughts on Butter? Do you prefer creamy yellows like this or more lemony shades like China Glaze Lemon Fizz?
Disclosure: A product sample was provided by American Apparel. For more info view my Disclosure Policy.