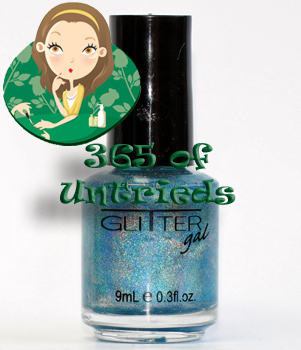 365 of Untrieds is my personal challenge to weed through the polishes in the ALU stash that I've been wanting to try but just haven't gotten around to.A few days ago, Melissa from The Daily Nail was asking about "linear holographic nail polish" on Twitter. I had to scratch my head as I've never heard of holos being referred to as "linear." Who comes up with this stuff?

Apparently "linear" refers to holographic polishes that create intense rainbows or a prismatic effect on the nail as compared to holographic glitter that flashes multiple colors but doesn't create a rainbow pattern. This style of holo nail polish is becoming more and more rare as whispers of holo pigment price increases are heard throughout the nail industry.

More recently a Twitter discussion of foreign nail polish brands led me to my bin of non-US untrieds, specifically the Australian Glitter Gal Blue holo nail polish.

Formula & Application: Glitter Gal nail polish does not list its ingredients on the bottle or the website so if you have any ingredient or allergy concerns, I would suggest contacting the company.  The tiny bottles look like they are sample sized at .3oz but they come with a nice, long full size brush. The bristles are dense but flexible so they easily fan out to provide a perfect three stroke application.
The polish is somewhat sheer but buildable. It took me three thin coats to get it opaque. But what I loved is the smoothness of the formula. Some holos apply streaky, which is why Nfu Oh has their special Aqua Base, but the Glitter Gal holo is perfect. I flowed on very thin and even over all three of the base coats I tested it on; CND Stickey, Gelous & Nfu Oh Aqua Base. It dried flawless every time.

Glitter Gal Blue is a punched up sky blue packed with holographic shimmer that creates a rainbow effect on the nail. I'd say it is darker than OPI DS Sapphire but lighter and less denim than China Glaze 2NITE. The closest I could come to finding a base color match is China Glaze Kaleidoscope Him Out though GG Blue is more vivid and holo. It wouldn't do this polish justice to only show it in natural light so I snapped a shot in the sun as well (see below).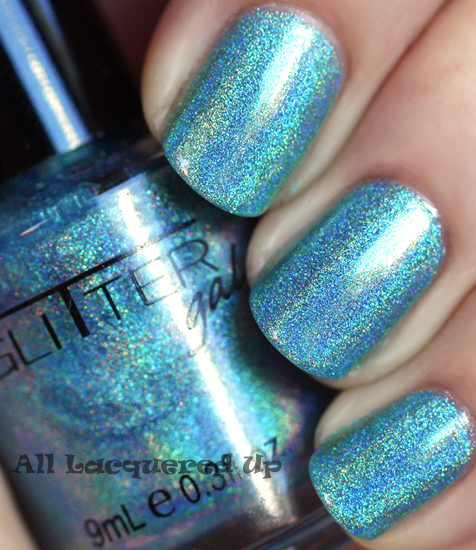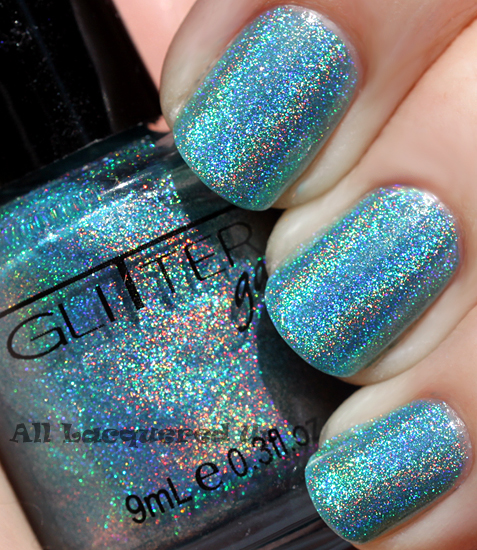 Bottom Line: If you're a holo addict, you're going to love this. The formula is spot on and the holographic glitter is plentiful. This color looks amazing on its own and layered so it gets two thumbs up from me.
365 of Untrieds Stash/Share Verdict: Just try to take it from me… STASH!!
Glitter Gal nail polishes are available via the Glitter Gal website and various international stockists. See their website for details. US shoppers can find Glitter Gal polishes on ebay from seller Llarowe, who I found listed on the GG website. Glitter Gal nail polishes retail for $14.99/ea for a .3oz bottle.
Have you tried Glitter Gal nail polishes before? Are you a holo fiend? What is your favorite holographic polish? Anyone know the origin of the term "linear" to describe this type of prismatic finish?
Disclosure: A product sample was provided by Glitter Gal. For more info view my Disclosure Policy.