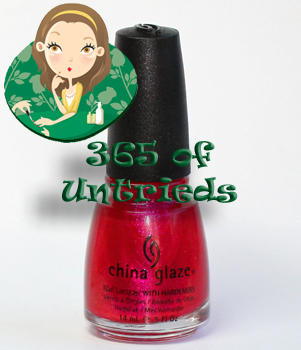 365 of Untrieds is my personal challenge to weed through the polishes in the ALU stash that I've been wanting to try but just haven't gotten around to.
In the summer, there's nothing I love better than a fabulous China Glaze glass fleck nail polish. I always associate that type of finish with the season because China Glaze had a tradition of releasing glass fleck collections every year just in time for summer.
The series, dubbed Babes in Toeland, produced some of the best glass flecks I have ever seen; Wicked Step Sisters, Stroke of Midnight, Sass in a Glass and Drinkin My Blues Away among others. The glass flecks continued but away from the Babes in Toeland moniker when the beloved Surf collection released and then we didn't see another glass fleck collection until Summer Days. While China Glaze still includes some glass flecks in their collections, we haven't seen a set dedicated to them since.
Which brings me to today's untried, China Glaze 108 Degrees from the Island Escape collection for Summer 2011. Even though there are a couple cremes in the lineup I'm happy to see the return of my favorite nail polish finish.

Formula & Application: China Glaze is a 3-Free brand with a round brush that is both medium in length and firmness with enough give to allow for ease of control. The cap is slightly tapered and made of smooth plastic that is comfortable to hold.
The glass fleck finish is unique to China Glaze and while other brands have duped it, this is the OG version and it deserves recognition as such. What makes the glass fleck so unique is that it has a squishy jelly base that is packed with a plethora of micas, glitters and particles to create this unique look of sparkle and flecks being trapped in lucite, like a bug suspended in amber. It's a magical thing and something that needs to be witnessed in person. Of course there is a caveat to this type of finish, opacity. Expect to apply at least three thin coats to hide the dreaded VNL (visible nail line).

China Glaze 108 Degrees is an electrified raspberry glass fleck. It contains fuchsia, gold and silver particles that all come together to create this almost 3D look on the nail. There is so much depth to a glass fleck, you can't even begin to imagine. This isn't even a typical "me" color and I can't get enough of it. The thought of taking it off is depressing.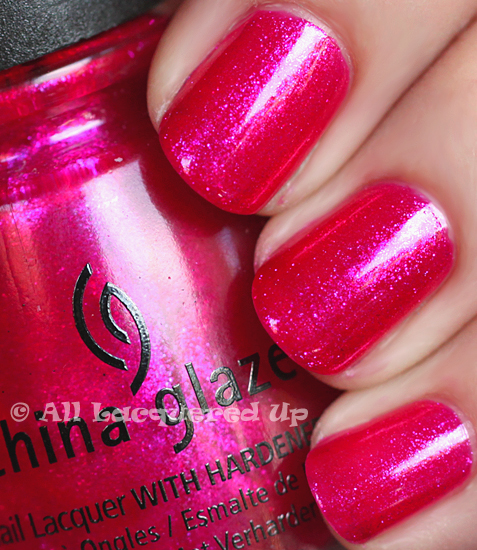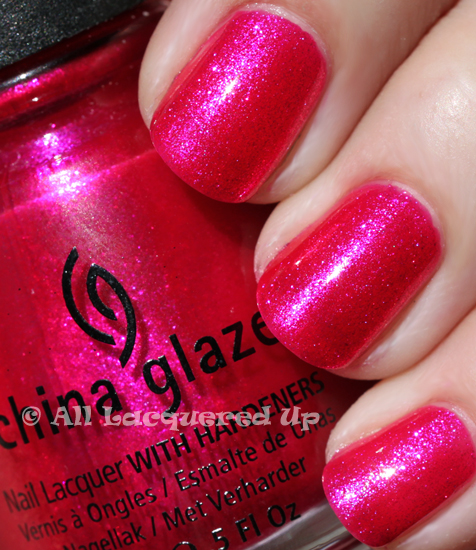 Bottom Line: If you haven't tried a China Glaze glass fleck I highly suggest you get involved ASAP and 108 Degrees would be a perfect place to start. Off the top of my head I can't think of a dupe to this color and given that my red/pink storage is a disaster beyond belief, 108 Degrees owners, please leave a comment if you've found a kissing cousin to it. EDITED TO ADD – A few readers reminded me of OPI Be A Dahlia Won't You? as a potential dupe and while I would say they are similar enough to not need both, 108 Degrees is more intense, more flecked and slightly warmer in tone.
365 of Untrieds Stash/Share Verdict: My head says SHARE, because I have TOO many bright pink polishes but my heart says STASH so I think I'll find something else to get rid of to justify keeping it.
China Glaze 108 Degrees and the rest of the Island Escape collection is available now at salons and beauty supply stores nationwide including Sally Beauty and ULTA. Online shoppers can head to Head2ToeBeauty.com, SallyBeauty.com, TransDesign.com and ULTA.com. China Glaze nail polishes retail for $3-6.50/ea, depending on the retailer, for a .5oz bottle.
Thoughts on 108 Degrees? Am I the only one that keeps thinking of the boy band 98 Degrees while wearing this? What is your favorite China Glaze glass fleck? Who else wants to see a BLACK GLASS FLECK? Can we make that happen China Glaze? Can we??
Disclosure: A product sample was provided by China Glaze. For more info view my Disclosure Policy.