Ask any beauty junkie and we'll admit, no matter how many shades, fragrances or formulations are thrown our way we are still restless for more. Even if we find that perfect product, after a while we'll wish it was a bit more "something". Deeper in color, smoother in feel, slightly more floral, etc. Let's face, it we're just never satisfied.
As we've learned from magazines, makeup artists and our fellow product junkies, beauty is like Burger King; we can have it our way. All it takes is a little customizing. Whether it's layering your favorite perfumes to create a signature scent, mixing your moisturizer in with your foundation to make it sheer and dewy or blending eight different shadows to achieve that perfect smokey eye we love to alter and combine our favorite products.
In the world of lacquer it's no different. When we can't find the color we want we become kids again, mixing lacquer like we used to mix our finger paints. It's all about experimenting, letting your imagination go and relying on our childhood art lessons about the color wheel. Say it with me folks, yellow and blue make green. Now I'm having Ziploc commercial flashbacks.
There are two methods of customizing polish:
Layering – Using multiple layers of different colors to create the desired shade
Mixing – Combining two or more lacquers in a bottle (aka Frankenpolish)
First let's discuss the easiest way to customize your color, layering. It's very no muss, no fuss. The only real trick is making sure the edges of each layer line up. If you have a shade that is too light or dark, layer it over white or black. Is your polish to sheer? Layer it over a similar hued opaque formula or black. Everything looks more intense over black. Love the shade of your chrome or metallic finish polish but hate the brush strokes? Add a sheer on top to achieve a smoother finish. Here are some examples from my own experiments.
I was so excited when I got China Glaze Kaleidoscope Him Out and He's Going In Circles because not only are they holographic but they're blue and green holos. Unfortunately, I didn't feel that the green and blue made enough of an impact.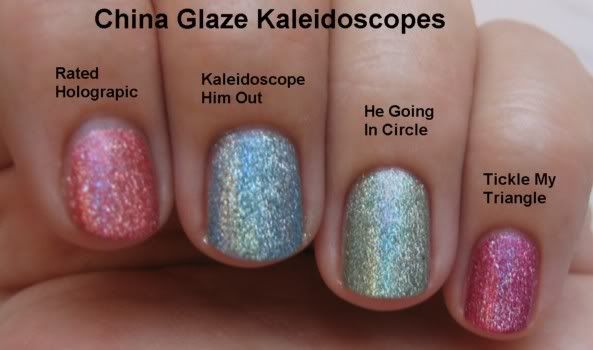 So I layered them over opaque creme lacquers and pow! Instant intensity.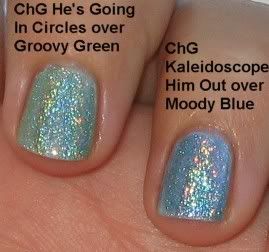 Here's an example of how I combated brush strokes in a metallic finish. I love the color of China Glaze Open Sky but the finish left something to be desired. So I turned to a holo for help. Adding a layer of OPI Blue Moon Lagoon didn't alter the beauty of Open Sky, it just added a little bling and a smoother look.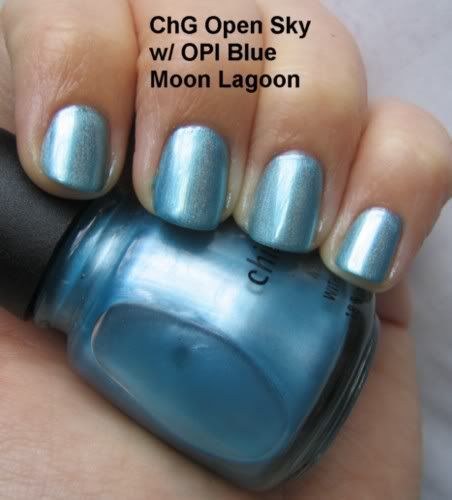 These two were just for fun. I love my greens but a girl can never have enough options.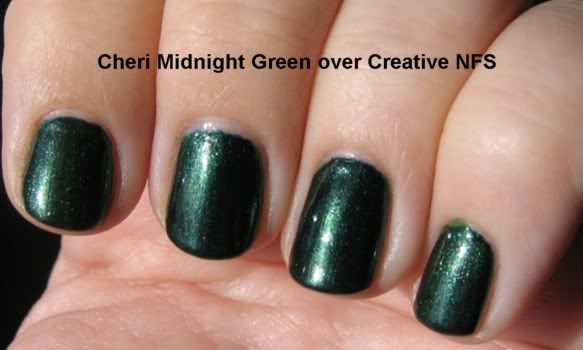 Now on to the science project that is the Frankenpolish.
My first try at making my own polish was to mix MAC pigment with clear lacquer. Mixing pigments can be a lot of work but if you have a gorgeous shade that would look great on your nails, it's worth it. I buy Milani clear polish but others like using Sally Hansen Insta Dri. I add 1/4 tsp. of pigment at a time and mix, mix, mix before I test it on the nail. Just keep adding pigment until you've reached the desired opacity. If you can, add a couple mixing balls because the pigment will settle out when not in use.
Here are the results of my first ever pigment mix. This is MAC Entremauve in Milani Crystal Clear lacquer. The pink sparkles in Entremauve really pop as a polish.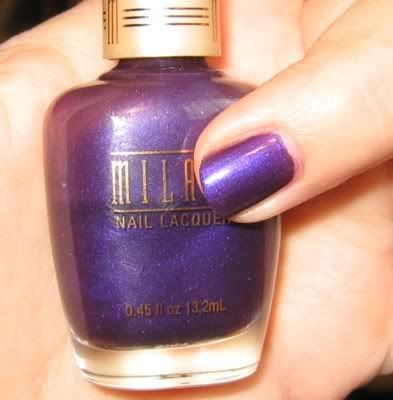 The other method for mixing your own polish is to combine different lacquers to create a new shade. The true Frankenpolish.
Disclaimer: Due to the volatile nature of nail lacquer ingredients I do not condone or promote mixing formulas from different manufacturers. There is no way to know if they will safely combine. So franken at your own risk.
For great tips on the supplies, process and recipes, check out the Frankenpolish Notepad on Makeup Alley. Bravo to Christine from 15 Minute Beauty Fanatic for creating it and to all the lovely MUA members that contribute to it.
These lovely frankens are the creation of MUA member jennyferr.
45% OPI Designer Series Exclusive,
45% OPI Lincoln Park After Dark, 10% Black
1/3 Sinful San Francisco, 1/3 Rimmel Underground
Camouflage, 1/3 Zoya Tangy

Now it's your turn. Share your favorite layering combos and recipes.
photos: All Lacquered Up and jennyferr on MUA