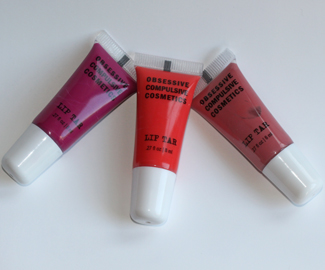 For over a year now I've been hearing nothing but raves for these mythical tubes of lip color goodness called Lip Tars.  The cult brand Obsessive Compulsive Cosmetics was put on the map thanks to these unique lip products that apply like a gloss, look like a lipstick and wear like a stain.

On a day to day basis I'm not a heavy makeup wearer.  I rarely wear foundation, I'm not a skilled shadow blender and the concept of contouring is beyond me so my everyday essentials consist of three products; eyeliner, mascara and a lippie of some form.

Lately I've been on a major lipstick/stain kick as glosses have become somewhat passé.  The thing I love about a gloss though is the ease of application, that's why Lip Tar is on the road to becoming my new BFF.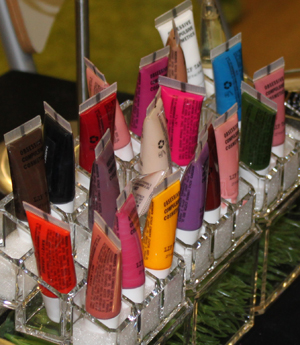 With a very simple ingredient list consisting of Castor Oil, Hemp Oil, Peppermint Oil, Vitamin E and colorants, Lip Tars are an unassuming product.  They are Vegan and Cruelty-Free without any parabens. What makes them so unique is the level of pigmentation, the way the formula applies, the long lasting wear AND the customization.
That's right, Lip Tars are blendable so you can make your own custom Frankenlippie.  Lip Tars are available in primary & secondary colors specifically for that purpose.  Unless you want to wear a blue/green lip.  Hey, I'm not judging.  They even have a true white & black to lighten/darken shades.  Talk about endless possibilities.
Application: Using the slant tip applicator, the formula glides on like a tube of lip balm. Though due to the heavy pigmentation you want to be as precise as possible to avoid going outside the lip line and staining the skin. Even though I applied the product straight from the tube, I would recommend using a lip brush to avoid using too much product.
Finish: Now even though the Lip Tar goes on glossy, it dries to a moist, satin, lipstick-like finish and the Peppermint Oil leaves a fun tingly feeling on my lips.
Wear: This is the really magical part. Even after drinking a bottle of water and eating, my color was still intense and perfectly intact.  The finish was still moist and not at all dry or cake-y. One caveat, even though Lip Tars are long lasting, they are not transfer resistant.  Your partner will end up wearing some color post lip lock.
The only real con was a bit of feathering but I totally take blame for that since I didn't use a lip brush.  The OCC site warns that using too much product can lead to color bleed.
I embraced my inner KarlaSugar and did an arm swatch of the colors side by side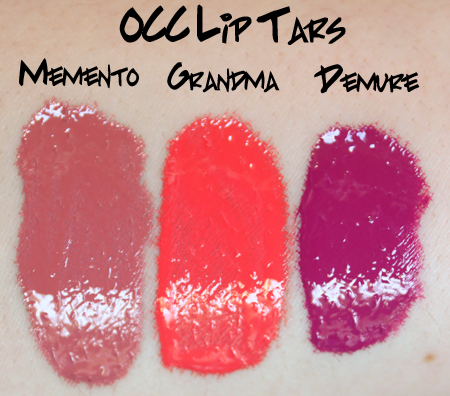 Memento is a nudish pink. It's described as a pink with plum undertones but to me it looks like a dusty rose.  Makeup Artist Victoria Stiles partnered with OCC for this color with a portion of the proceeds benefiting CancerCare from now through June 1st.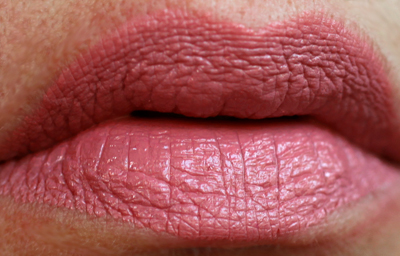 Grandma seems like such an odd name for this bright coral hue though I'm sure it has some unique significance to someone at OCC. When I think of my late Grandma, lipstick is the furthest thing from my mind.  Regardless, coral is a big color for lips this season and this bold shade is a perfect choice for a fun summer lip.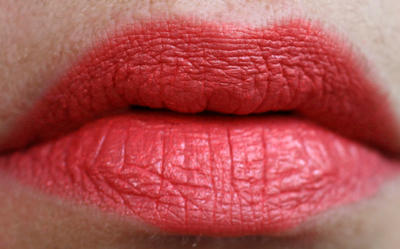 Demure is anything but.  Think OPI Pompeii Purple as a lippie.  This is definitely not for the color shy though if you're looking to break out of your nude lip rut, this will certainly make a splash.  I had Demure on when The BF came in my office and his exact quote was, "Whoa!  I wasn't expecting that!"  I'm still not sure if that's a good or bad thing but I'm not afraid to rock it.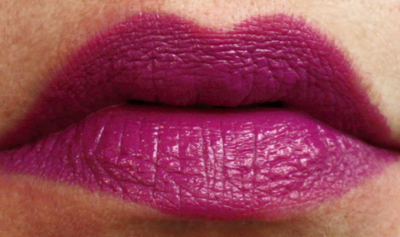 Bottom line: For rich lip color that lasts without drying out your lips you need to get a Lip Tar in your lifestyle.  You inner mad scientist will love creating custom mixes.  Just make sure you use a lip liner and you'll be very pleased with the line.
Obsessive Compulsive Cosmetics Lip Tars are available online at OCCMakeup.com.  Lip Tars retail for $12/ea for a 8ml tube.
How many of you have tried Lip Tars?  What are your favorite colors?  If you haven't tried them yet, do you think you might?  Who else agrees that lip gloss is kind of over at the moment?
Disclosure: A sample of Grandma Lip Tar was furnished to me by OCC. Demure and Memento were purchased by me. For more info view my Disclosure Policy.