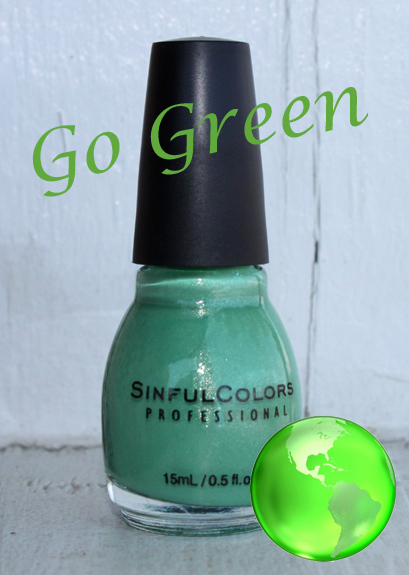 It's

Go Green Week

on ALU! In celebration of Earth Day on Thursday, April 22nd I'm reviewing some of the great green polishes from this season that I haven't yet shared. Included with the reviews are tips on how you can "green" your manicure routine.

I never seem to have luck when it comes to finding the LE colors from Sinful.  I don't know if it's because my local drugstores don't typically order them or whether they sell out in a flash.  Either way, when my friend who lives WAY out east from me said that she spotted a whole mess of new Sinful greens for spring I pretty much figured I'd never see them.

So you can imagine my excitement a couple months ago when the clerk at my Walgreens told me they had some green Sinfuls behind the counter that they hadn't put out yet.  Mint Apple was among those gorgeous green gems and in the sea of mint green polishes we've been seeing, this cheese stands alone.  Check it out!

Sinful Colors nail polishes truly are the hidden gems of the drugstore polish world.  Usually carried under the beauty counter at Walgreens, they are easily overlooked but to do so is a mistake.  For the price you really can't beat the diversity of the color range and the quality of the polish.  Sinfuls just wear so well on me.  You're looking at Day 3 of Mint Apple below and there isn't a sign of wear to be found.  The formula is a little thin and watery so I end up using three coats with most of their lacquers but considering that a lot of salon brands apply the same way anymore, I can't complain.
Mint Apple stands apart from the other mint green polishes in that it really isn't that pastel or minty.  To me it's more tropical falling somewhere between turquoise and aqua.  It would actually fit very well with Essie's Resort collection.  The silver shimmer just adds to its allure.  It adds more of a sheen and twinkle than an all over shimmery effect.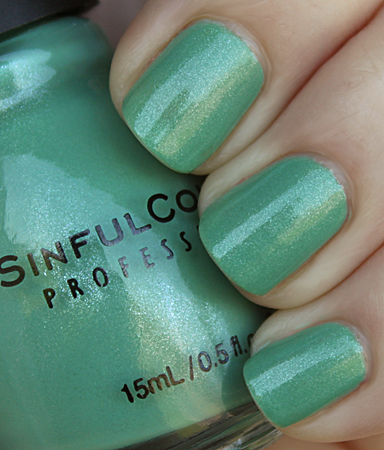 Go Green Week Nail Tip – Today's Go Green Tip comes to us courtesy of Jenna Hipp Green Celebrity Nail Stylist.  Jenna uses "green" products on herself and her celebrity clientele after experiencing formaldehyde poisoning so she suggests you become more aware of the ingredients in the products you're using. "The average woman applies 240 products topically to her skin every week, so be aware of of what you're using! Try and purchase from companies who source through Fair Trade and make sure skincare products are free of parabens, synthetic dyes, fillers, and petroleum."
Sinful Colors nail polishes can be found at drugstores nationwide and retail for around $1.99 ea.
How many of you got your hands on Mint Apple? What do you think of the color? Tell us some of your favorite Sinful Colors polishes!
Disclosure: I purchased this polish at Walgreens. For more info view my Disclosure Policy.