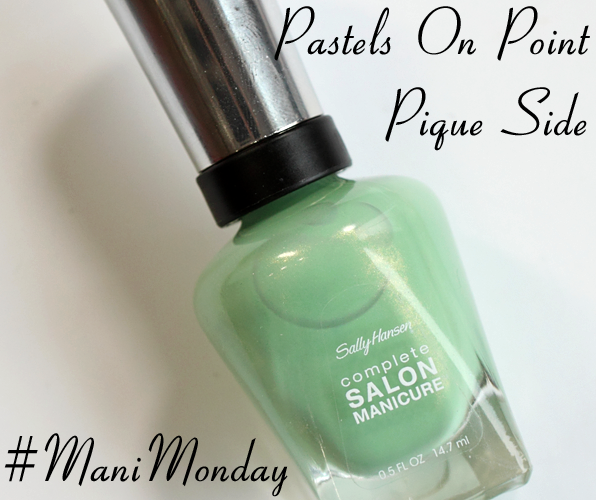 While I'm lucky to have an EXTREMELY patient and laid-back boyfriend, I'm sure he secretly hates that I can't enter a drugstore without stalking the seasonal beauty section. And that I compulsively reorganize the area if colors are in the wrong spot. You're welcome, Walgreens employees!
Over the years, I've narrowed down my fave locations of each drugstore chain based on which ones get the most seasonal nail polish displays. I'm not alone in this right? RIGHT?
For instance, I have a favorite Rite-Aid, which is where I picked up today's Mani Monday shade, Sally Hansen Piqué Side. The new Sally Hansen Complete Salon Manicure Color Vibrations "Pastels on Point" collection includes some fun, shimmery pastels and this minty green is a standout.


Formula & Application
Sally Hansen nail polish is 5-Free (Formaldehyde, Toluene, DBP, Formaldehyde Resin and Camphor). The formula is designed to serve as base coat, color and top coat. Plus it packs in ingredients to help promote growth, strength, extended wear and high shine. The claim is a 10 day wear and as I've shown in the past (click here), it lives up to that claim.
The hefty glass bottles are topped with a smooth chrome cap that has a rubberized grip around the base. The grip makes opening the bottle easier and keeps the brush from slipping while polishing. The brush is the same flat, paddle style as the Insta-Dri line, cut with a curve at the tip. The bristles are firm so use a light touch to avoid streaking or dragging the polish.
This particular color is very well pigmented and smooth, applying with ease in two thin coats. It dries glossy on its own so you can wear it without top coat but I just automatically put it on.

Sally Hansen Piqué Side
is not your average, chalky pastel mint green. It's pretty vibrant and the golden shimmer that shows up so well in the bottle, takes a backseat to the main color on the nail. But, what that shimmer does is add depth and a bit of sheen. While so many of my mint polishes lean blue (SH CSM Jaded), this one is definitely in the green camp. I'd say it's a slightly lighter version of Chanel Jade.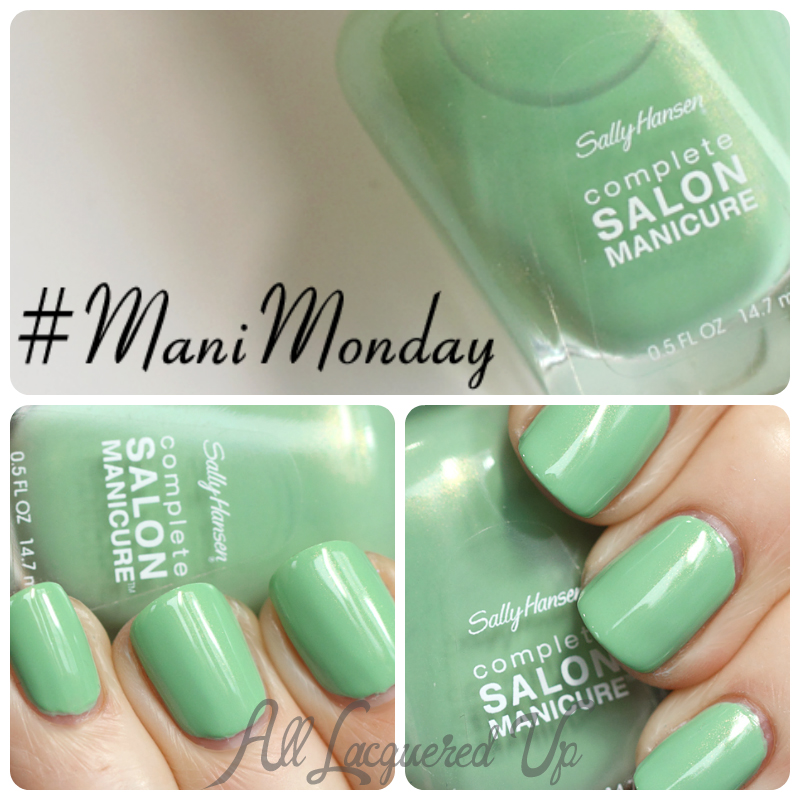 Bottom Line: In addition to my current cobalt obsession, I'm having a mint moment as well and I'm completely smitten with Piqué Side. The silky smooth consistency and pigmentation make up an excellent formula so I high recommend picking up a bottle.
Sally Hansen Piqué Side is part of the limited edition Color Vibrations "Pastels on Point" collection available now at drugstores and mass retailers nationwide. Sally Hansen CSM nail polish retails for $7.99/ea. I also found one bottle available online for $9.99 at Amazon.com
.
So, what's on your nails on this #ManiMonday? What is your favorite drugstore to stalk the seasonal nail polish collections? Do you plan to pick up Piqué Side?
Disclosure: I purchased this nail polish. Affiliate links appear in this post. When you purchase through an affiliate link, you help support this site. For more info view my
Disclosure Policy
.