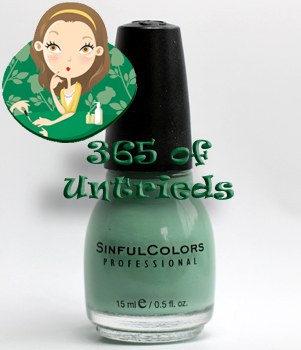 365 of Untrieds is my personal challenge to weed through the polishes in the ALU stash that I've been wanting to try but just haven't gotten around to.
Even though I tend to be pretty much a salon brand kind of girl I do have certain drugstore lines that I consider quality buys. Sally Hansen is a given, Milani puts out some great colors and is regularly on sale and Sinful Colors makes the best budget nail polish I've tried. Though it's always on the bottom shelf of the fragrance counter at my local Walgreens which really does a disservice the brand.
Of course my Rite-Aid knows Sinful's value as they always place Sinful's seasonal collections in a prominent spot. As was the case last week when I stopped in to see what was new.
Side note: The Rite-Aid closest to me has the best seasonal displays of any drugstore chain in the area. It's a gold mine. The Sally Hansen Tracy Reese & Prabal Gurung collections? Both there, in full!
Anyway, on my last visit I noticed a display that looked eerily like the OPI Pirates of the Caribbean: On Stranger Tides collection so I had to investigate by bringing Sinful Colors Open Seas home with me.

Formula & Application: Sinful Colors nail polish is 4-Free (including Formaldehyde Resin) and free of camphor, which can be an irritant. The bulbous little bottles have a really smooth cap that can sometimes make it hard to open the polish. I really wish the caps were rubberized but that would just up the cost and I usually have a rubber band handy. The round brushes are short, stocky and average in width. The bristles are plentiful and flexible which makes it easy to fan them out across the nail.
Now one thing I've come to expect from Sinful is that the opacity just isn't there. The polishes tend to be watery and automatic three coaters but Open Seas surprised me. It has the typical watery, squishy texture but it gave me full coverage in two coats. For a $1.99 polish, you can't beat that!

Now I don't want to accuse Sinful of jacking OPI's style but the color range and marketing graphics are awfully reminiscent of the POTC collection. I know nautical is big this year and all but this one hits a little too close to OPI's home. Hopefully OPI will just look at it like I do, as flattery.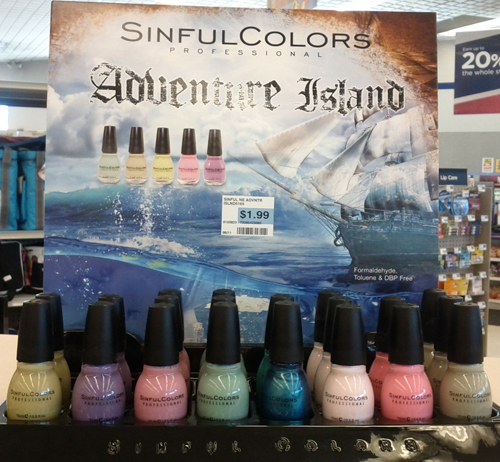 Sinful Colors Open Seas is a sandwashed sea green creme. It's not like the minty greens we've seen so much of the past couple years. It's slightly greyed, more wistful, and with a lot more blue to its base.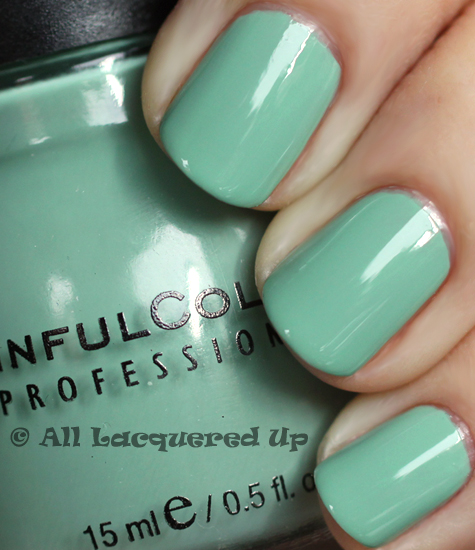 The big question is, how does it compare to OPI Mermaid's Tears? Dare we say dupe?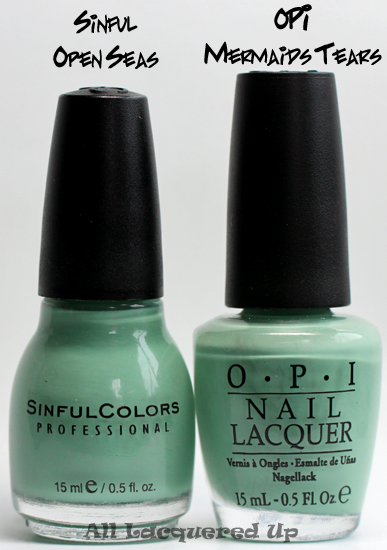 While "dead-on dupe" isn't a perfect fit, we're pretty darn close. Mermaid's Tears may be a hair lighter but it would take one discerning nail polish fanatic to notice. The base color is identical and maybe if I had given Mermaid's Tears another ten minutes to dry down we would have been looking at twins. As it is, it was hard for me to remember which polish was on each finger.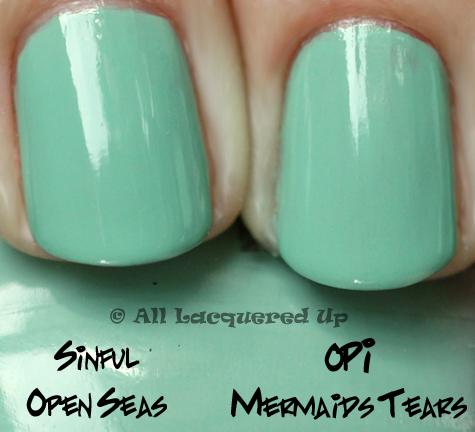 Bottom Line: If, for whatever reason, you didn't jump on the OPI Pirates bandwagon, you and your wallet can have the last laugh as you pick up this gem for a pittance. The formula and pigmentation are spot on and the color is a beaut. I see no reason to pass this one by unless you hate green and well, then there's no help for you.
365 of Untrieds Stash/Share Verdict: STASH! Being that Open Seas is slightly more pigmented than Mermaid's Tears, I'm probably sending the OPI to SHARE bin after I review the POTC collection in full.
Sinful Colors Open Seas is available now as part of the Adventure Island collection for Summer 2011. Sinful colors can be found at drugstores nationwide including Walgreens and Rite-Aid. Nail polishes retail for $1.99/ea for a .5oz bottle. Visit SinfulColors.com for online shopping and additional retail information.
Thoughts on Open Seas? Have you spotted the Adventure Island display in your area? Have you tried any of the other colors in the collection? What do you think when less expensive brands knock-off a salon or department store brand concept?
Disclosure: I purchased this nail polish. For more info view my Disclosure Policy.