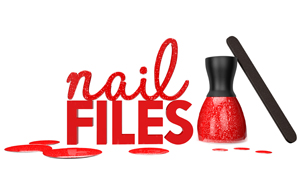 It's giveaway time Fanatics!

To celebrate the premiere of Nail Files starring Katie Cazorla, owner of The Painted Nail salon, TV Guide Network is offering up five prize packs just for ALU readers.

Each prize pack contains: A bottle of The Painted Nail nail polish, a manicure set and TV Guide Network items including a T-shirt, poster, and a hand-held fan with the Nail Files logo to keep you cool in the summer heat.

To enter, leave a comment on this post telling me your favorite nail tip or trick. Remember to leave your email address in the comment form, not the body of the comment, for privacy reasons. If you are one of the eight winners your tip will be shared on ALU with a link back to your blog, if you have one. ***EDITED TO ADD – There will now be EIGHT winners.***

You will receive one additional entry if you tweet the following phrase, "I want to win @AllLacqueredUp's #NailFiles giveaway featuring nail polish from @thepaintednail."

The Rules: Winners must be US residents or have a US mailing address (sorry International Fanatics) and can only enter via comment one time and via Twitter one time. Giveaway open until Sunday June 26th at 11:59pm EST. Winners will have 48 hours to respond before a new winner is chosen.

Make sure you watch Nail Files, Tuesdays at 10pm EST on TV Guide Network. And here is a bonus video of Katie sharing her must-have colors for the summer.