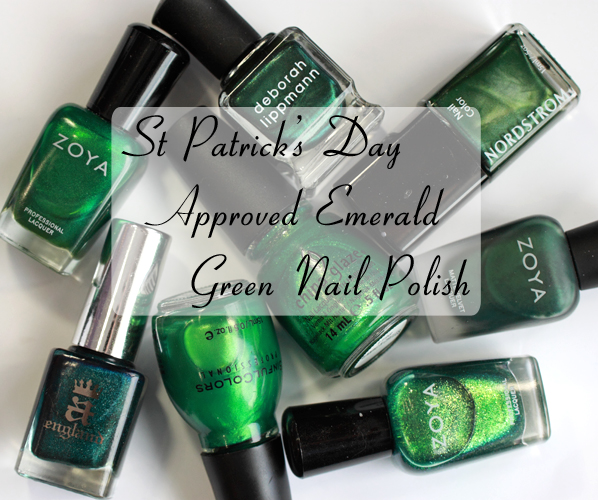 I love any holiday that gives me an excuse to wear green nail polish (as if I need one) and with St. Patrick's Day just around the corner, it's time to dive into my emerald hues and figure out what to wear. If you're struggling to find the perfect green to represent your Irish pride (we're all Irish on March 17th, no?), then I've got eight great options for you.


A-England Saint George ($10, NinjaPolish.com, Llarowe.com, $13.50, NailPolishCanada.com)
There's a reason this stunner won the first every Emerald Madness competition. It has so much depth and character, especially when the sunlight hits the holographic shimmer inside.
China Glaze Running In Circles ($4.80, Amazon.com
, $3.25, TransDesign.com)
I feel utterly ridiculous that I haven't worn this shade before. I mean, WOW. The flecks. The gold. The GREEN. I just can't get enough. This is definitely going on my nails in some format for Monday.
Nordstrom Beauty Lush Forest ($8.50, Nordstrom.com)
If you haven't checked out the Nordstrom Beauty brand of nail polish, it's definitely worth a look. It's affordable, smooth, pigmented and has a great range of shades.
SinfulColors HD Nails ($1.99, Walgreens.com)
I love the cheap thrill of Sinful Colors. One of my first, and most favorite, greens was Sinful San Francisco (which may be discontinued) and HD Nails is another winner. Even though it takes three coats, for the price, you can't complain.
Deborah Lippmann Laughin' To The Bank ($18, Sephora.com)
This definitely hits on the darker side of emerald but it's beautiful, nonetheless.
Zoya Holly ($9, Zoya.com)
Even though it's a bit "deck the halls" evergreen, Holly's inner glow makes me want to wear it year round.
Zoya Ivanka ($9, Zoya.com)
The metallic flecks in the Zoya Sparkle collection are some of my all-time favorite polishes and Ivanka is a picture perfect example of why.
Zoya Veruschuka ($9, Zoya.com)
Zoya brought back their popular MatteVelvet shades last fall and Veruschuka is a stand-out. Even if you don't get it for St. Paddy's Day, you should own it. It's beautiful matte or glossy.

Finally, if you are looking for easy nail art ideas, check out the St. Patrick's Day 4-Leaf Clover Tutorial I created for PopSugar Beauty.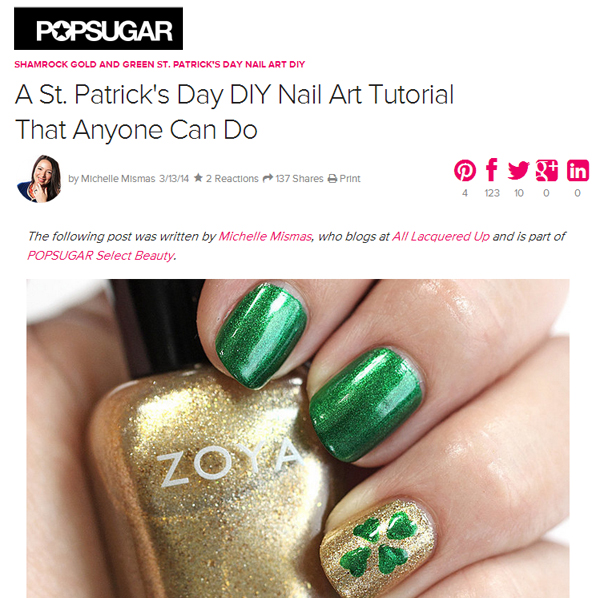 So, what are your nail plans for St. Patrick's Day? Do you take the day off to celebrate?
Looking for more green-spiration? Click the images below to view my past St. Paddy's Day picks.
  Disclosure: Product samples were provided by reps for A-England, China Glaze, Deborah Lippmann, Nordstrom, SinfulColors, Zoya. Affiliate links appear in this post. When you purchase through an affiliate link, you help support this site. For more info view my
Disclosure Policy
.