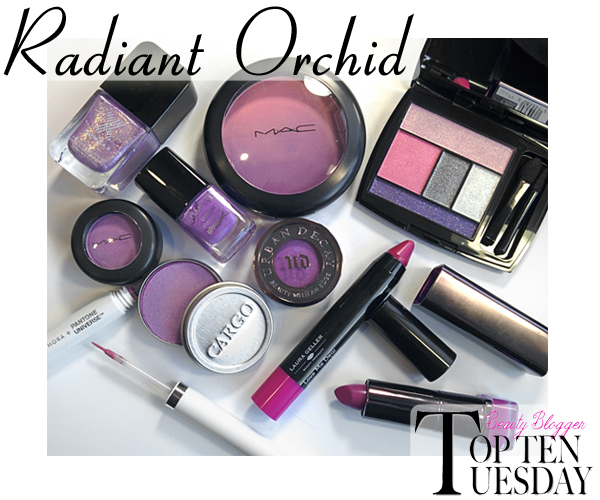 Every year when Pantone announces the Color of the Year, I get excited to see all the new beauty products and accessories start rolling out. Obviously, this green lover hit the mother lode when Emerald was selected last year.
For 2014, the color is Radiant Orchid, a warm, pink-y purple. Even though we're barely into 2014, there are a number of great makeup options to help you adopt the trend. Now, warm purples aren't usually my jam so I loved the challenge of finding ten wearable items, in the it color of 2014, for the latest edition of Top Ten Tuesday.


Makeup
Lips - Radiant orchid can make a strong statement in full coverage lip color so I included a more sheer, lip crayon option. Though the COVERGIRL formula is really creamy so even though it's opaque, it doesn't look chalky on the lips.
COVERGIRL LipPerfection Divine ($5.99, Drugstore.com) and Laura Gellar Love Me Dew Purple Currant Lip Crayon ($16, Nordstrom.com)
Eyes -  I found quite a few shadows in my stash that fit the radiant orchid mold but these three have the silkiest texture and best color payoff even though they're a little more purple than pink. Of course, MAC Lotusland is discontinued but MAC Stars N Rockets would make a great substitute.
MAC Lotusland,  Cargo Provence ($16, Nordstrom.com) Urban Decay Fishnet ($18, Sephora.com)
This palette from Lancome combines the Color of the Year with complimentary purple, silver and charcoal shades to create a complete look. I love the simplicity of a palette and this one really speaks to me.
Lancome Color Design Pink Envy Palette ($50, Sephora.com)
And if you really want to go full out with the Radiant Orchid craze, this liquid eyeliner from the authorities on the shade, Pantone, will do you right. It's smooth, comfortable to hold and extremely pigmented. Liquid liner isn't something I have mastered, yet I was able to easily glide this one along my upper lash line.
Sephora + Pantone Universe Radiant Orchid Liquid Eyeliner ($17, Sephora.com)
Cheeks - Okay, this one isn't really fair but it's too beautiful to leave out. MAC Blush Ombre in Azalea Blossom is discontinued but it's the epitome of Radiant Orchid in my mind. When you swirl the gorgeous purple and pink halves it's simply stunning. I don't know of an exact dupe but NYX Mosaic Blush in Rosey ($7.99, ULTA.com) has a similar blend of shades.

I could have dedicated this entire post to orchid nail polishes but Radiant Orchid Madness is just around the corner (see Emerald Madness to know what's coming) and I don't want to skew the voting by picking favorites.
Instead, I'm featuring the least expensive and newest addition to my collection of Radiant Orchid shades.
COVERGIRL Glosstinis Purple Freeze ($2.42, Drugstore.com) and Formula X for Sephora Glitter Rocket ($12.50, Sephora.com)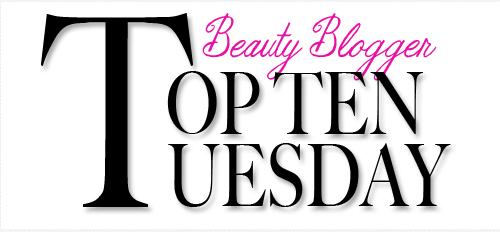 Loading InLinkz ...

Have you stocked up on any Radiant Orchid beauty products? Is this a shade you already wear? How do you plan to incorporate the Color of the Year into your look? 
  Disclosure: Product samples were provided by reps for Cargo, COVERGIRL, Lancome, Laura Geller, MAC, Sephora, Urban Decay. Affiliate links appear in this post. When you purchase through an affiliate link, you help support this site. For more info view my
Disclosure Policy
.