Radiant Orchid may be the color of the year but when it comes to Spring 2014 color trends, Cobalt Blue dominated the runways. Now, you know I love my greens but nothing can pull me out of a winter funk like an electrifying, bold blue. I pulled some of my fave cobalt hues to inspire you to take on the trend.


BarryM Cobalt Blue ($6, RiverIsland.com) is an oldie but goodie. I've had this creamy cobalt for quite a few years now and it holds up. It's super pigmented, smooth and affordable.
China Glaze Frostbite ($6.79, SallyBeauty.com) is one of the forgotten shades in my collection that I'm now kicking myself for not wearing more. The subtle shimmer really makes it glow. Besides, when the boyfriend notices a non-red shade, and compliments it, I know it's a winner.
Essie Butler Please ($8.50, Beauty.com) has a bit more purple to it than the shades above and that's what I love about it. Last summer's Bouncer, It's Me may be a more fitting choice for "cobalt" but Butler Please has a leg up due to its opacity.
JINsoon Cool Blue ($18, Sephora.com) is my current obsession and new found love. Part of the Color Field collection for Spring 2014, it's so stunning, I can't get over it. Jin has such impeccable taste when it comes to color and her standard of quality is sublime. I'm totally fangirling over this shade.
JINsoon Blue Iris ($18, Nordstrom.com) is not to be overlooked. It's a darker take on the cobalt trend but no less gorgeous.
Nails Inc Baker Street ($9.50, Sephora.com) skyrocketed to stardom when Celebrity Manicurist Lisa Logan put it on Beyonce for her first post-pregnancy outing, to honor baby girl Blue Ivy. This is one of those must-have shades for any polish fanatic.
Orly Royal Navy ($5.29, SallyBeauty.com) is also a bit darker than your traditional cobalt but it's too gorgeous to ignore. Anyone who owns it will rave about the intensity of the color and the magical quality of the turquoise shimmer inside.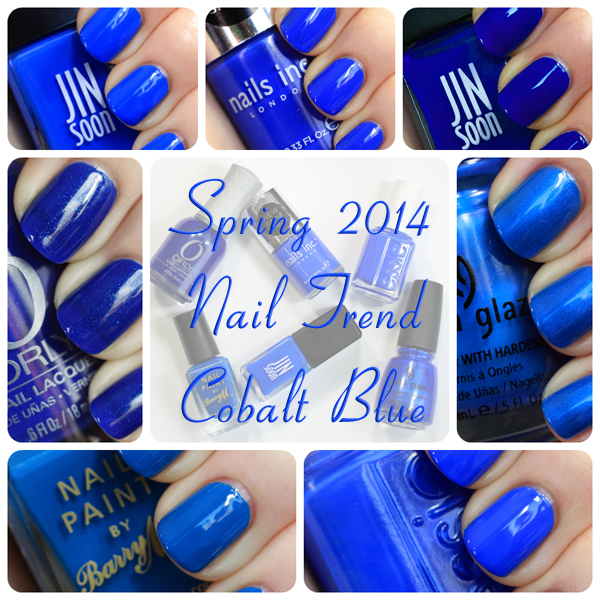 What compliments cobalt nails better than some matching accessories?  A cobalt blue bag is number one one my spring shopping list. Since this color is so vibrant, I'd suggest wearing no more than one matching piece but these are a few items I've got my eye on.


Are you loving cobalt blue polish as much as I am? What are your fave cobalt shades? Do you plan to pick up any of my picks? Or do you own them already?
Disclosure: Product samples were provided by reps for BarryM, China Glaze, Essie, JINsoon, Nails Inc, Orly. Affiliate links appear in this post. When you purchase through an affiliate link, you help support this site. For more info view my
Disclosure Policy
.