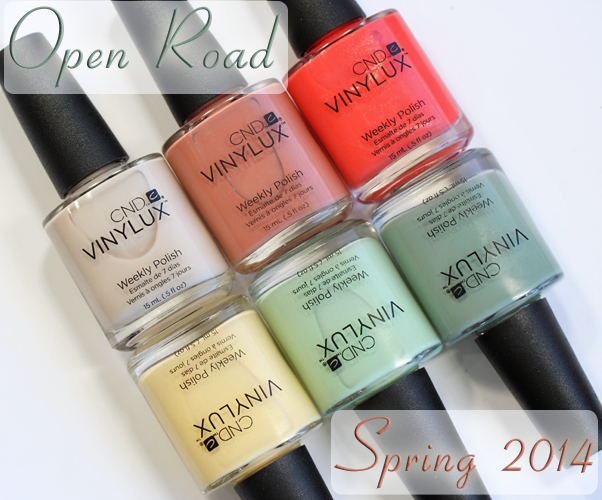 Route 66. A classic Corvette convertible. Windblown hair (the kind you see in the movies that doesn't require an hour of de-tangling). The dusty, weathered shades of CND's VINYLUX Open Road collection for Spring 2014 conjures images that make the snowy Cleveland weather a little less dreary.

Formula & Application
CND VINYLUX Weekly Polish is 5-Free (Formaldehyde, DBP, Toluene, Formaldehyde Resin and Camphor). It comes in the old school CND polish bottle (pre-Colour & Effects) but with the thin, flat, flexible brush from the C&E bottle. It's the best of both worlds. The only thing I miss, the rubberized cap and the labels that designated opacity and undertone (neutral/warm/cool).
The Open Road polishes are all thin, smooth and easy to apply. Yes, even the yellow. Where the issue lies is with pigmentation. I needed three coats with all six shades (four with the yellow).
CND VINYLUX is different than your average polish in that you wear it without base coat and must use the accompanying Weekly Top Coat. The result is a 8 & 1/2 minute dry time and seven days of wear. For more info on the product and wear time, check out my original CND VINYLUX review.

CND Clay Canyon
is a pink-tinged tan creme. It's more ruddy than CND Desert Suede.
CND Desert Poppy
is a bright coral with fine silvery shimmer. It's pretty well balanced, not too orange or pink. The base color is pretty close to Deborah Lippmann Girls Just Want To Have Fun, just not as pink. My only problem is that even after three coats, I was still plagued with VNL (visible nail line).
CND Mint Convertible
is a mid-tone mint green creme. It's not pastel yet not technically a bright. It's in the same color family as China Glaze Re-Fresh Mint, just not as light.
CND Powder My Nose
is a light, creamy beige. I think of it as the color of the beverage someone who likes a little coffee in their cream would drink. OPI Did You Ear About Van Gogh is a very close cousin.
CND Sage Scarf
is a blue-leaning sage creme. I wouldn't necessarily classify it as a green. In fact, it's doppelganger, Zoya Bevin, lives in my Blue-Green Helmer drawer.
CND Sun Bleached
is a buttery, chiffon yellow creme that is a dead ringer for Deborah Lippmann Build Me Up Buttercup. Due to the lovely, smooth texture, it's not as chalky as the DL but opacity is an issue.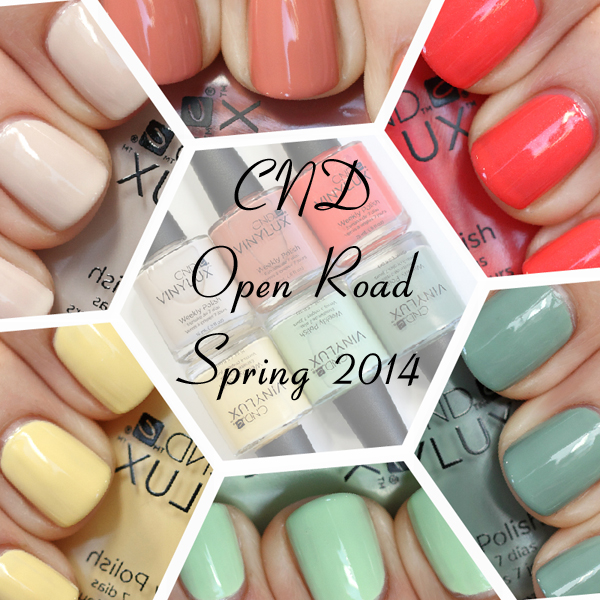 Bottom Line: I love that instead of the more traditional pastels and brights that we tend to see for spring, CND went with this more muted, unexpected palette. The thing is, I think I like the shades more as a whole than individually. Though there are shade dupes, I like the VINYLUX consistency better than some of the twins. I can't say that any are must-haves but Mint Convertible is one I know I'll be wearing this spring.
CND VINYLUX Open Road colors are available as a service at professional salons and spas nationwide with product available for purchase. Visit CND.com to locate a salon near you. Service prices will vary by location. CND VINYLUX Weekly Polish and Weekly Top Coat retail for $9.90/ea for a .5oz bottle. I've also seen VINYLUX sold on Amazon.com
 and BeyondPolish.com though I can't vouch for the legitimacy of those sellers.
Are you liking the new Open Road colors? Which ones are going on your shopping list? Have you tried VINYLUX? 
Disclosure: Product samples were provided by reps for CND. Affiliate links appear in this post. When you purchase through an affiliate link, you help support this site. For more info view my
Disclosure Policy
.