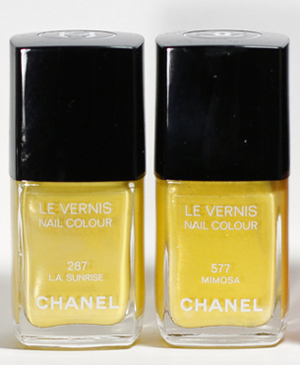 I thought 2009 was the year of Mimosa. At least according to Pantone it was. Yet here we are, two years later, with yellow nail polishes making a splash again.  What's funny is that so many Fanatics think yellow looks bad on them yet still go gaga when a new one hits the market.

Of course, when Chanel makes a yellow, everyone's eyes light up.  Remember the craze that Chanel L.A. Sunrise created in 2008 when the Robertson Boulevard collection launched?  This time around the buzz has been building over Chanel Mimosa from the Summer 2011 Les Fleurs d'Ete de Chanel collection.

Les Fleurs d'Ete or Flowers of Summer makes me say, in my best Miranda Priestly impression, "Florals? For spring? Ground breaking." Yes, we're talking summer and not spring but still.  Haven't we beaten that horse to the point that PETA is about to step in?  Then again, there must be a reason florals keep coming back. Let's see if Chanel can prove why.

Formula & Application: Chanel nail polish is 4-Free (includes formaldehyde resin) plus there's no camphor, which can be an irritant.  The signature square glass bottles are topped with a black square outer cap that is removed to reveal a stubby, round, ribbed inner cap.  The brush is round, medium in length and width and reminds me of the old OPI/new SOPI brushes.  It easily fans out and covers the nail without much resistance.
Yellow polishes are a pain.  PERIOD.  Doesn't matter who is making it or what shade of yellow it is.  They are either thin and sheer or thick and streaky.  If the brand is going for opaque, as Chanel is with Mimosa, the polish is going to be streaky.  You have to be willing to accept that with a yellow polish.  There are rare breeds out there that get it right but they are few and far between.  Mimosa was a pain to apply, as was L.A. Sunrise, so be prepared.  It took me three solid coats to get Mimosa opaque and I still wasn't entirely pleased with how it looked.  This is not a self-leveling dream so make sure you are cautious in your placement.

Chanel Mimosa is a bright lemon yellow sprinkled with micro-glitter.  It's not overly apparent glitter as it actually shows up more in the bottle than on the nail.  In fact, I tried over and over to capture the glitter, as you'll see below, and it REALLY likes to hide.  It's more like a subtle sparkle, like how we think of the Chanel shimmer as "subtle shimmer."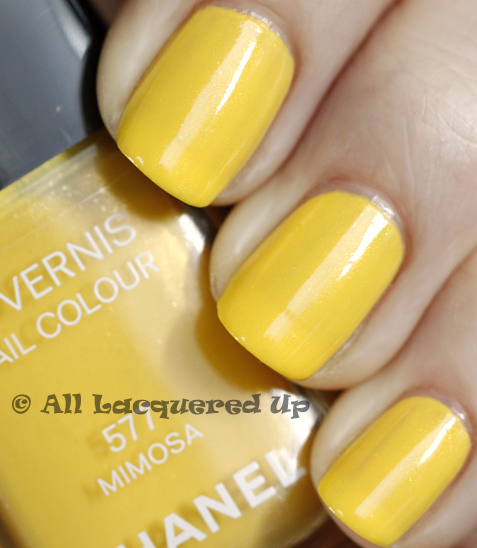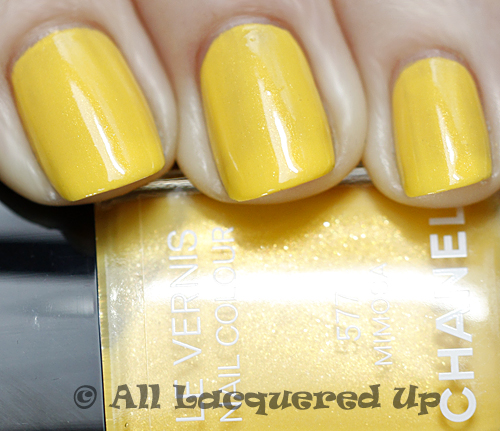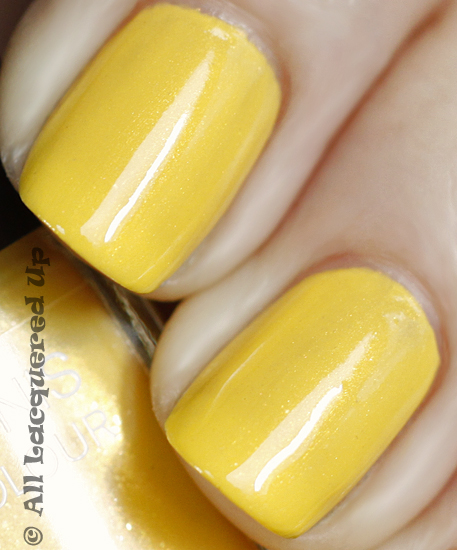 I went looking for a comparable color and came up short.  I have quite a few yellows but nothing that matches dead on.  All you frankeners out there may be able to dupe the base color by mixing OPI Banana Bandana and China Glaze Happy Go Lucky. In terms of how Mimosa relates to Chanel L.A. Sunrise, it would say they are related but definitely different.  L.A. Sunrise is more mellow and buttery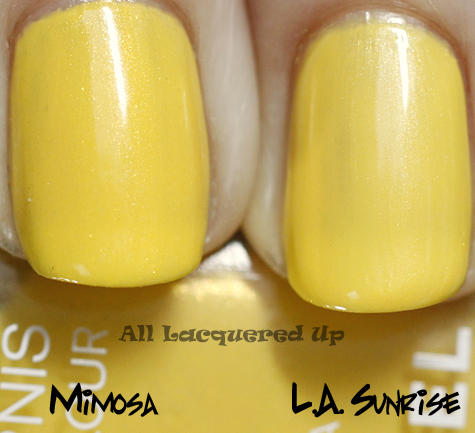 Bottom Line: I can't say I'm a fan.  If the promise of glittery goodness you see in the bottle had translated to the nail, I would have been all in.  Being that it doesn't deliver, I'm out.  I much prefer L.A. Sunrise to Mimosa plus I have other lemon yellows in my arsenal that get the job done.  If the formula had been a dream, which is asking a lot of a yellow, I could have even overlooked the lack of glitz.
Chanel Mimosa is available now at Chanel counters nationwide and online at Chanel.com.  Chanel nail polishes retail for $25/ea for a .4oz bottle.
Thoughts on Mimosa?  Which do you prefer Mimosa or L.A. Sunrise?  If you own L.A. Sunrise do you plan to pick up Mimosa as well?  What's your favorite yellow nail polish?
Disclosure: I purchased Chanel Mimosa. For more info view my Disclosure Policy.