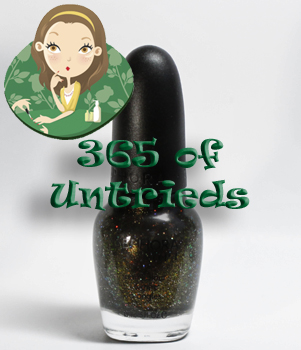 365 of Untrieds is my personal challenge to weed through the polishes in the ALU stash that I've been wanting to try but just haven't gotten around to.When Sephora by OPI first launched it got its share of flack from the nail community.  One, it was given the nickname $OPI, with a dollar sign, due to the fact that it costs more than regular OPI nail polishes.  Second, a lot of us questioned whether the line would consist of just old, recycled OPI shades, or if it would truly have its own unique offerings.  Third, would this water down the OPI brand?

Well, even though it still costs more than regular OPIs, I think we can safely say that the other two concerns were unwarranted.  The SOPI line hasn't affected the popularity of OPI and it has had its fair share of original colors and collections.  One of those happens to be Sephora by OPI 212-Sephora.  Named for the telephone number to Sephora's Times Square location, this color was launched to celebrate the store's opening.

Formula & Application: Sephora by OPInail polishes are3-Free. The distinctive bottle shape is capped with a smooth, thick, rounded cap.  The brush is thin and round and reminds me of the old OPI brushes (pre Pro-Wide era).  Due to the amount of glitter packed into this polish, the base is semi-sheer so it takes at least three coats to become opaque.  The glitter also leaves the surface rough so you will need either two layers of top coat or a thick quick-dry, like Seche Vite, to get it smooth.

212-Sephora is a black-based semi-sheer glitter. The base color takes on a dirty bronze color thanks to the multi-colored multi-shaped glitter particles.  Sephora says the color was designed to emulated the "glitter and grit of NYC's after-dark scene." Interspersed amongst the colored, round glitter is flakie, fiery orange particles that look like burning embers that have fallen from a cigarette onto the dirty asphalt of the New York streets.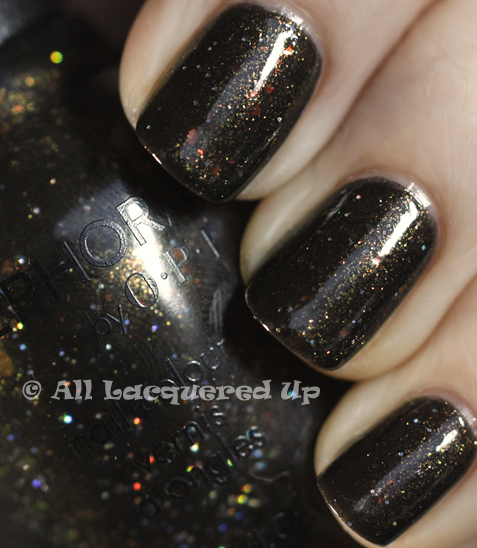 Something about this colors reminds me of "Glitter Puke" a parody of Ke$ha's "Tik Tok" by Key of Awesome.  I mean that in the most complimentary way of course. If I was going to translate "Glitter Puke" into a nail polish, 212-Sephora would be it.


Bottom Line: My glitter party doesn't stop and I CAN'T believe I've let 212-Sephora sit, still in the wrapper, for all this time. It's fun, edgy and definitely "gritty." I love everything about it.
365 of Untrieds Stash/Share Verdict: No doubt, STASH.
Sephora by OPI 212-Sephora is no longer available on the Sephora website but since it was created exclusively for the Times Square store it may still be in stock there. Call 212-Sephora (212-737-4672) for availability. Sephora by OPI nail polishes retail for $9.50/ea for a .5oz bottle.
Did you pick up a bottle of 212-Sephora while it was still online?  What do you think of it? Do you agree that it's Glitter Puke-esque?  Do you think Sephora should bring it back?  NYCers have you spotted 212-Sephora recently?
Disclosure: i purchased 212-Sephora.  For more info view my Disclosure Policy.