365 of Untrieds is my personal challenge to weed through the polishes in the ALU stash that I've been wanting to try but just haven't gotten around to.
There used to be a time, before nail polish blogs and before the vultures on eBay realized they could stalk message boards to learn which polishes are hard-to-find, when you could score some really great treasures online for a decent price.  One of those scores was when I bid on the entire OPI Summer Splash collection from Summer 2004 and got it for a song.
I was only after Pooltime Lime but if I could get the whole set for next to nothing, why not?  OPI Cool in the Pool is one of the polishes from that collection and I feel like I've been hanging on to it because it is rare, not because I love it, which just sounds greedy.  I  haven't cracked open the bottle until now because deep down inside I know it's probably not for me.  Let's see if I was right.

Formula & Application: This polish was created before OPI changed to a 3-Free formula.  While many of old-timers still look back on the old formula fondly, this is not a representation of what it is we loved.  It's thin and watery and semi-sheer.  Thankfully OPI has stepped up their game and significantly improved the 3-Free formula since its debut.

OPI Cool in the Pool is a pearly pale blue.  It's so frosty and icy that it doesn't look overly blue.  It feels like it would make more sense in winter than in summer but I suppose that's more a sign of the times when it was created.  Because of the abundance of pearl in its base, this color does show brush strokes.  Combine that with the fact that it's not opaque after three coats and I'm sure you can guess how I feel about it.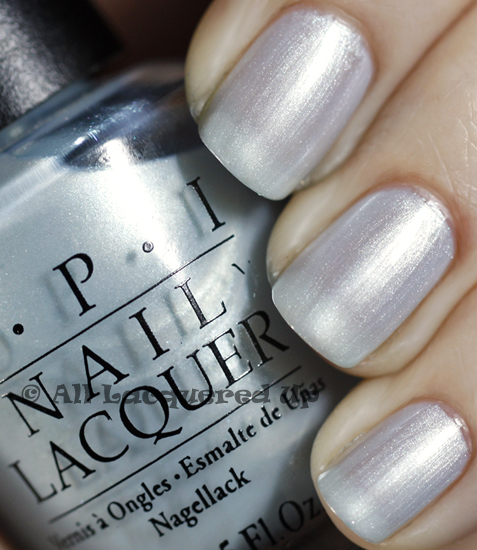 Bottom Line: Unless you are a collector trying to complete the Summer Splash set, I wouldn't hunt this one down.  The formula isn't great and the color is fine but not wow worthy.
365 of Untrieds Stash/Share Verdict: Unless ALU Mom wants this (she loves frosts) this one will hit the SHARE bin.
OPI Cool in the Pool is a discontinued color.  Your best bet in finding it is on eBay or some random dusty nail salon.
Does anyone else have a bottle of Cool in the Pool in their stash?  Thoughts on the color?  If this was in your collection, would you keep it an layer it or share with a friend?  Do you have any polishes you know aren't your style but you keep them anyway because they are hard-to-find?
Disclosure: I purchased this polish myself. For more info view my Disclosure Policy.