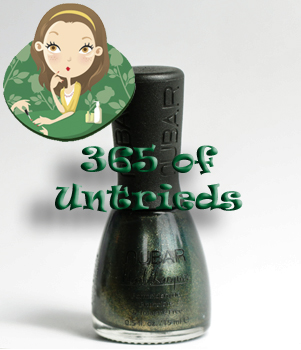 365 of Untrieds is my personal challenge to weed through the polishes in the ALU stash that I've been wanting to try but just haven't gotten around to.I was talking to a blogger friend of mine the other day about how last Fall I was really over foil finish polishes.  After OPI, Orly and Zoya had put out some great foils earlier in the year, I was just kind of tired of them by the time the Zoya Wicked and Nubar Venetian Glass collections came out.  I was all about the glitter party at that point and foils felt blasé. It didn't help that the collections also included a lot of reds, which as you all know, isn't my thing.

So now that I'm revisiting colors in my untried bin, I'm finding myself loving foils again.  There's nothing quite like the finish those flakie metallic particles can create.  Even in a dark room, the polish continues to play with the light.  Today Nubar Verde caught my eye.

Formula & Application: Nubar nail polish is 4-Free (includes formaldehyde resin) and is free of camphor as well.  The brand is also billed as vegan and cruelty free.  The bottles are topped with a curved, matte cap that is designed to rest comfortably between the thumb and forefinger.  The brush is thick and round the width doesn't impede application.  In fact it's one of my favorite brushes.  It has a bit of resistance which allows for control but the bristles are flexible enough to fan out nicely across the nail bed.
The lacquer itself is kind of thick but it flows well, leveling out to a nice even finish.  The pigmentation is spot on.  It achieved opaque coverage in two coats.

Nubar Verde is a forest green foil that appears to have a blackened quality but if you really look into the base you can see a semi-sheer teal hiding underneath all that gorgeous flakie glitter.  The glitter, which is really the core of this color, consists of green, gold and even a hint of bronze.  In person the overall forest hue is more pronounced than it appears below.  And in incandescent light, it absolutely glows evergreen goodness. I've heard this one compared to Zoya Edyta and while I agree that they have similar characteristics, in a side-by-side comparison Verde is more green with blue undertones while Edyta has more bronze to it.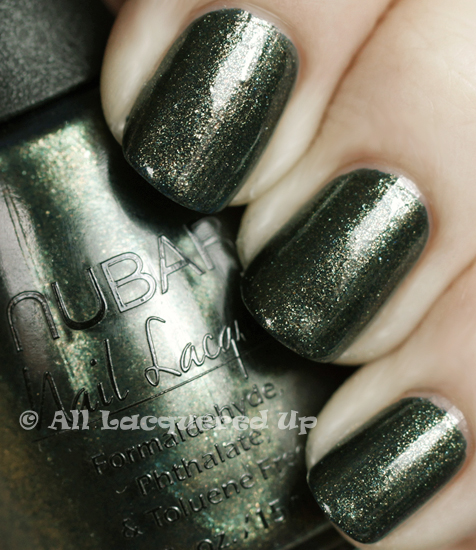 Bottom Line: If you already own Zoya Edyta I would say the two are close enough to not need both.  Though if Edyta wasn't green enough for you, give Verde a try.  Overall, you can't go wrong with this polish.  Nubar has a killer formula with excellent pigmentation.
365 of Untrieds Stash/Share Verdict: I'm STASHing it for sure.  I will probably SHARE Zoya Edyta instead.
Nubar Verde is available online at ByNubar.com.  Nubar nail polishes retail for $7.49/ea for a .5oz bottle.  The shipping can be on the higher side but if your order is over $50 it's free.
Thoughts on Nubar Verde?  Which do you like more Verde or Edyta?  Or do they look the same to you?  Are you a foil fan or has your love waned like mine did last fall?
Disclosure: A product sample was provided by Nubar. For more info view my Disclosure Policy.