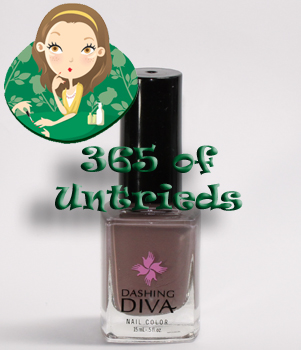 365 of Untrieds is my personal challenge to weed through the polishes in the ALU stash that I've been wanting to try but just haven't gotten around to.
One of my favorite things about Fashion Week is when the nail brands and designers come together to create custom mixes.  Whether it's to match a swatch of fabric or an inspirational image, I am always inspired to come home and franken up a new color or two.
Every so often, one of those backstage blends makes it into production which saves my mixing bottles for other creations.  That was the case with Dashing Diva Tibi Couture.  At last year's Fall 2010 runway show, Tibi's Amy Smilovic requested a greyed mushroom hue for her model's nails and Dashing Diva's Pattie Yankee came up with the perfect mix.

Formula & Application: Dashing Diva nail polishes are 4-Free (including formaldehyde resin).  The square glass bottles come with a long, smooth plastic cap and a thin, round brush that is a bit longer than the norm.  The bristles are pretty flexible so covering the nail is pretty easy.
The polish feels kind of squishy when you apply it but it's not watery or lacking pigment.  In fact, Tibi Couture gave me great coverage in two coats.  It dried so even, flawless and glossy that I didn't even need to apply top coat before photographing it.

Tibi Couture was created backstage by mixing Dashing Diva Astor Place and West Village.  The original backstage color photographed very grey but the shade that went into production is much more mushroom than taupe.  I'd say it's a few shades darker than what we think of as greige.  Something about it feels like the spring version of all those dark taupe greys that have been so popular (eg Chanel Paradoxal).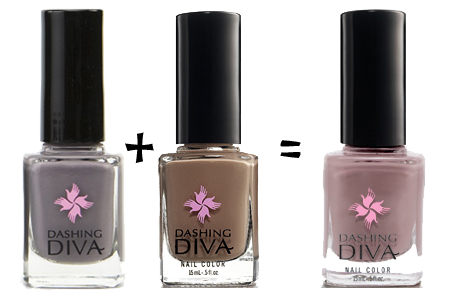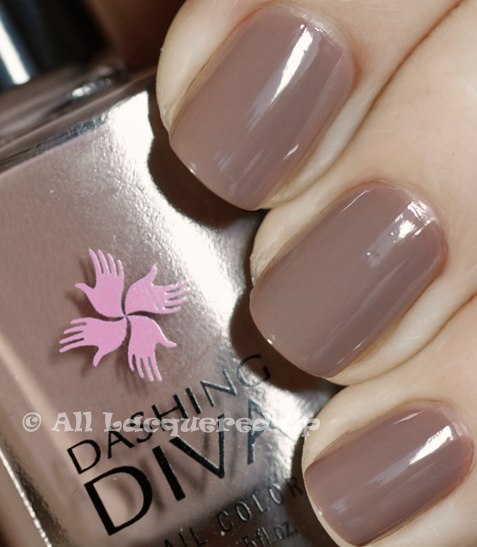 Bottom Line: Dashing Diva has a great formula and some unique colors.  If you follow fashion and like to emulate the looks from your favorite shows, this one is worth picking up.  Personally, I'm torn.  I like the color but don't know if it's something I would reach for over and over again.
365 of Untrieds Stash/Share Verdict: I'm at a stalemate.  I don't think I have a dupe for Tibi Couture but I don't know if I NEED it.  I'll let you help me decide.  Tell me… would you Stash or Share?
Dashing Diva polishes are available at Dashing Diva salons and online at DashingDiva.com.  Nail polishes retail for $8/ea for a .5oz bottle.
What do you think of Tibi Couture?  Are you a fan of Dashing Diva polishes?  Have you been to a Dashing Diva salon?  I've been to a few and have always been impressed with the service I've received.
Disclosure: A product sample was provided by Dashing Diva.  For more info view my Disclosure Policy.