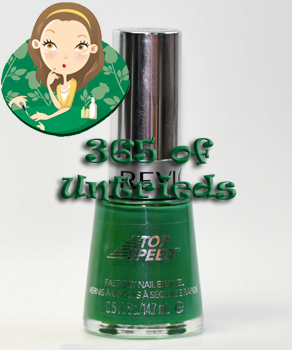 365 of Untrieds is my personal challenge to weed through the polishes in the ALU stash that I've been wanting to try but just haven't gotten around to.
You guys! I am simply flabbergasted and overwhelmed by all your lovely comments, emails and tweets. The love and thoughtfulness of the blogosphere is truly amazing. Thank you, thank you, thank you! As a quick update, my daddy is home and feeling much much better and the outlook on his health is positive. If it taught me anything it's to take the best possible care of yourself. It's something I've been failing to do and why I have made some changes myself, including joining Weight Watchers. So if you're looking for a WW buddy, I'm here!
Now let's talk polish, shall we? If you remember my Revlon Vixen review, you'll recall that I straight up HATED the formula. It was a bubble filled disaster. Well based on a comment suggesting that I give the Revlon Top Speed line a try I decided that instead of completely writing off the brand I would give it one last go with Revlon Emerald. Let's see how it fared.

Formula & Application: The Revlon Top Speed formula is 4-Free (including formaldehyde) and is free of camphor, which can be an irritant. The signature Revlon bottle is topped with a slim silver chrome cap that houses a dense, round, average length brush. The bristles are nice and flexible and can be pressed almost completely flat against the nail to provide great coverage without causing dragging.
The Top Speed line is pigmented to be a one-coat polish and it's almost there. One coat gives great coverage but I had a few patchy spots that required a second coat. If you are a little heavier in your application you probably can get away with one coat but it will probably take a little longer to dry. Revlon claims that this polish will "set in 60 seconds" but I'm not sure what their definition of "set" is. The polish definitely dries fast with a high gloss shine but you can't exactly dig in your pockets one minute after application. If you use two thin coats your polish should be functional after five minutes which is still great.

Revlon Top Speed Emerald is a rich evergreen creme. It's got a bit too much blue in its base for me to consider it a true emerald. More important than the actual color is what you won't see in these pictures… BUBBLES. That's right Fanatics, Emerald dried sans bubbles which delighted me to no end. A day later and my nails are still bubble-free.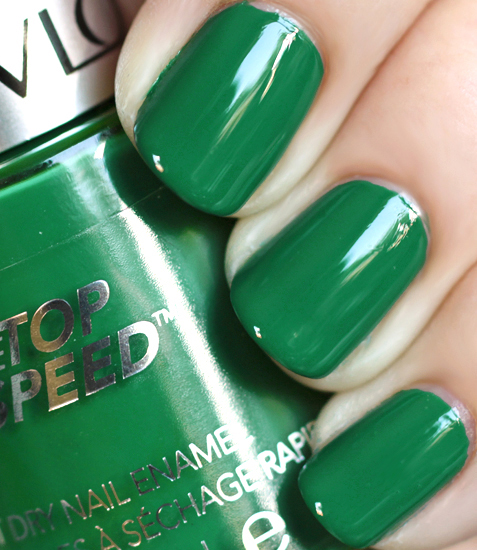 I put Emerald on yesterday so I could make sure it really didn't bubble and while at dinner last night and my friend Suzanne asked if I was wearing OPI Jade is the New Black. I hadn't looked for comparison colors at that point and, what do you know, she was dead-on right in her assumption. Revlon Emerald is the closest I've come to finding a dead-on dupe of OPI Jade is the New Black and Emerald is way more pigmented.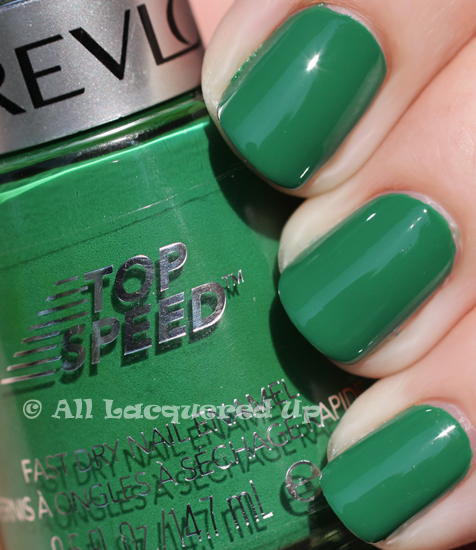 Bottom Line: I'm really happy I gave Revlon a second chance. I couldn't be happier with the formula, application and pigmentation of the Top Speed line. Since Emerald has a twin in JitNB I would suggest picking it up only if you don't already own the OPI shade.
365 of Untrieds Stash/Share Verdict: This is a tough one. Which one do I keep? I'll let you all decide for me.
[polldaddy poll=5232001]
Revlon Top Speed Emerald nail polish is available at drugstores and mass retailers nationwide. Revlon nail polishes retail for $5.99/ea for a .5oz bottle.
Thoughts on Emerald? What has your experience been with the Revlon Top Speed polishes? What are your favorite colors in the line?
Disclosure: I purchased this nail polish. For more info view my Disclosure Policy.