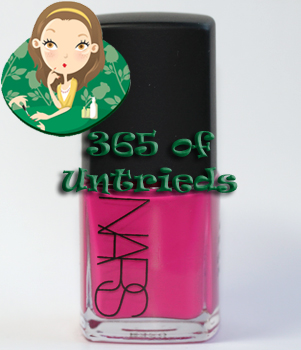 365 of Untrieds is my personal challenge to weed through the polishes in the ALU stash that I've been wanting to try but just haven't gotten around to.
As I committed to do, I'm featuring at least one pink/red nail polish each week. This week we're looking at NARS Schiap. Schiap is interesting in that both the lipstick and nail polish forms of the color seem to have mass appeal even though it's a shockingly bright shade.
I have a love/hate relationship with NARS nail polishes. I love a lot of the colors they've put out over the years but I hate the formula because it's notoriously streaky. Will Schiap follow suit or stand out from the pack?

Formula & Application: NARS nail polishes are 4-Free (including formaldehyde resin). The squat square bottles are topped with a somewhat rubberized cap that houses a short, round brush. Unlike a lot of prestige brands that have a removable outer cap, the NARS cap is one solid piece. The bristles are pretty flexible though they are kind of sparse and don't really fan out easily. I believe that, like the MAC brush, that may be where we should place the blame for streaky application.
The formula of this polish is a cross between a creme and a jelly. It has a bit of a watery texture but is well pigmented. So pigmented that the first coat covered really well. In fact, I found myself thinking, "Is this a NARS polish?" as the first coat flowed on the nail like a dream. Then the second coat went on and it was streak city with patchiness a plenty. The third coat evened everything out but then I discovered a couple bubbles after it dried. Drat! You can see them on my middle and pinkie nails.

NARS Schiap is bright, fuchsia pink creme with a definite cool blue undertone.  What I found interesting is that in sunlight it becomes almost eye searing as though the sun is an electric source for the color. However indoors it's a bit more subtle and not as in-your-face. We're not talking glow-in-the-dark neon by any means but it sure does make a statement. I attempted to find a suitable dupe and they were either too dark (Chanel Pulsion), too neon (Zoya Ali) or too light (OPI La Paz-itively Hot & Zoya Whitney).

Bottom Line: NARS Schiap is one of those nail wardrobe staples. A pedicure perfect bright pink. Even though I'm not a pink girl I can't deny the attraction. I'm not head over heels but it's a great color. While I haven't come across an affordable dead-on dupe the application issues prevent me from giving it the thumbs up. Considering its price tag, I can't, in good conscience, tell you to run out and get it without proper warning.
365 of Untrieds Stash/Share Verdict: If I owned a dupe I would ditch it so until then I'm reluctantly STASHing it.
NARS Schiap is available at NARS counters worldwide and online at NARSCosmetics.com, Beauty.com and most department store websites. NARS nail polishes retail for $17/ea for a .5oz bottle.
How many of you are smitten with Schiap? Have you come across a dupe for it? Which NARS nail polishes do you feel are worth the splurge?
Disclosure: A product sample was provided by NARS. For more info view my Disclosure Policy.