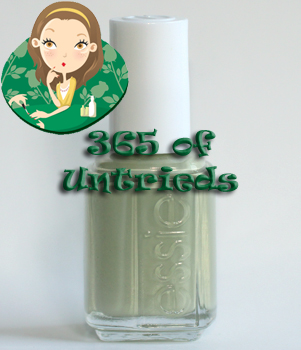 365 of Untrieds is my personal challenge to weed through the polishes in the ALU stash that I've been wanting to try but just haven't gotten around to.Essie Da Bush was released in late spring/early summer as part of the Essie Resort 2011 collection. Shortly after its launch I kept hearing raves for the color that left me staring at my bottle, thinking, "What the eff??" What's with all the hype over this bland looking, neutral grey/green/cream concoction.

I'm all for odd colors but in the bottle, Da Bush, did nothing fore me. Even the name turned me off. So all this time it's sat in one of my untrieds bin, taunting me. I could almost hear it saying, "Just give in. You know you're going to love me." Well, we'll just see about that!

Formula & Application: Essie is a 3-Free brand. The square bottles are embossed with the essie logo and the smooth plastic caps include an embossed e on top. The brushes are thin, round and shorter than most. The bristles are very flexible, allowing you to easily fan out the brush to cover your nail width.
Da Bush has the watery, squishy texture we've come to expect from Essie cremes only it's pretty well pigmented. I probably could have gotten away with two medium coats but I like to apply my polish as thin as possible to avoid chipping so three thin coats did the trick for me. Plus I nicked two of my nails while they were still wet with the second coat so a third layer was necessary to prevent starting from scratch. Call me lazy but it worked.

Essie Da Bush is a soft artichoke green creme. It's what I imagine artichoke soup would look like. It's a bit greyed but with a pale lightness that feels spring/summer appropriate. It's definitely a unique flower, or so I thought.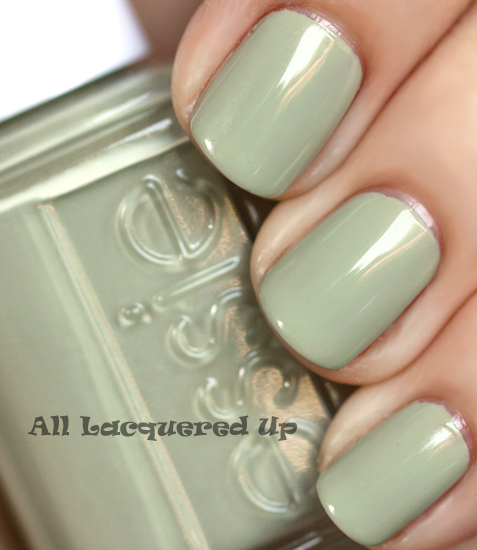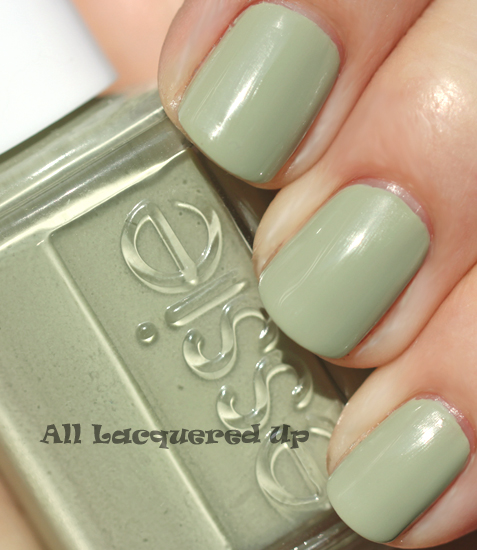 After I was done being wowed by how cool and different this color is I went on the hunt for any type of comparison. I started with MAC In The Buff which I remember being described as "avocado" though it's more like a browned avocado and NOTHING like Da Bush. After searching through my permanent stash I started in my untrieds and came across OPI Stranger Tides from the Pirates of the Caribbean collection and surprise, surprise, surprise we have a match!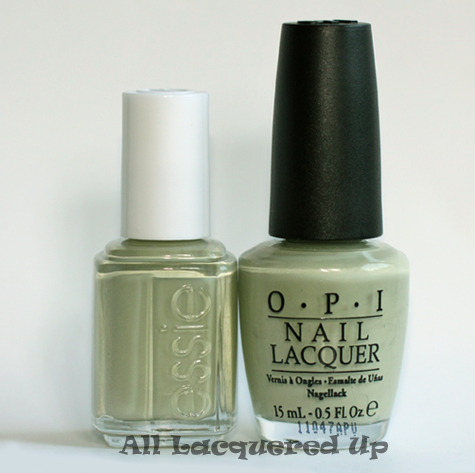 Now I don't know who spied on who here but how much of a coincidence is it that the two biggest nail brands on the planet came out with the EXACT SAME SHADE at the EXACT SAME TIME? I don't say dead-on dupe very often but there is no other way to describe this pair. I almost mislabeled them in this photo because I forgot which polish was which. And they both have the same pigmentation and consistency.
That's too many "sames" for me not to suspect a little industrial espionage. Intriguing, no? Now I wish I had purchased the Sinful Pirates dupe to see if it's a match as well. I smell a Rite-Aid trip in my immediate future.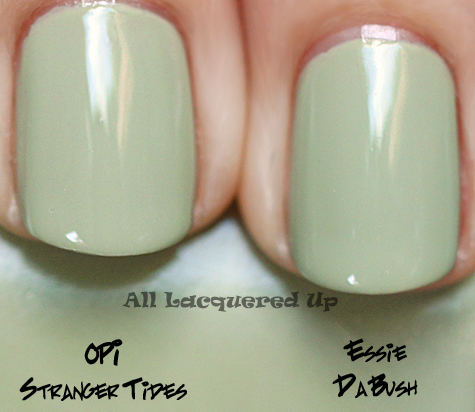 Bottom Line: Da Bush and OPI Stranger Tides may be identical but it doesn't make the color any less unique. It's certainly not a shade for everyone as it's kind of dirty and odd but that's what I love about it. Give me a green that I don't have anything even remotely similar to and I'm a happy nail polish fanatic. Of course you don't need both polishes but if you're at all into funky neutrals, I suggest you pick up one of them.
365 of Untrieds Stash/Share Verdict: It's a toss up as both colors are great so I flipped a coin and decided to STASH the Essie and SHARE the OPI.
Essie Da Bush is available as part of the Essie Resort 2011 limited edition collection. Essie nail polish is available at professional salons and spas and also in the retail version at drugstores and grocers nationwide. Online shoppers can head to Essie.com, Head2ToeBeauty.com, and TransDesign.com. Essie nail polishes retail for $8/ea for a .5oz bottle.
Thoughts on Da Bush? Do you love quirky colors like this or is this too funky for you? Do you have a preference between Da Bush and Stranger Tides? Has anyone compared either one to the Sinful version? Do you have any other polishes with this type of hue? The last artichoke polish I can recall is CND Okie Dokie Artichokie and it was much darker than these two.
Disclosure: Product samples were provided by Essie and OPI. For more info view my Disclosure Policy.