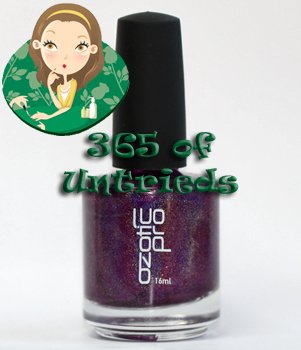 365 of Untrieds is my personal challenge to weed through the polishes in the ALU stash that I've been wanting to try but just haven't gotten around to.
This weekend has left me drained but in a good way. Yesterday I had the privilege of attending an amazing event, the Veggie U Food & Wine Celebration, and today I spent a good part of the day outside helping the boyfriend clean and seal our deck in preparation for our Un-Xmas in July party next weekend. Can you say Christmas Ale on tap in the keg fridge? I never knew wielding a deck brush could leave me feeling so spent.
Anyway, since I knew I would be outside on a farm yesterday, I decided to wear a polish that would play with the sun. You know what that means… it's holo time! I recently received a package from piCture pOlish with some Ozotic Pro nail polishes, an Australian brand I've been wanting to try for years now. One of the three shades was Ozotic 513, a purple holo, and I couldn't wait for the right moment to don it. Yesterday was it!

Formula & Application: Ozotic Pro nail polish is 3-Free. The round glass bottles are large, like Seche Vite, and topped with a somewhat flocked cap that prevents it from slipping when opening the bottle and polishing. The brush is long, thin and round with flexible bristles that can be easily fanned flat.
To allow the large holographic shimmer particles to evenly disperse in the polish, the formula is thin and jelly-ish which means it is semi-sheer. As with most jelly polishes, the application is pretty goof proof and the brush definitely plays into that. I needed three coats to achieve opacity but it you apply it more heavy handed, two coats would be sufficient. I found that the color deepened significantly on the third coat, looking more like the deep bottle color.

Ozotic 513 is a red grape holographic shimmer. The shimmer particles are large but they still form the prismatic pattern or what has been dubbed a "linear" look. It's almost like a cross between a holo shimmer and holo glitter in that indoors you definitely see the little glitter particles but in direct light the rainbow comes to life. In spite of the size of the shimmer/glitter the polish dries glossy and smooth.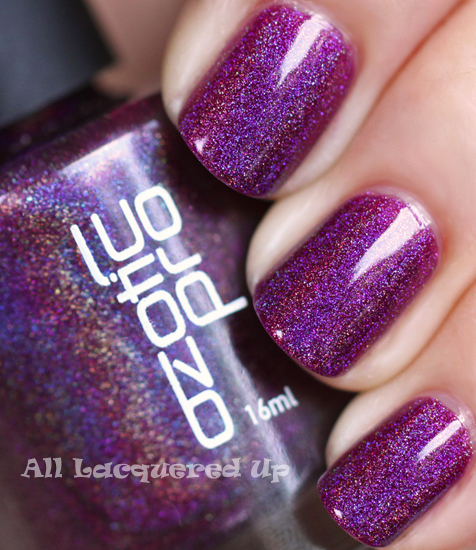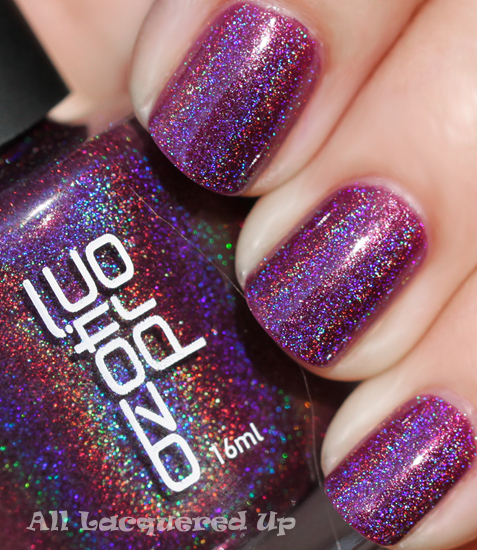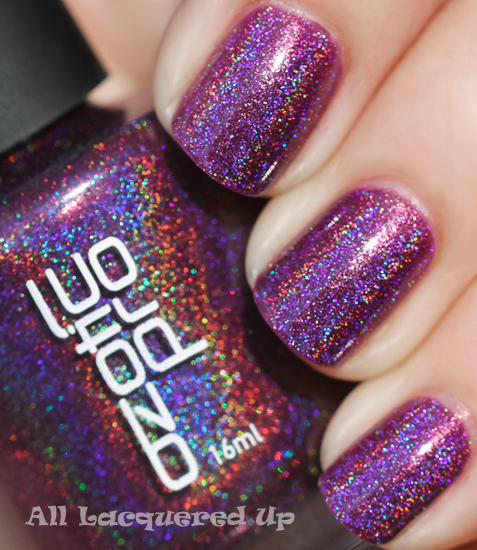 While I don't have any holos that even come close to matching 513 I wanted to show you how it compares to its closest living relatives in the ALU stash; China Glaze LOL and OPI Designer Series Exclusive.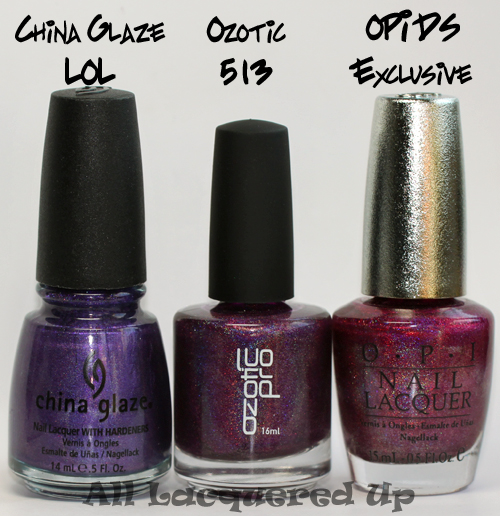 As you can see, 513 falls between the deep berry hue of Exclusive and the cool indigo of LOL. FYI, the color you see to the right of LOL is Sally Hansen Magical Nail Makeup Purple Potion which looks totally blue next to the other three.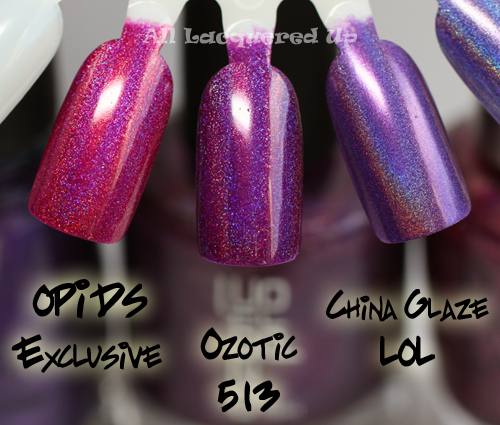 The event I attended helps fund the Veggie U program which educates fourth-graders across the nation about the Earth to Table™ concept, injecting nutrition and agriculture into their curriculum. It's an amazing program geared to combat childhood obesity and one I am happy to support.
The event brought together talented chefs from across the nation who created dishes featuring the amazing crops from The Chef's Garden. At the end of the night we all had the chance to raid the display and I walked away with some gorgeous golden beets and swiss chard. Recipe ideas anyone?
The boyfriend and Suzanne from Life on Mars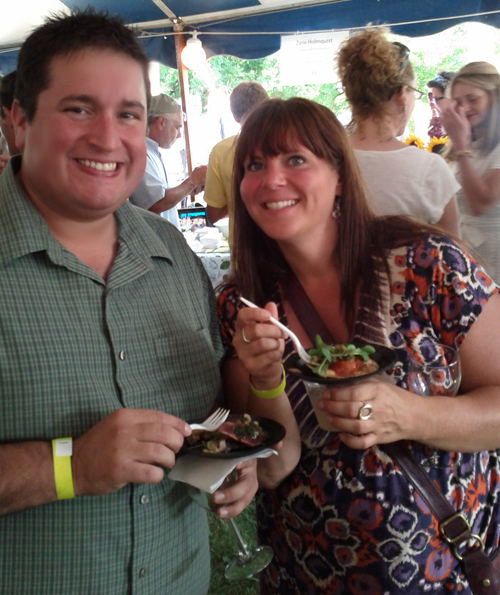 It was an overwhelming amount of culinary delights. Everything from fried green tomatoes to buffalo with chimichuri to lobster nachos with every kind of wine and cheese in between. Incredible!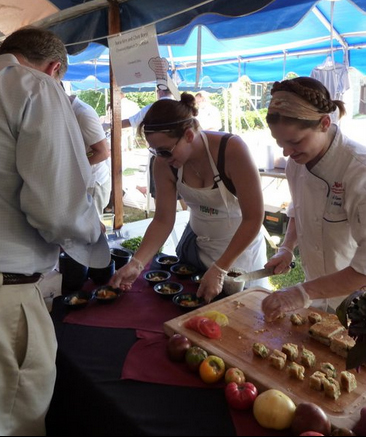 Allison from Green Dog Wine and Suzanne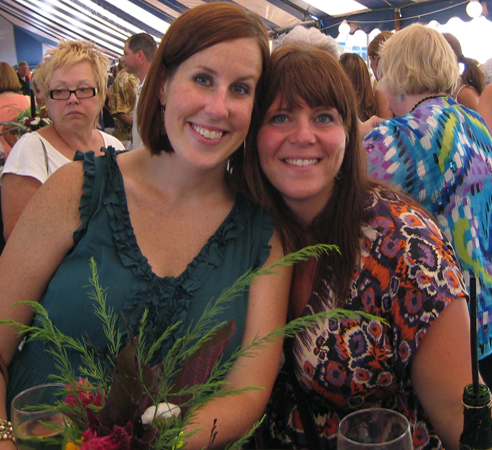 Being the Top Chef fan that I am, I had to stalk Chef Lee Anne Wong for a picture. Though blame the boyfriend for the blurry shot. He doesn't get along well with cameras, let alone cell phone cameras. Also pictured, Chef Ruth from Gatherings Kitchen and Charity from I Heart Cleveland who rocked her farm chic cowboy boots with tangerine sunglasses and eye searing orange nail polish. Loved it!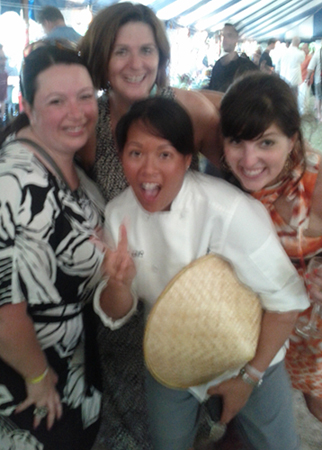 Bottom Line: Because Ozotic comes from Australia, the price and shipping charges are steep so I would suggest finding an Australian swap partner or teaming up with some friends to share the shipping costs. In spite of the price, the polish is fantastic. The sparkle shows up in incandescent light, even if the prismatic effect doesn't. In direct light you get rainbows for days and the depth of color is glorious. And even though I've only been wearing it for a day, the fact that I'm free of tip wear and chips after an afternoon of hard labor and water exposure bodes well for the formula.
365 of Untrieds Stash/Share Verdict: There's no question here. Of course I'm STASHing it.
Ozotic Pro nail polishes are available online from piCturepOlish.com. Ozotic nail polishes retail for $14.95 AUD which is approximately $15.85 US for a 16ml/.54oz bottle
Have you tried Ozotic nail polishes before? What are you favorite colors from the brand? If you're new to Ozotic do you plan to pick some up or is the cost keeping you at  bay?
Disclosure: A product sample was provided by piCture pOlish. I received complimentary tickets to the Veggie U Food & Wine Festival at a local media event with no expectation or promise of a blog mention. For more info view my Disclosure Policy.
ps I totally hijacked two of Suzanne's photos from Saturday's event because I was too busy eating, drinking and gabbing to get any of the food.