Ozotic Pro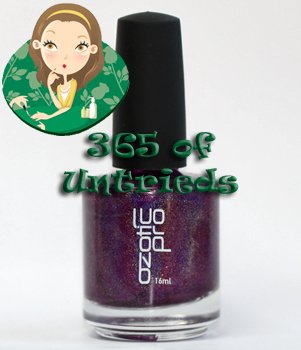 365 of Untrieds is my personal challenge to weed through the polishes in the ALU stash that I've been wanting to try but just haven't gotten around to.
This weekend has left me drained but in a good way. Yesterday I had the privilege of attending an amazing event, the Veggie U Food & Wine Celebration, and today I spent a good part of the day outside helping the boyfriend clean and seal our deck in preparation for our Un-Xmas in July party next weekend. Can you say Christmas Ale on tap in the keg fridge? I never knew wielding a deck brush could leave me feeling so spent.
Anyway, since I knew I would be outside on a farm yesterday, I decided to wear a polish that would play with the sun. You know what that means… it's holo time! I recently received a package from piCture pOlish with some Ozotic Pro nail polishes, an Australian brand I've been wanting to try for years now. One of the three shades was Ozotic 513, a purple holo, and I couldn't wait for the right moment to don it. Yesterday was it!