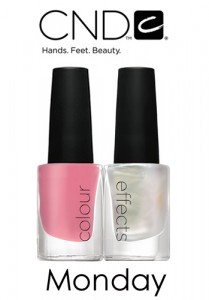 Welcome to CND Monday, a regular series here on ALU. On each CND Monday I'll be sharing a new layering combination from CND Colour & Effects to show you the versatility and creativity of the line.

Recently a reader emailed me asking about some of the lighter shades in the CND Colour range.  After seeing my comparison of China Glaze Something Sweet & CND Tutu she was interested in finding additional opaque, cool-toned pinks in the CND lineup.

Even though pinks aren't necessarily my bag I'm happy to oblige reader requests when I can.  Though unfortunately for this particular reader there aren't any colors lighter than Tutu that are cool and opaque.  Instead I went one step darker and pulled out Girlie Pink and some coordinating Effects to play with.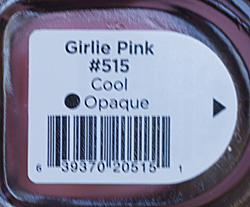 Did you know that labels on the new CND bottles include info on the opacity and undertone?  If not, here's your FYI.  I wish all brands did this with their bottles so you don't accidentally come home with a sheer.  Drugstore makeup brands have been doing it forever and a day.  It's time for all the nail brands to jump on board.
Girlie Pink looks just like its frilly name implies; a glossy, cool toned pink.  It's not a super bright Barbie pink, it's definitely more subtle than that.  It actually gives off an 80s vibe to me.  Like Natalie Cole's convertible in the "Pink Cadillac" video.  And really what could be more girlie than a pink car?
In terms of application, Girlie Pink applied nice and smooth, leveling out to a perfect high gloss finish.  The only negative was the pigmentation.  I've come to expect two coat coverage from CND's cremes but this one needed three.  It's almost like that is the standard with light opaque colors anymore.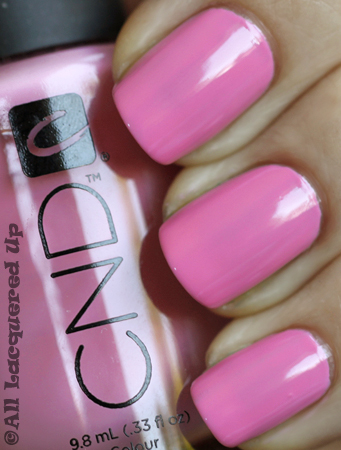 I decided to try a few different Effects with Girlie Pink.  I initially went with Lavender Pearl but after applying it on one finger I realized that it didn't have quite the impact I was anticipating.  I ended up using Scarlet Shimmer and Violet Shimmer as well and discovered that with a light color like this, the Effects don't necessarily transform, they add a sheen or flash.  I used two coats of each Effect and they only lightened the base color bit.
Lavender Pearl added an iridescence that looks very tonal.  Scarlet Shimmer gave it a a warm pink glow and Violet Shimmer brings a blue flash to the party.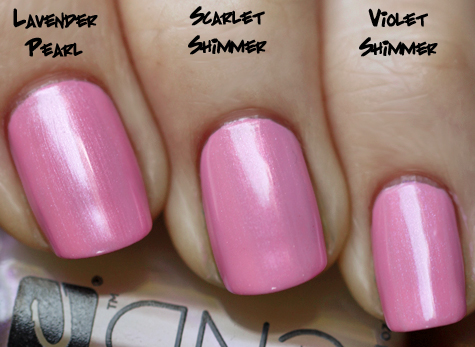 Sunlight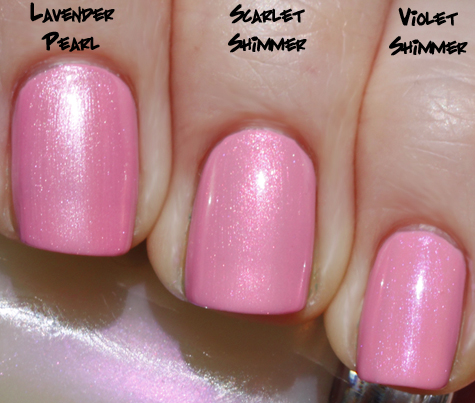 You can find CND Colour & Effects at salons nationwide and online at our fave e-tailers (see sidebar). Colours retail for $9/ea and Effects retail for $11/ea.
What do you think of Girlie Pink?  Have you found the new CND labels helpful when polish shopping?  What's your favorite opaque cool pink?
Disclosure: A product sample was furnished by CND for review. For more info please view my Disclosure Policy.