As much as I love loud, "notice me" nail color, I have moments where I just want something neutral, effortless and clean. This past weekend, I had one of those moments. It was a lazy, no plans kind of weekend. The boyfriend has been working like a dog throughout tax season (which is almost over, yay!) so we kept it low key.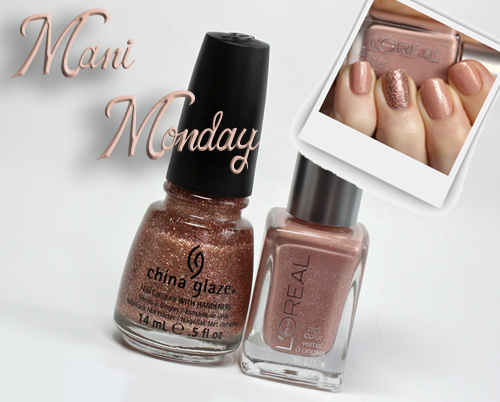 Even though no one would see it, I still wanted something new on my nails so I turned to my current neutral nail look of choice, which I call the "Subtle Sparkle." I've been living for China Glaze Champagne Kisses for months now but it can be a bit much on its own. Paired with my perfect not-quite-naked nail color, L'Oreal Paris Colour Riche So Chic!, it makes for one stunning manicure.

Formula & Application: China Glaze Champagne Kisses is 5-Free as is L'Oreal Paris Colour Riche So Chic! It contains Tosylamide/Epoxy Resin but not Formaldehyde Resin.
The L'Oreal brush is thin, flat and long with somewhat stiff bristles. It doesn't fan out that much but it gives an even stroke and allows you to control the application well. The China Glaze brush is round, thin and long with flexible bristles. It does fan out well, covering the nail though that can make creating a clean line around the edge more of a challenge. Thankfully with glitter, that's not noticeable
Both polishes apply a bit on the sheer side so I used three coats just to get full coverage. The L'Oreal polish dries smooth and glossy while the China Glaze has a bit of texture due to the amount of glitter. I applied two coats of top coat and you can still feel the glitter.

L'Oreal Paris So Chic! has a pink tinged, light tan creme base filled with silver, gold, clear and light pink glass flecks. It gives the lacquer a "lit from within" glow. That's what makes it such a good partner for China Glaze Champagne Kisses. The clear base is packed to the gills with rose gold, tan and pale yellow gold metallic micro-glitter.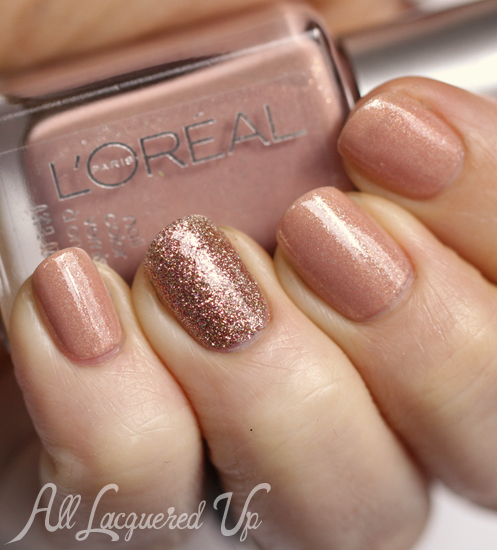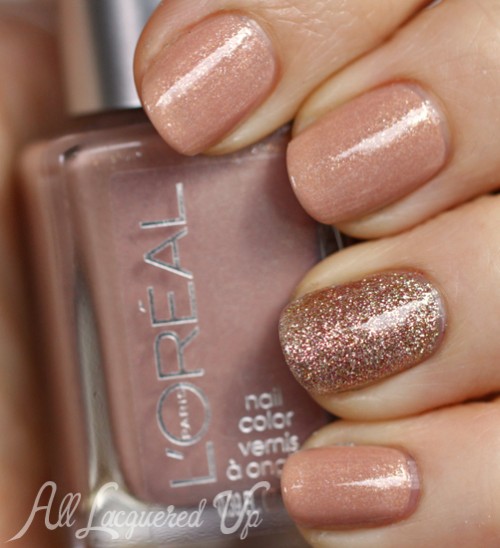 Bottom Line: I consider L'Oreal Paris So Chic to be a pretty universally flattering, full coverage neutral. It's a great basic with just a bit of pizzazz to set it apart from the crowd. China Glaze Champagne Kisses has become one of my all-time favorite glitters and a serious must-have in my book. Since it was a seasonal release, I suggest you get it before it's gone.
China Glaze Champagne Kisses was part of the 2012 holiday collection and is still available on Head2ToeBeauty.com, VictoriasNailSupply.com and from multiple sellers on eBay. L'Oreal Paris Colour Riche So Chic! nail polish was limited edition from last holiday but is still available through a seller on Amazon.com.
Do you like my Subtle Sparkle look? What is your go-to neutral nail? Do you ever just go completely sans polish? I shutter at the thought. My naked nails are a horror, no seriously, a HORROR!
Disclosure: Product samples were provided by reps for China Glaze and L'Oreal Paris. Affiliate links may appear via a third party link service. For more info view my Disclosure Policy.