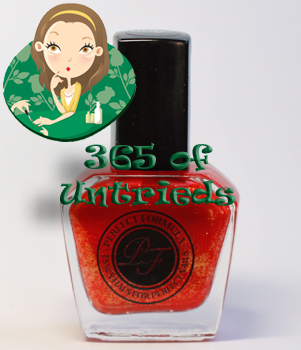 365 of Untrieds is my personal challenge to weed through the polishes in the ALU stash that I've been wanting to try but just haven't gotten around to.
I'm starting to see a pattern here. I seem to be gravitating towards beiges, periwinkles and oranges lately. Any shade of blue or purple really isn't a surprise but beige and orange? They aren't exactly my siren call.
However I've been on such an orange kick and I can't seem to get enough of them. Case in point is Perfect Color Calypso from Perfect Formula. I've been dying to wear Calypso but, as you may recall, when I shared Perfect Color Cubist with you I promised to do a wear test to see if it lived up to its Perfect Formula name.

Formula & Application: The Perfect Color nail polishes are 4-Free (including formaldehyde resin). The bottles are topped with a square plastic cap that, while smooth to the touch, can make opening a tightly closed bottle uncomfortable due to the hard edges. The flat brush isn't as thin as a typical round brush but it isn't anywhere near the width of the OPI Pro-Wide. The bristles are firm but they have enough give to avoid streaking.
As I mentioned in my initial review, a name like "The Perfect Color" from a brand called "Perfect Formula"lends itself to high expectations. The packaging claims that the "Instant Strength Technology" will provide immediate strength and thickness to the nail. That's a lot to try and deliver on.
In terms of application this polish felt kind of thick and goopy but workable.  It has a semi-sheer, jelly texture and even after three coats there was a hint of VNL (visible nail line) but not nearly as bad as what the picture below would indicate.

Perfect Color Calypso is a fiery orange jelly with red undertones and gold metallic fleck glitter. It's a little darker than the other oranges I've worn lately but it's not so dark and ominous that it feels better suited to fall.  While my drawer of orange polishes doesn't begin to compare with the rest of my collection, I consider it a sizable number. Even so I couldn't find a dupe for Calypso. In my orange stash it falls somewhere between two of my favorite polishes from this color range, China Glaze Orange Marmalade and China Glaze Orange-Pacific.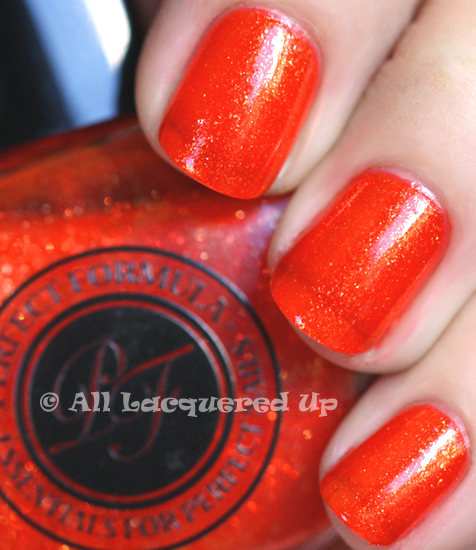 As I mentioned above, I put Perfect Formula's Perfect Colors to the test. I originally intended to wear it for five days, which is a pretty typical length for the average nail fanatic, but it looked so good after day five I left it on for eight days. I used one of my fave base coats Nubar Foundation and my beloved Quick & Slick and ended up with shiny, barely worn nails after more than a week. The chip on my index finger didn't appear until day six so I consider it a success.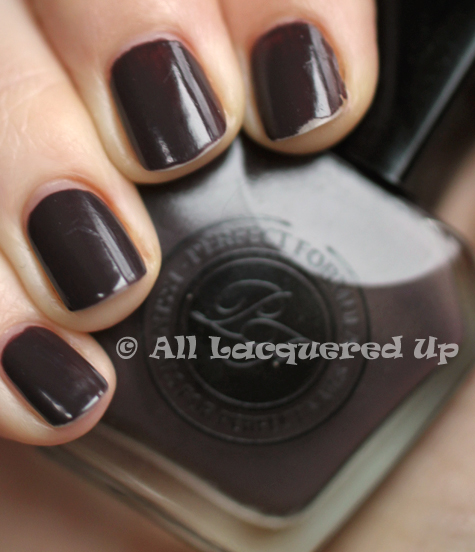 Bottom Line: As its name suggests, Calypso is a big orange party on the nails. There's something about it that draws me in even with the slight VNL issue. The formula may be slightly thick on this one but it doesn't impede application and the wear is fantastic. All signs point to YES with this one.
365 of Untrieds Stash/Share Verdict: Even if my orange drawer wasn't looking for additions this one would make it into my STASH.
Perfect Color Cubist can be purchased online at PerfectFormulas.com and QVC.com. Perfect Color nail polishes retail for $15/ea for a .57oz bottle.
What do we think of Calypso? Do you intend to give Perfect Color polishes a try? If you already own some PC colors, I'd love to hear your thoughts.
Disclosure: A product sample was provided by reps for Perfect Formula. For more info view my Disclosure Policy.