365 of Untrieds is my personal challenge to weed through the polishes in the ALU stash that I've been wanting to try but just haven't gotten around to.
By the time you read this I will be off to celebrate my birthday with my family at one of my favorite places in Ohio, Put-In-Bay on South Bass Island. I've mentioned the Lake Erie destination in previous posts and if you're ever in the vicinity I HIGHLY suggest you visit. It's the Key West of the North.
Even though I'm away, the Untrieds won't be on hiatus. Not to worry. Today I revisited the China Glaze Island Escape collection with the other color that really drew me in, Cha Cha Cha. The green nail polish lover in me will never be fully satiated so I never EVER get tired of seeing new greens. Especially when they resemble a certain fan fave that deserves way more Os than China Glaze bestowed upon it,  Mooooooooooooonpooooooooool. Nail board girls, you know what I'm talking about.

Formula & Application: China Glaze is a 3-Free brand with a round brush that is both medium in length and firmness with enough give to allow for ease of control. The cap is slightly tapered and made of smooth plastic that is comfortable to hold.
Cha Cha Cha is a metallic shimmer that applies a bit sheer with a thin, smooth texture. It's very easy to manipulate so precise application is pretty foolproof. Because the pigmentation isn't completely perfect I ended up using three thin coats to get it completely opaque.

China Glaze Cha Cha Cha is a golden lime green shimmer. The gold metallic shimmer means you will see slight brush marks in the finish but it's pretty minimal and something you would have to look for to see.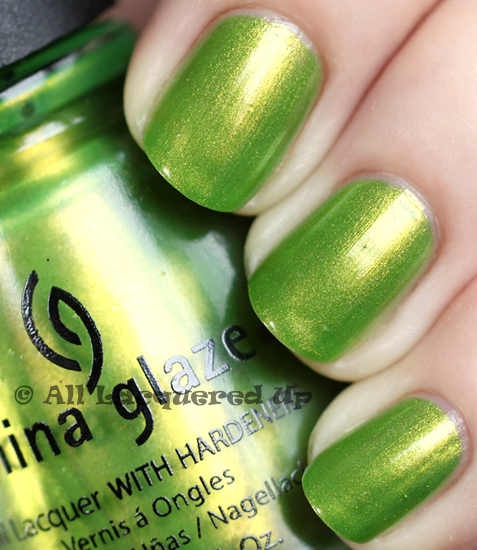 Of course I know what me fellow OG China Glaze fans are thinking. Is this a dupe for the illustrious China Glaze Moonpool? That magical, mythical green that caused many a nail polish fanatic to swoon. Alas, while Cha Cha Cha may have had Moonpool as its goal shade, it falls a bit short. Moonpool is much darker with less gold shimmer. Again we've been denied a Moonpool dupe. I included Wet n Wild Jade just to show you depth of Cha Cha Cha.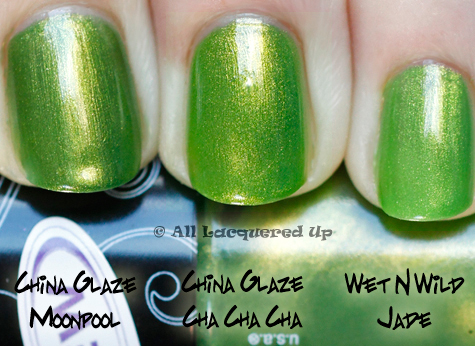 Bottom Line: While I'm sure a lot of nail peeps who missed out on Moonpool would love to find a dupe, I'm selfishly happy that it's not because it gives me a reason to hold on to it without feeling like a guilty hoarder. The golden sheen is really gorgeous and perfect for summer. It plays with the light and adds a lot of interest to what could be a pretty average color.
365 of Untrieds Stash/Share Verdict: Do I really have to say it? STASH!
China Glaze Blue Iguana is available now with the rest of the Island Escape collection. China Glaze nail polish can be purchased at retailers like Sally Beauty Supply and ULTA and online at Head2ToeBeauty.com, TransDesign.com and 8ty8Beauty.com. Polishes retail for $3-6/ea, depending on the vendor, for a .5oz bottle.
How do we feel about Cha Cha Cha? Did you pick up a bottle already? If not, do you plan to?  How many of you would love to see Moonpool resurrected from the China Glaze graveyard? Have you found a Moonpool dupe?
Disclosure: A product sample was provided by China Glaze. For more info view my Disclosure Policy.