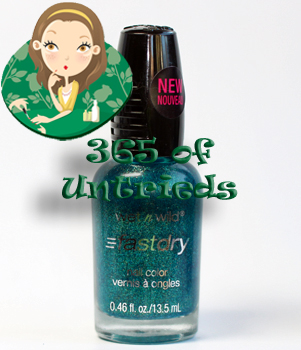 365 of Untrieds is my personal challenge to weed through the polishes in the ALU stash that I've been wanting to try but just haven't gotten around to.
The other day when I posted about Wet n Wild Blue Wants To Be A Millionaire I mentioned that I found it in a bag with a couple other WnW polishes. Well Teal of Fortune was one of them.
Even though I don't remember exactly when I bought the polishes I do remember that shopping trip. The boyfriend and I had stopped at Walgreens before a movie to pick up some candy to smuggle in (I know we're terrible). And no matter how little time I have, I can't enter a drugstore without perusing the beauty section.
There wasn't anything that caught my eye in the seasonal displays but when I got a glimpse of these new Wet n Wild Fastdry polishes I had to take a closer look. Are any of you surprised that I snapped up Teal of Fortune without even inspecting it? To paraphrase Miss Violet Beauregard, "So long as it's [green], then that's for me."

Formula & Application: Wet n Wild Fastdry nail polish is 4-Free (including Formaldehyde Resin). The bottle has an odd shape as the back looks like a hexagon and the front is a smooth half circle. The cap is also unique in that it's kind of a bulbous round shape with ridges in two sides to give you a place to grip.
As I stated in my initial review of the Fastdry brush it reminds me of a horse tail. It's fat and bushy with stiff bristles that appear to be cut on an angle. Flat out, I'm NOT a fan but this polish's brush was a bit better than the first. It wasn't as much of a pain to work with but I still wouldn't call it user friendly.
The formula on this one had the same squishy texture I had previously experienced but because this is a foil and not a straight up glitter the pigmentation level was much higher. I ended up using three coats of polish but if my free edge wasn't so dominant, peeking through the polish, I could have gotten away with two.

Wet n Wild Teal of Fortune is a seawater blue-green foil. The semi-sheer jelly base is actually more turquoise but when you factor in the gold and green and turquoise foil glitter flakes, the overall color become more murky and green.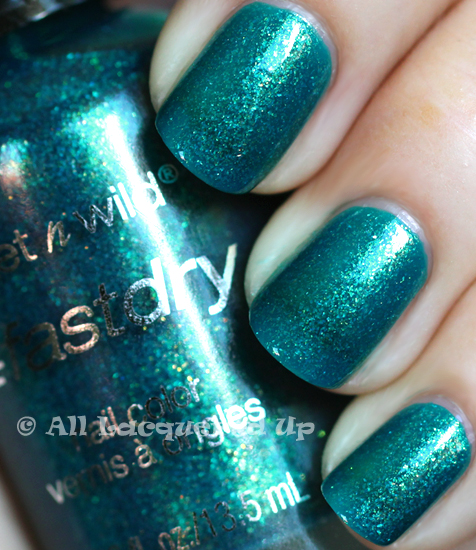 I'm sure you could guess based on the picture above where I looked first in terms of comparisons. The dupe trifecta that caused such a craze last summer; OPI Catch Me In Your Net, Orly Halley's Comet and Zoya Charla. Since they are all essentially the same I chose to use the OPI for comparison purposes.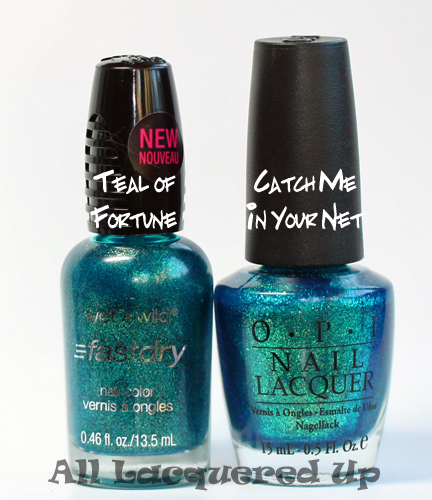 The base colors are pretty much identical in these two polishes. The only difference is the amount of foil glitter. Teal of Fortune looks much darker and less sparkly on the nail due to a lower level of foil particles. This picture doesn't capture the differences as much as I would like but they are definitely there.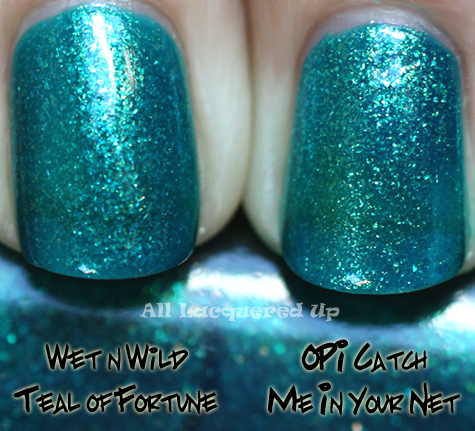 Bottom Line: I was a fan of Teal of Fortune's predecessors last year so I'm definitely a fan. If you missed out on buying one of its older triplet sisters, your wallet will love you for picking this one up.  However, if you did manage to scoop up the OPI, Orly or Zoya dupes you really don't need this unless you are in the market for a less glitzy version. The only major downside is the staining. I mean holy stains, Batman! Have the Orly Cutique on standby when it's time for removal.
365 of Untrieds Stash/Share Verdict: I'm very happy with OPI CMIYN so I don't see the need for keeping this one. SHARE!
Wet n Wild Teal of Fortune is available at drugstores nationwide.Wet n Wild Fastdry polishes retail for $1.99/ea for a .46oz bottle though prices can vary by store.
Thoughts on Teal of Fortune? Do you plan to pick up a bottle? How many of you own all three of the dupes I mentioned?
Disclosure: I purchased this nail polish. For more info view my Disclosure Policy.