Wet N Wild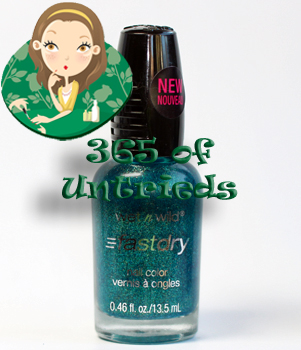 365 of Untrieds is my personal challenge to weed through the polishes in the ALU stash that I've been wanting to try but just haven't gotten around to.
The other day when I posted about Wet n Wild Blue Wants To Be A Millionaire I mentioned that I found it in a bag with a couple other WnW polishes. Well Teal of Fortune was one of them.
Even though I don't remember exactly when I bought the polishes I do remember that shopping trip. The boyfriend and I had stopped at Walgreens before a movie to pick up some candy to smuggle in (I know we're terrible). And no matter how little time I have, I can't enter a drugstore without perusing the beauty section.
There wasn't anything that caught my eye in the seasonal displays but when I got a glimpse of these new Wet n Wild Fastdry polishes I had to take a closer look. Are any of you surprised that I snapped up Teal of Fortune without even inspecting it? To paraphrase Miss Violet Beauregard, "So long as it's [green], then that's for me."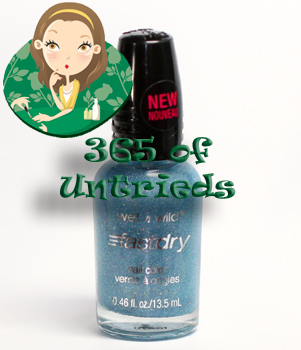 365 of Untrieds is my personal challenge to weed through the polishes in the ALU stash that I've been wanting to try but just haven't gotten around to.
I was cleaning out some random shopping bags I had laying around when I found a small Walgreens bag filled with some Wet n Wild nail polishes. I don't remember when I bought them but it couldn't have been too long ago.
I hurriedly sneaked them into my office before the boyfriend could see since, according to our agreement, nail polish cannot live outside the polish room. It was part of the deal when we bought the house. I get a room for all my nail polish nonsense as long as it doesn't creep into the rest of the house as it had done in our old condo.
Anyway, while all three colors that I picked up are very fun it was the light blue glitter that drew my focus. I was layering a few things over my OPI Done Out In Deco manicure before removing it and the combo of that and Wet n Wild Blue Wants To A Millionaire is STUNNING!
I'm not a girly pink loving kind of girl. I give that title to my girl Nikki who is pink personified. However, this summer in addition to my major orange fetish, I'm all about a glossy pink nail. But I'm not talking about baby pinks or sheers here. No it's all about bright, bold, hot pink cremes. Creme finishes give these vibrant hues a chic spin that keeps them from being too garish.
And I'm not the only one feeling this trend. Celebs like Lindsay Lohan, Vanessa Mannillo and Miley Cyrus have all been caught rocking the pink. And even though the hamsters on Big Brother 10 have only been streaming live for a couple days now, one of the contestants, Keesha, has already delved into the nail polish stash to pinkify her nails.
If you want to join the Pretty In Pink-ness here are the shades I recommend. For a slightly softer pink that still makes a splash try: Wet N Wild Dreamy Poppy, Essie Movers & Shakers, OPI Elephantastic Pink, Essie Guilty Pleasures, Orly Butterflies, Nubar Camelot Blossom

And if you want to go for full-on bright, in-your-face fuchsia look for CND Hot Pop Pink, Zoya Jewell, OPI That's Hot Pink, NARS Schiap, Lippmann Angel Eyes and Nubar Geisha Blaze. (Note: Geisha Blaze & Angel Eyes have extremely subtle shimmer but it doesn't show on the nail)
Now the trick in pulling this look off is perfect application. Any bubbles, dents or ridges will only be magnified with a creme so prep is the most important step. If you aren't going to a salon (I don't) make sure you buff out any flaws and use a great ridge filling base coat, like Seche, to give the lacquer a smooth application surface.