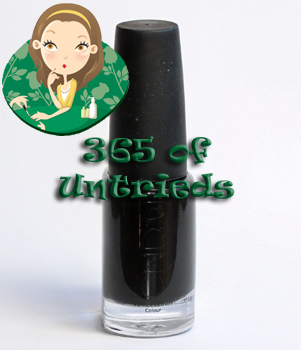 365 of Untrieds is my personal challenge to weed through the polishes in the ALU stash that I've been wanting to try but just haven't gotten around to.
Happy Friday Fanatics! I hope you all have something fun planned for the weekend. We are finally, FINALLY, seeing the sunlight at the end of the rain tunnel that has enveloped Cleveland and I plan to enjoy it.
So with all this good weather, what am I doing wearing jet black on my nails? Well tune in tomorrow as you'll see that I have a very good reason for going to the dark side with my manicure. Until then check out one of the best black polishes on the market, CND Blackjack.

Formula & Application: CND nail polish is 4-Free (including formaldehyde resin). The bottle is shaped to fit comfortably between fingers, like the Shu Uemura bottle. The brush is a thin, narrow and flat with flexible triangular bristles that soak up polish like a squeegee mop. Allow the brush to hang out in the polish for a couple seconds between strokes to properly absorb the lacquer.
CND has one of the best formulas on the market. I'd even go so far as to say it is comparable to RBL's cremes so you KNOW it's good. Their polishes are extremely pigmented and smooth. The lacquer glides on the nail with ease in three simple strokes, requires only two coats and dries to a perfect, even finish. Unlike the old CND formula, the Colours all dry very fast with none of those denting issues of the past.

CND Blackjack is a pitch black creme. It's high on the gloss factor and packed with pigment. Applying two coats feels like overkill, that's how well it covers. While in theory a black is a black is a black, I think Blackjack is part of a very elite group of black cremes. It ranks up there with my all-time fave Sinful Black on Black in that you don't see any brown or green in its base and the formula is immaculate.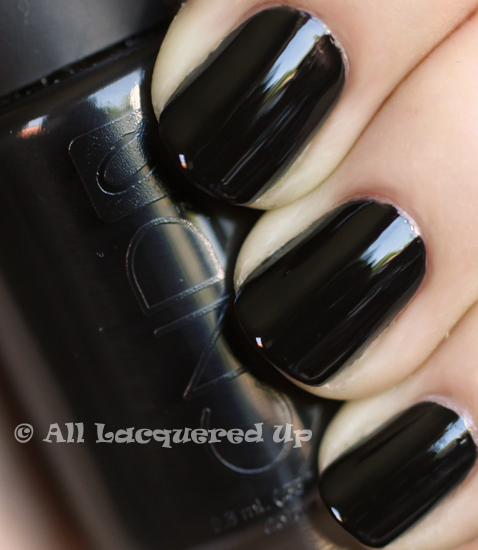 Bottom Line: If you are looking for the ultimate black creme, look no further. Blackjack wears well, applies phenomenally and gives amazing coverage. Black has become a classic in nails and, like the little black dress, every nail polish wardrobe needs one.
365 of Untrieds Stash/Share Verdict: It's going right back where it came from, my STASH!
CND Blackjack is part of the Colour & Effects line which is available at salons and spa nationwide including national chains Beauty Brands, Beauty First and Trade Secret. For more info visit CND.com. Online shoppers head to GoInduge.com or TransDesign.com. CND Colour nail polish retails for $9/ea for a .33oz bottle.
Thoughts on Blackjack? Have you tried the Colour & Effects line? What are your favorite Colours? Remember to come back tomorrow to see what I've created with Blackjack.
Disclosure: For more info view my Disclosure Policy.