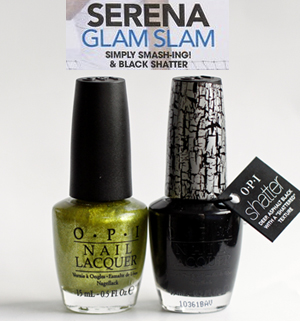 OPI, the world's leading professional nail care company, partners with tennis superstar, Serena Williams, to launch the Glam Slam collection. Timed in conjunction with the Australian Open, French Open, Wimbledon and the US Open, the Glam Slam collection will introduce two new Nail Lacquers at the start of each tournament.
Beginning with the Australian Open, the first shades to be released under the collaboration will include Simply Smashing, a glowing green Nail Lacquer, paired with a revolutionary new product, Black Shatter top coat. Once applied to the dried Nail Lacquer, the top coat begins to disappear, leaving behind a leopard print-style pattern on each nail.
I was in Junior High when Andre Agassi took the tennis world by storm. That hot piece of man candy ignited my love for the game and I soon found myself taking lessons with my friends, who also crushed hard on Andre. I even joined the tennis team in High School though I was a mediocre player, at best.
Regardless of my lack of tennis talent I've enjoyed watching the game ever since and I was really excited to see that Serena Williams, who is known for her stand-out nail styles, collaborated with OPI on a nail polish collection.

Formula & Application: OPI is a 3-Free brand. They made the switch to 3-Free in 2008 and the Black Shatter formula is also 3-Free. You can identify an OPI with the 3-Free formula by the green lettering on the label. Bottles with black lettering have the old formula. Always check the labels to be sure. The OPI Pro Wide brush is flat, wide and medium in length. It's of average stiffness and easily spreads out on the nail when pressed. The only downside to the Pro Wide brush is that it can be too wide for slim fingers or little toes.
Simply Smashing has a similar finish and application as the summer release Catch Me In Your Net. It's a bit on the sheer side so I needed three coats for it to appear completely opaque.
Black Shatter is a top coat that needs to be applied over completely dry nail polish. It applies like a typical black creme but dries in a "shatter" pattern once dry. A thin coat will shatter more resulting in smaller shards of polish on the nail while a thick coat will make it more chunky.

Simply Smashing is more chartreuse than I was expecting though it does remind me of the yellow-green color of a tennis ball so that's quite fitting.  Again we're seeing the foil metallic finish that has become so popular in the past year.  To me, Simply Smashing is the foil glitter love child of Fiercely Fiona and Who The Shrek Are You?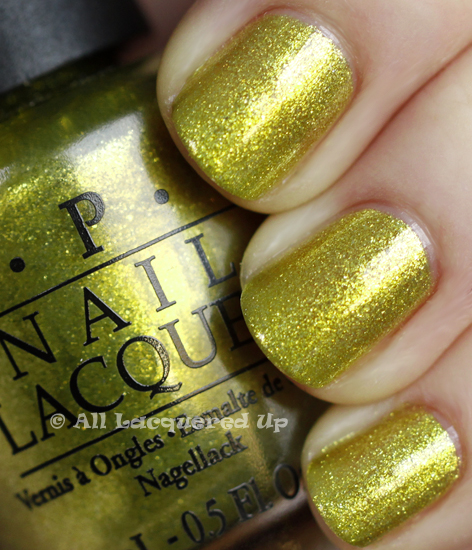 In my post about Crackle Nail Polish last August, I discussed how polishes like Black Shatter work.  Two incompatible solvents cause uneven drying, resulting in a shatter pattern.  As you can see, Black Shatter dries with a matte finish.  It applies somewhat uneven so each nail looks completely unique.  It would take some trial and error to get a perfectly even coat with consistent shattering but that's not really the point of this look, is it?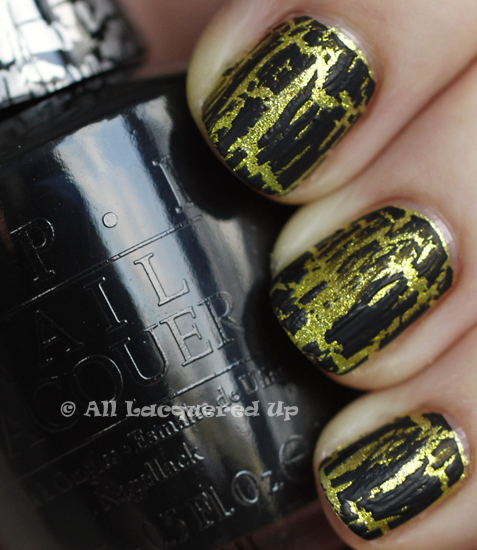 Black Shatter with Prolana Quick & Slick Top Coat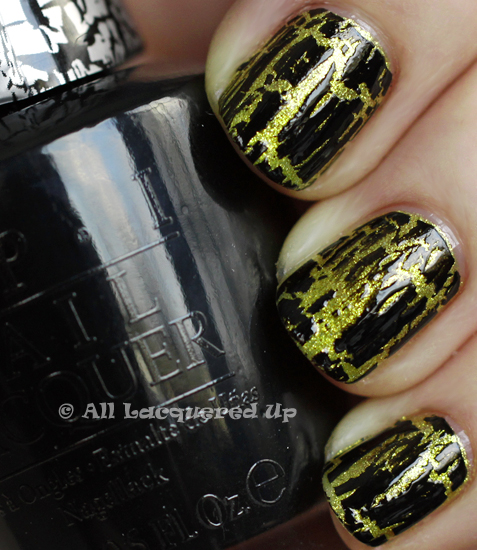 A few months ago, Serena Williams appeared on Oprah and discussed going to school to become a nail tech.  She even treated Oprah to a pedicure.  I posted the video below in case you missed it.


Bottom Line: Simply Smashing is not really my kind of color on its own but it really pops against Black Shatter.  The overall look feels really retro to me but I'm still not sure if it's in a good way or bad.  The CoverGirl Crackle fan has been rooting for a crackle comeback but I somehow feel like it looks more dated than fresh.  Consider me on the fence with this one.
The OPI Glam Slam collection with Serena Williams is launching in January 2011.  According to OPI there has been a delay in shipping the collection but it should be on shelves in a week or two.  OPI nail polishes retail for $8.50/ea for a .5oz bottle. OPI can be found at salons nationwide including national chains like Beauty Brands, Beauty First, Chatters, Dillard's, JCPenney, Pure Beauty Regis, Trade Secret, and ULTA.
Thoughts on this first Glam Slam set? What do you hope the other three sets will look like? Do you plan to get involved with the "shatter" look?
Disclosure: Product samples were provided by OPI. For more info view my Disclosure Policy.