It's safe to say I'm a hardcore Gleek.  The show had me hooked from the moment I heard a clip of Don't Stop Believing.  I started hearing rumors about a Glee inspired Sephora by OPI nail color collection at the end of November and ever since I've been sitting on the edge of my seat to find out more.
Gleek out with the new Sephora by OPI goes Gleek Chic collection, available February 2011, a limited-edition range of ten new nail colour shades and three Chic Prints nail design appliqués inspired by your favorite characters from FOX's hit show, GLEE. With signature names, colors and styles developed in conjunction with Twentieth Century Fox Consumer Products, the set list for the Sephora by OPI GLEE Collection has a little something for every Gleek, from the infamous slushie blue to a Gleek Out green- the new GLEE line will make you feel like part of the GLEE club.

The nail polish collection consists of seven new Sephora by OPI GLEE Collection Nail Colours available individually ($9.50) and a mini set of six with three additional exclusive colours ($22).

Diva-in-Training – Step aside Rachel Berry. The next solo is yours with this poppy pink hue
Gleek Out – A lime, glittery green that will have everyone singing your praises
Miss Bossy Pants – A rich raspberry as show-stopping as Rachel herself
Mash-Up – Whether your style is sporty or goth, this pearlescent green gray pulls it all together for a pitch-perfect look
Slushied – There's no need to duck from this opaque blue
Hell to the No – This purple shade might as well be considered liquid-pizzazz
Who Let the Dorks Out? – All the cool kids aren't doing it! Express your individuality and inner-Gleek with this statement peacock green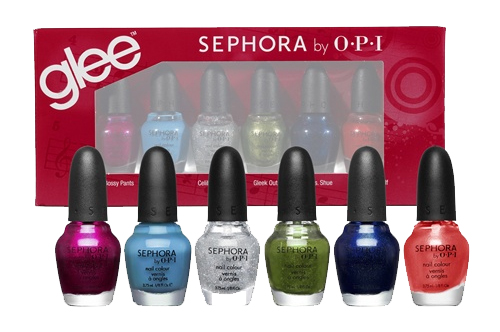 Celibacy Club (mini set exclusive)- Even if it's only part of the show, express your inner angel with this glimmering, diamond top coat
Sue Vs Shue (mini set exclusive) – Capturing the rivalry by this rebellious navy blue
Express Yourself to Yourself (mini set exclusive)- Even more entertaining than Sue Sylvester in a music video, this coral shimmer shade will have people talking
Sephora by OPI GLEE Collection Chic Prints for Nails Design Appliqués ($15) are easy-to-apply, precut strips of varying widths available in three different GLEE-inspired designs, Showstopper (gold stars), Berry Special (navy polka dots) and One Hit Wonder (music notes). Appliqués last 2 days on either fingers or toes and provide a fast and fun way to update your look instantly.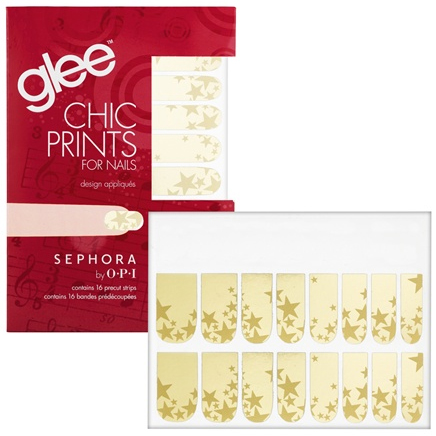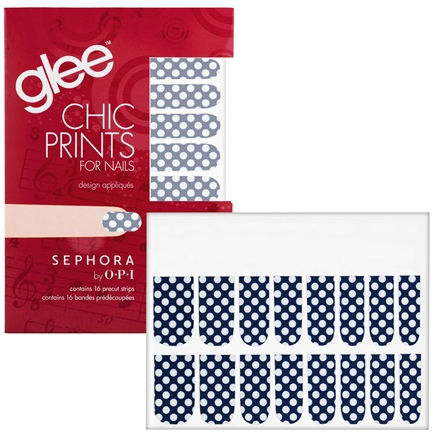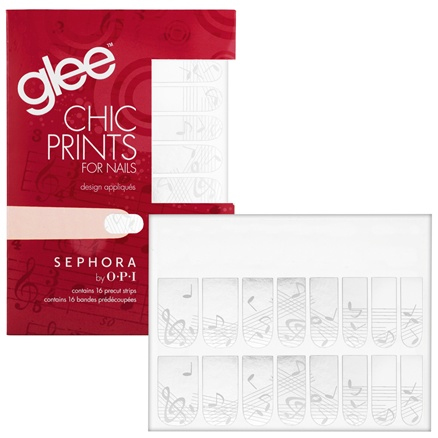 Wear your favorite character's nail color
Fans will also be able to catch a glimpse of the Sephora by OPI Glee polish during the series' upcoming Valentine's Day episode on February 8th, which will feature the characters Mercedes (Amber Riley), Tina (Jenna Ushkowitz), Brittany (Heather Morris), Santana (Naya Rivera) and Lauren Zizes (Ashley Fink) donning the colors.
If you're in the LA area check out the launch event.  Eryn Krueger-Mekash, who I interviewed last year about Tina's blue nails, will be in attendance.
Sephora's celebratory in-store launch event will host Naya Rivera, who plays Santana on the series, alongside Eryn Krueger-Mekash, the show's head make-up artist, at the beauty retailer's Westfield Century City location in Los Angeles on February 12th from 2 pm-4pm. One lucky winner will be treated with an on-site make-over by Eryn as well as fun activities to help kick off the line's debut.
As part of its online campaign, Sephora will host a "Nailed It! GLEEK Out Photo Contest", on Facebook urging fans to upload photos of themselves in GLEE inspired looks and a "Hide and Go Gleek" Twitter contest rewarding fans with prizes for correct answers to GLEE trivia questions.
Sephora by OPI Nail Colours and Chic Prints for Nails Design Appliqués will be available February 2011 in all in all Sephora stores and online at Sephora.com.
Are you Gleeked for this collection?  Which shades appeal to you most?  I personally want to pick up the mini set.  I'm a sucker for anything mini.  Who is planning to try the Chic Prints?