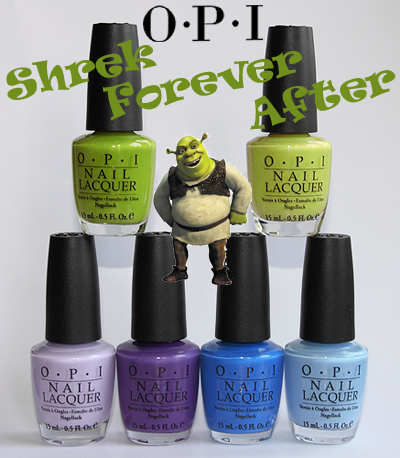 You might have seen a housefly, maybe even a superfly, but I bet you ain't never seen a donkey fly.
Fanatics, can you please join me in a standing ovation for OPI and Suzi Weiss-Fischmann for creating a collection with NO REDS OR PINKS!! It took a big, smelly ogre to make this magical moment happen but I'm not complaining.  The Shrek Forever After Collection is OPIs addition to their ongoing Summer Brights series and I'm totally into it.
Surely, OPI could have found a reason to include a red or pink in this collection but I applaud them for not playing it safe.  A swampy, ogre green isn't exactly conservative and I love that.  In fact, looking at the colors it's like they were designed to be mani/pedi combinations.  The lilac & purple, sky & cyan blue and yellow & green.  They're just meant to be together.

Formula and application -All these polishes applied extremely smooth and creamy, even the yellow (rare, I KNOW!).  As I've come to expect from OPI the formula levels well and flows like butter.  The only downside is the pigmentation.  I ended up using three coats for each color as they just weren't that pigmented but I'd take three smooth layers over two chunky coats any day of the week.
Funky Dunkey is a true grape purple.  It's rich and not too dark, making it the perfect purple for summer.  Though I'm not entirely sure how purple relates to Donkey.  I would have imagined a purple tinged gray for him though that's not very summery or bright.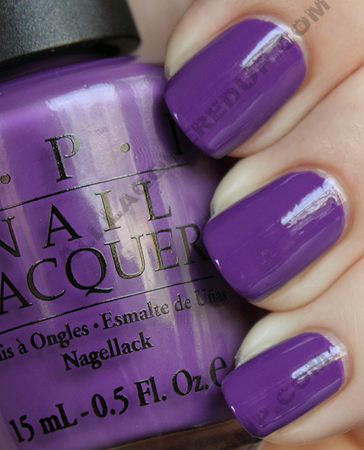 When I first wore Funky Dunkey, I thought it was a dead-on dupe for China Glaze Grape Pop but upon further inspection, Grape Pop is more blue.  What FD is close to is my color, Rescue Beauty Lounge Mismas.  Think of FD as Mismas' slightly brighter sister.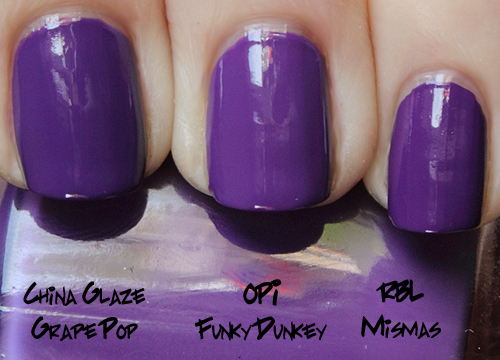 Rumple's Wiggin' is a soft lilac purple and normally it would turn me off completely but there's just enough pigment to keep it from becoming a washed out pastel.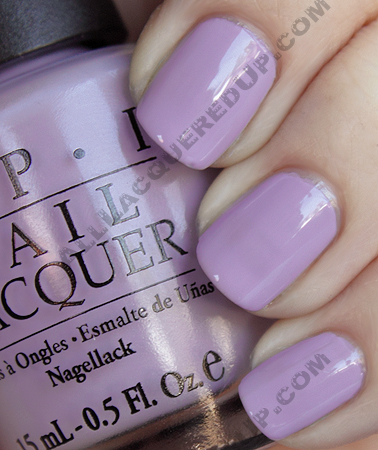 This comparison shot isn't my best work so you'll just have to take my word that Rumple's Muggin' is darker than China Glaze Light As Air.  It's not a huge difference but definitely noticeable.  I was going to show RM next to the lavendar from the Hong Kong collection but that color is way to pink to be a match so I'm showing it next to last year's Done Out In Deco from the South Beach collection.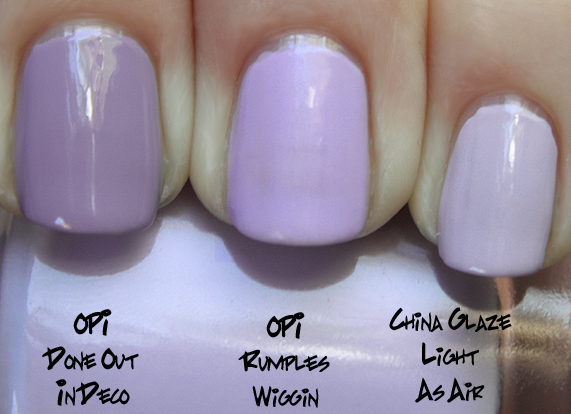 Ogre-The-Top Blue is a very deceptive blue.  I really didn't expect it to dry this dark based on the bottle shade.  It's a deep cyan blue.  For some reason it reminds me of a swimming pool liner.  Random, I know.  Oh and be careful when removing Ogre or it will give you smurf fingers.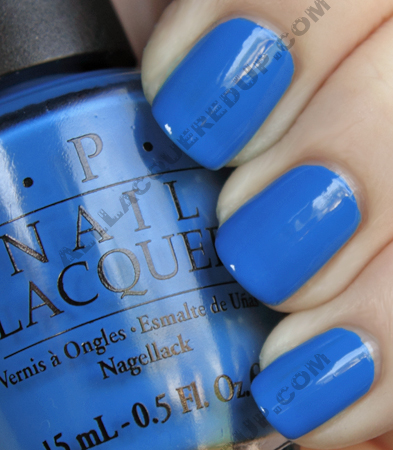 Since I don't own anything similar to Ogre-The-Top Blue, I'm comparing it to Barry M Cobalt Blue which is more of a true blue and Sally Hansen Insta-Dri Brisk Blue which has more turquoise to its base color.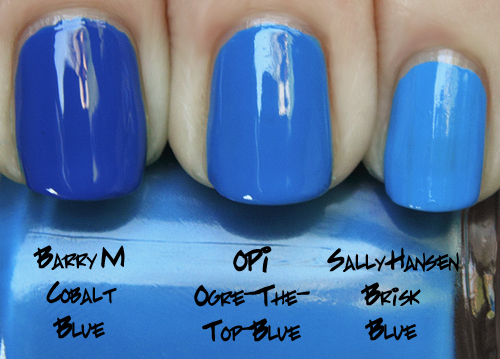 What's With The Cattitude? is a pretty true sky blue creme.  Like Rumple's Wiggin' it's got enough depth of color to escape pastel territory.  I think a pedicure with Ogre-The-Top Blue and a mani with this would be gorg for summer.  Also, can't you picture this as a bride's "something blue" pedicure?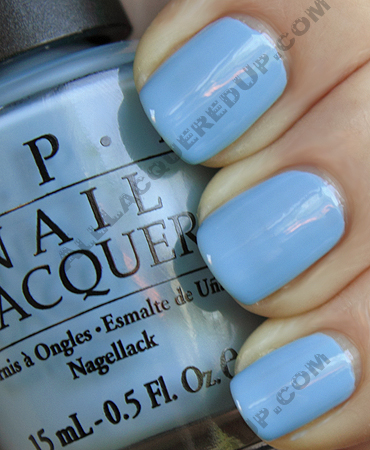 The closest thing I have to a dupe is China Glaze Bahamian Escape from the Bahama Blues collection.  The main difference is that BE is much brighter.
Who The Shrek Are You? takes lime green to a whole new level.  We're talking under-ripe lime here.  It's a total match to Shrek's body.  Now as much as I love a green, this is not my style.  I've never really gotten into the yellow-greens and this one is fugly in a fabulously funky way.  Would I wear this?  Probably not but I appreciate the uniqueness of it.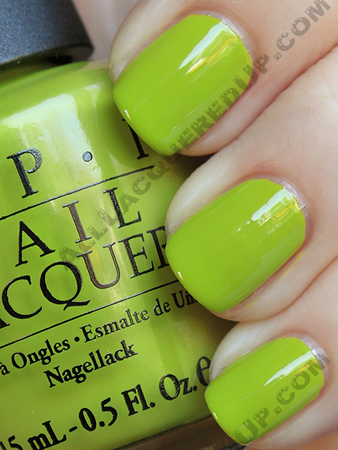 I almost forgot that I own another yellow-green, Misa Green With Envy.  I don't even remember ordering from Head2Toe.  It was buried in the back of my light green drawer.  I pulled it out and was all, "Ah-ha! Dupe!"  Well, close but not cigar.  Green With Envy is more yellow but close enough.  I'll probably ditch the Misa and keep the OPI.  I also showed this next to Sally Hansen Lickety Split Lime.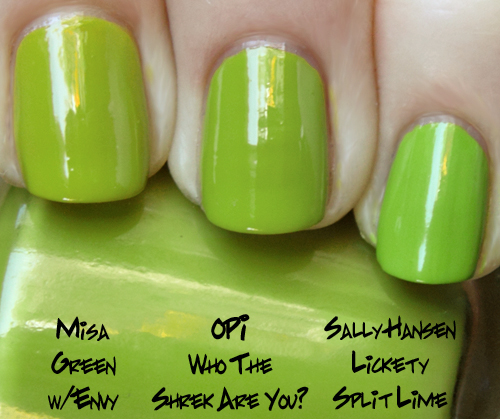 Fiercely Fiona is lemon yellow with a slightly green cast.  It's yellow funkified.  Now most yellows are application problem city and while this one wasn't as dreamy as the rest of the collection it's certainly better than most.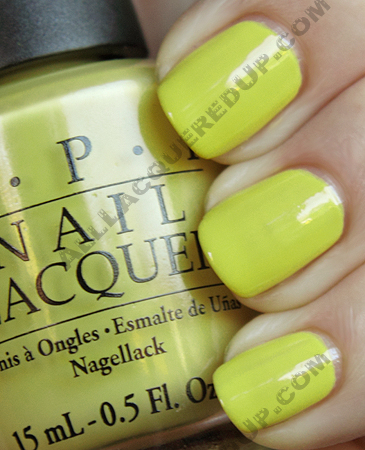 Again, no exact dupe for Fiercely Fiona. It falls somewhere between OPI Banana Bandanna and Fingerpaints Bikini Yellow.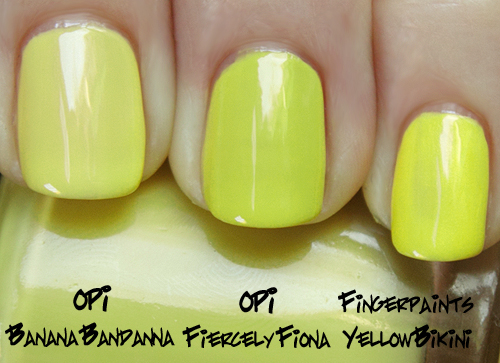 Bottom Line: If you like funky colors, you won't regret picking up Who The Shrek Are You? and fans of purples won't be disappointed in Funky Dunkey. In all honesty, while all the colors may be dupeable, I can't imagine anyone regretting picking up any of these.  I know that's a bold statement but I was very pleased with this collection.
The OPI Shrek Forever After Collection launches in May 2010 though I suspect it will on sale before that. OPI polishes are carried at salons nationwide including chains like ULTA, Regis, Beauty First, Trade Secret and JC Penney.
So now that you've seen the Shrek colors, what do you think? Any must-haves? Are you loving/hating the ugly beautiful nature of Who The Shrek Are You?
Disclosure: Product samples were furnished to me by OPI. For more info, view my Disclosure Policy.