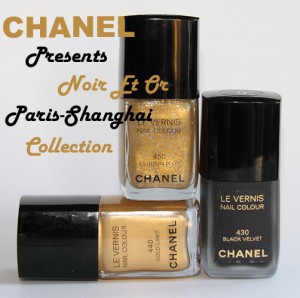 Pulled straight from the runway, Chanel's Noir Et Or Paris-Shanghai Collection is a black and gold extravaganza that would make Cleopatra proud.  Peter Philips, Global Creative Director of Chanel Makeup, was inspired by the "glamorous fantasy of Shanghai in the 30's and 40's" when he created this limited collection consisting of three new nail colors and an eye shadow/liner palette.

Like most of you, my brow wrinkled when I heard that Chanel was jumping on the matte bandwagon so late in the game but I was intrigued by the idea of a gold glitter.  After missing out on the gorgeous Tokyo Happening glitters, I hoped this would fill that lemming and it more than surpassed my expectations.  Check out my swatches and full review after the jump!

Gold Lamé is a brushed warm gold metallic.  Being a pretty typical metallic lacquer, it applies with visible brush strokes.  Even though I let each coat dry for a few minutes in between, I couldn't keep those darn stokes at bay.  In terms of pigmentation, it's OK but not perfect.  I ended up applying three thin coats over a ridge filler to get it completely opaque.  Though I will give Gold Lamé props for its buttery smooth texture.  It was very easy to control.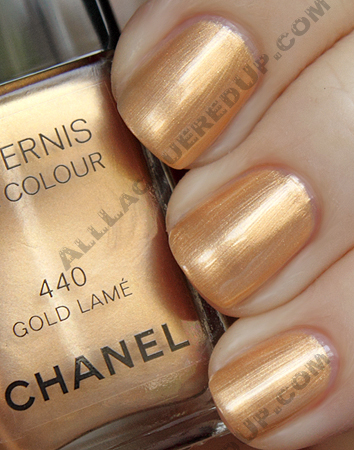 I hate having to tell you all that I have no exact dupes for Gold Lamé. I know how it disappoints budget conscious Fanatics.  So I'm showing you Gold Lamé next to its gold Chanel cousins, Gold Fiction and Golden Sand.  Gold Lamé falls somewhere between the coppery hue of GS and the true yellow gold of GF.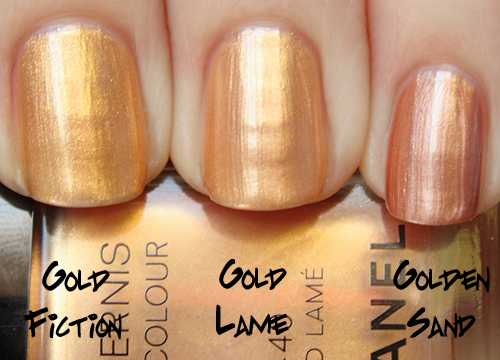 Illusion D'or is such a star and that just doesn't come across on camera.  The second I pulled it out of the box, I was compelled to Tweet about its glorious iridescent flaky glitter that reflects a bluish-purple hue.  All you "flakies" fans are going to die over this one.  Amongst the evenly distributed golden micro-glitter are these gold and purple flakes that are something I've never seen in a Chanel polish before.  It's heavenly.  I applied two thin coats that dried to a smooth glossy finish.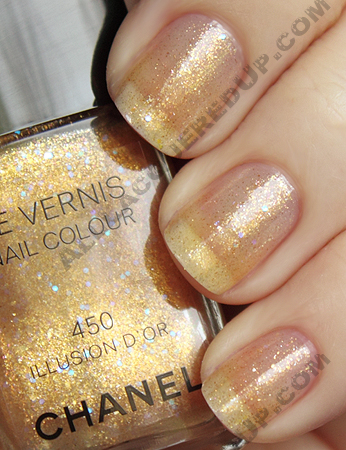 Illusion D'or over Gold Lamé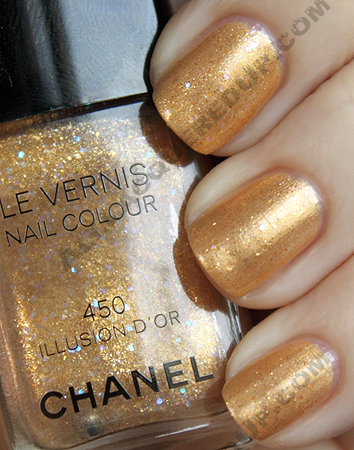 Black Velvet is a satiny black creme.  It dries with a cool, rubberized texture that has a risqué bondage feel to it.  The application was so flawless I kept thinking, "this isn't a matte."  Seriously, the polish is uber-pigmented and it flows so extremely smooth you can't believe it will dry anything but glossy.  I even applied it over a base coat, to prevent staining, and it oozed onto the nail perfectly.  No matter what you think of the matte/satin finish look, this is a high quality polish.  What you see below is two thin coats that I let dry for 10 minutes before photographing so you can see the true finish.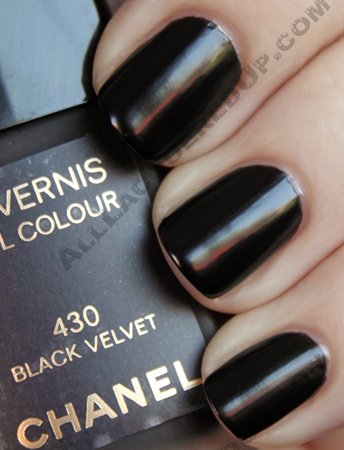 Illusion D'or over Black Velvet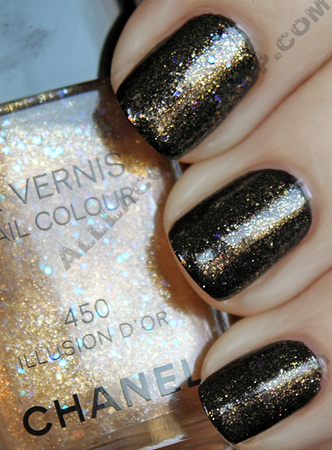 Obviously my ability to paint tips is sub-par but I thought I'd give the Shanghai Runway Nail a go.  I did my own version including Illusion D'or over Gold Lamé with Black Velvet tips and while I don't hate it, I'm sure it would look much better applied by a pro on a slightly longer nail.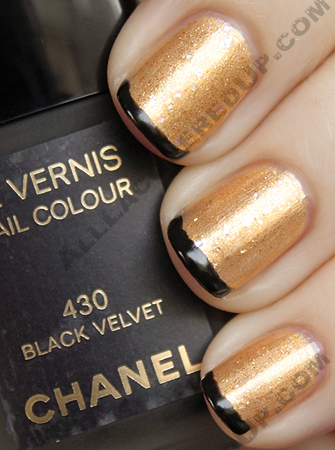 Bottom Line: Illusion D'or is the standout with its flaky iridescent glitter and would be the one color I'd call a "must-have."  Black Velvet's satin finish helps it stand apart from other matte polishes but a coat of Barielle Matte-inée over a black creme gives a similar effect.  Gold Lamé's streaky finish garners it a "pass" from me.
The Chanel Noir Et Or Paris-Shanghai Collection is on sale now at Chanel.com and can be found at Chanel Boutiques and Makeup Studios. These LE polishes retail for $25/ea. Oh and in case you didn't know, the Summer Collection nail polishes are up on Chanel.com as well and they retail for $25/ea.
What do you think of the Noir Et Or colors? Do you like the rubberized look of Black Velvet? Will you be running out to get any of these? Oh and are you interested in seeing a wear test with Black Velvet?
Disclosure: Product samples were furnished to me by Chanel. For more information view my Disclosure Policy.