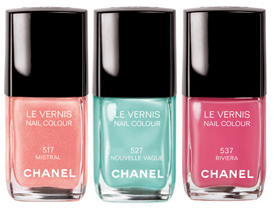 Bold and audacious, Gabrielle Chanel pushed the boundaries of style.
Now Peter Philips continues the tradition by creating a free-spirited makeup collection inspired by an idyllic seaside vista: LES POP-UP DE CHANEL, fresh new cult-worthy hues for lips and nails. Vibrant pops of colour, including neon pink, sunny coral and brilliant turquoise are beautifully complemented by bronzed, glowing skin. . . and sure to be the standout shades of summer.
Chanel's Summer 2010 collection will be rolling out to stores before you know and it and with it comes the highly anticipated Nouvelle Vague (turquoise), Riviera (intense pink) and Mistral (soft pink) nail polishes.  I've been dying to get my mitts on what looked to be a blue version of Jade since I first saw promo pics pop up online.  Following up Jade Collection fever with a turquoise shimmer could cause quite a craze but does Nouvelle Vague live up to the expectation?  Find out after the jump!

After falling madly in love with Jade's subtle shimmer, I had high hopes for Nouvelle Vague (meaning new wave) and I can't say they have been totally met.  In the bottle you can see a soft pearl veining but on the nail it all but disappears.  If you stand in the sunlight and really look for it, it's there, but just to add a sheen to the finish.  The pale turquoise lacquer that reminds me of a Tiffany box is a bit thicker than I expected.  It wasn't that smooth buttery application I've come to expect from Chanel.  In fact, it took me three good coats to achieve a perfect finish which really surprised me.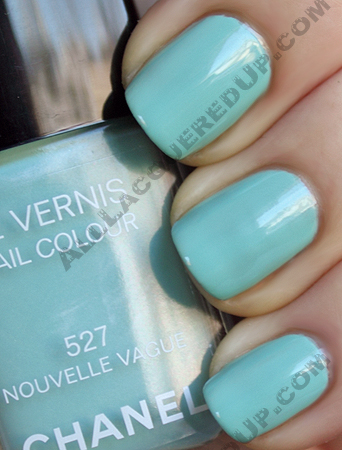 I thought for sure I found a dupe in Ginger + Liz Boy Toy.  In the bottles they really matched up but on the nail, Nouvelle Vague dries darker.  It actually falls perfectly between Boy Toy and China Glaze For Audrey.  All lined up, I can see the beginnings of a subtle gradient manicure.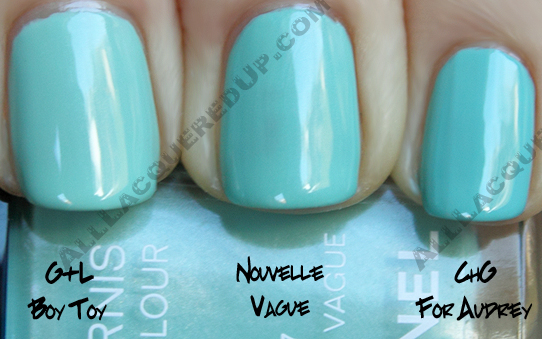 Mistral may look soft in the bottle but it dries more intense on the nail.  Sprinkled with flecks of micro-glitter, the base color has some warmth to it like a carnation pink.  The finish actually reminds me a lot Magnolia Rose, which I would show side-by-side if I hadn't gifted it away.  The glitter, that looks a lot like sugar crystals, isn't overly apparent so we're not talking full on sparkle.  I showed you the polish from two angles because picking up the finish on camera wasn't easy.  Again, application wasn't the best.  The polish applied thick but semi-sheer and a bit streaky so I needed three coats.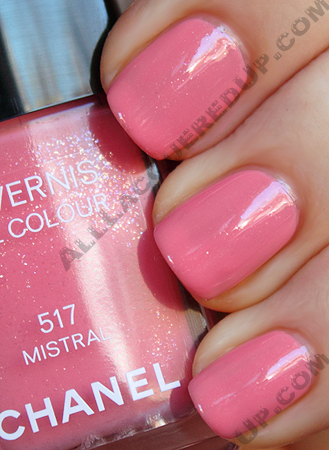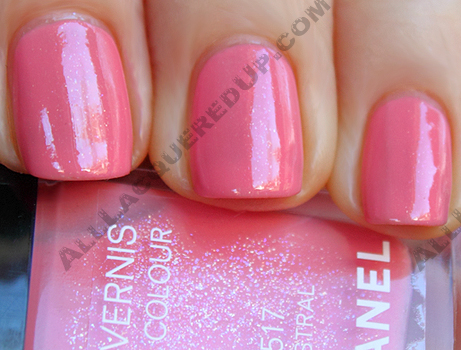 Riviera is a hot peony pink creme.  It's not super vivid more rich and deep.  The formula is a bit jelly-ish like the brights in the China Glaze Up & Away collection which is why I chose to apply three thin coats rather than try to make it in two.  Of the three polishes in this collection, Riviera had the best flow in application even if it lacked in pigmentation.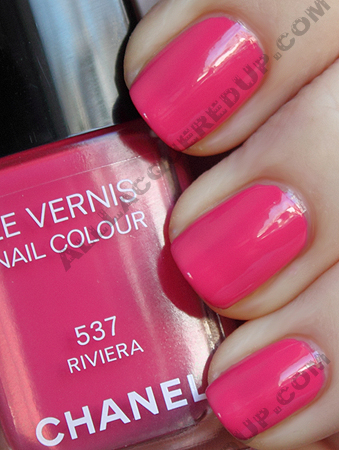 Botton line: Chanel collectors and fashionistas will run to buy Nouvelle Vague simply because it's Chanel and it will undoubtedly sell out.  Plus with Pantone naming turquoise the color of the year, this will definitely be named the "it" polish for the season.  Mistral is a good choice if you loved Magnolia Rose but I wouldn't call Riviera a must-have.
Chanel's Les Pop-Up de Chanel collection officially launches in May 2010 though I would expect to see it on counters sometime in April.  Chanel polishes retail for $23/ea and can be purchased at Chanel counters nationwide and on Chanel.com.
What do you think of the collection?  Did Nouvelle Vague live up to the hype?  Are these colors popping for you?  Which ones do you plan to check out or buy?
Disclosure: A product sample was furnished to me by Chanel. For further information view my Disclosure Policy.